26 Mars 2020 NEWS
ONLINE COURSES / COURS A DISTANCE
WINTER TERM : APRIL 2020
REGISTER NOW
CAMBODGE –
Prasat Bakong - The Apsara National Authority (ANA) has uncovered remnants of an old French-style building while excavating the area around the Lo Lai temple in Prasat Bakong commune, Prasat Bakong district, in Siem Reap province. ANA expert Ea Darith said that the excavation had been underway for one week, and they had just started digging holes and studying the temple's surrounding environment when they came across the French ruins. Darith said for work to continue, the old remnants had to be excavated. "This is an obstacle because the old French structure was built in the same place as the temple, which requires us to first remove the old concrete on the top of the land, so we can study our findings," he said. According to a Facebook post by ANA on Monday, the excavations began in mid-March."The Lo Lai temple, built by Yasovarman I in the late 9th century, was built to honour Lord Shiva," the ANA said. Over the centuries, climate factors ravaged the temple, rendering it a shell of its former self. The aim of the project is to restore the temple to as close to its original structure as possible. Tho Thon, an archaeologist at the Department of Conservation in Angkor Archeological Park, said experts must excavate areas to put together a picture of how the temple actually looked when it was first built. Thon said the excavation period would last until April. "We are remodelling the temple to raise its value. The excavation is looking for structures which could help show how exactly it was oriented. Once we learn that, we can continue," he said. Darith said excavators have identified the walls surrounding the temple, its flooring and the fence around it.
https://www.phnompenhpost.com/national/ana-finds-temple-remains
ARABIE SAOUDITE –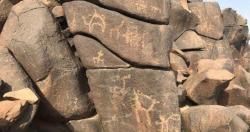 - Archaeological studies of rock art in Saudi Arabia reveal that lions lived in the area in prehistoric times, according to Hosni Abdelhalim, a professor at King Saud University. Although camels and mules are the animals most commonly depicted in the ancient drawings and carvings that can be found at a number of locations across the Kingdom, eight sites highlighted in a recent study by Abdelhalim include depictions of lions. They include Wadi AlUla, Abu Taqah and Owairidh in AlUla governorate, and Jabal Umm Sanman and Shwaimes in Hail. Art depicting lions hunting was discovered in Yateb, east of Hail, and images of the animals were also found on two rocky facades in Wadi Al-Mutaiwi, southwest of Al-Dawadmi Governorate . Sometimes individual lions are depicted, usually in calm poses. Other images show them being hunted by humans or attacking prey. This suggests that the artists based their art on scenes they witnessed in their native environment, or copied them from images they saw nearby. This indicates that the environment in some parts of the Kingdom was a suitable for lions in ancient times.This research aims to shed light on the environmental and cultural implications of the lion art by comparing it with images found elsewhere in the Arabian Peninsula and some civilizations in the ancient Near East.
https://www.arabnews.com/node/1647596/saudi-arabia
ROYAUME UNI –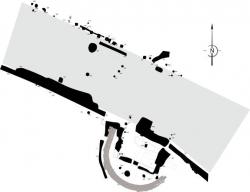 Long Melford - A sheep's bone with decorated markings unearthed during an archaeological dig in west Suffolk could be an early example of a weaving bobbin, experts have suggested. The sheep's rear leg bone (metapodials), with incised markings of decoration and graffiti around one end, was found following a dig in the village of Long Melford late last year. Members of the Long Melford Heritage Centre group first believed the bone to be a whistle or a knife handle, and similar examples have been found on Iron Age and Roman settlements. John Nunn, district councillor and coordinator of the heritage centre, said no-one can be certain of the object's use, but the general consensus from experts suggests that the bone is a weaving bobbin and the marks have some meaning relating to the yarn. The object dates back to around 50AD and Mr Nunn said experts believed it to be a Romano British textile bobbin. Mr Nunn said a large quantity of sheep and cattle bones were also unearthed during the dig, some with butchery marks indicating that cattle management and processing was an important part of Roman Long Melford's history.
https://www.eadt.co.uk/news/sheep-s-bone-found-in-dig-could-be-weaving-bobbin-1-6578446
USA –
Squam Lake - A dugout canoe discovered in central New Hampshire's Squam Lake has been radiocarbon dated to the mid-seventeenth century. Malcolm Taylor of the Holderness Historical Society said the Native American vessel was recovered from 14 feet of water by three fisherman 80 years ago and had been stored in Vermont's Shelburne Museum until last year, when it was transferred to the Holderness Historical Society. Such canoes were made by burning the surface of a felled tree trunk and scraping away the charred wood with stone tools, then repeating the process. Dugout canoes were eventually replaced by more maneuverable birch bark canoes by the mid-seventeenth century. Further research will identify the species of tree used to make the vessel, Taylor added.
https://www.archaeology.org/news/8542-200324-new-hampshire-canoe
HAWAÏ – Maui - Excavation at the oldest standing home on the Hawaiian island of Maui has uncovered the possible remains of its nineteenth-century kitchen. Now known as the Baldwin Home Museum, the house was built in 1834 out of sand, coral, and lava rock over a timber frame by a physician named the Rev. Dwight Baldwin, who lived there from 1836 to 1868, and is remembered for his work to control a smallpox outbreak in 1853 through the use of quarantine and vaccination. The kitchen was constructed out of adobe bricks on a stone foundation as an outbuilding. Director of the Lahaina Restoration Foundation Theo Morrison said that food prepared in the kitchen would have fed as many as 20 people per day, including the family's six children, visitors, sea captains, missionaries, and travelers. The archaeologists have unearthed shells of the opihi, a type of edible limpet or aquatic snail; clam shells; animal bones; pieces of porcelain; and a bone button dated to the mid-nineteenth century, Morrison added. The researchers have also found evidence of a fire pit in the backyard that may have been used for cooking and washing.
https://www.smithsonianmag.com/smart-news/archaeologists-find-leftovers-kitchen-behind-oldest-house-maui-180974507/