26 JANVIER 2016 NEWS: Langford - Blackburn - Moghalmari - Ranchi - Istanbul - Gangaikondacholapuram -
26 JANVIER 2016 NEWS: Langford - Blackburn - Moghalmari - Ranchi - Istanbul - Gangaikondacholapuram -
INSTITUT SUPERIEUR D'ANTHROPOLOGIE
INSTITUTE OF ANTHROPOLOGY
ONLINE COURSES / COURS A DISTANCE
SPRING TERM : APRIL 2016
REGISTER NOW
ROYAUME UNI –
Langford - This is how a Saxon settlement, built on what is believed to be the oldest cremation site in the UK, might have looked more than 1,300 years ago. Archaeological artist Jon Cane was commissioned to create an image of how the settlement, discovered in 2014 close to Langford, near Maldon, might have looked. Evidence of a Mesolithic funeral pyre, beneath a Saxon settlement, was the biggest find in five digs over a nine-mile stretch following the Chelmer and Blackwater Navigation canal, between Langford and Chelmsford. Project leader Nick Gilmour, of Oxford Archaeology, said: "We were expecting this cremation to date to the Bronze Age. "We were so surprised when the first radiocarbon date came back as Mesolithic, that we did two more to double-check. "People lived there from 6,000BC to AD700 or 800. "It was a time when people were largely nomadic hunter gatherers (cavemen) before farming. Little is known of their beliefs." The Chronicle revealed the historic discovery in April last year, but the lengthy radiocarbon tests, which officially pinpoint the finds to the Mesolithic period, and a full report only came back recently. A pit measuring one metre in diameter, at Langford, contained 118g of cremated bone, backfilled with charcoal in a burial believed to belong to at least one adult from 5,600BC. It also hints at a belief system where the dead were respected and were not abandoned, as historians had previously believed. Three flint blades, still sharp enough to be used for cutting, were also found in the pit. Pre-dating Stonehenge by more than 3,000 years, the site is just one of 20 in the UK containing human bone from the Mesolithic period. But it is the only one where the bones have been cremated, showing people had an understanding of fire to achieve the high temperatures for cremation.
http://www.essexchronicle.co.uk/Langford-5-600BC-village-looked/story-28567903-detail/story.html#1
ROYAUME UNI –
Blackburn - Archaeologists have discovered almost 2,000 bodies in more than 400 graves on the site of a new road which will finally link up Blackburn's Wainwright Bridge. The team excavating the St Peter's Burial Ground also found the remains of 800 children under the age of six, as well as a 'Treasure Trove' of jewellery, a plate, family headstones and a rare time capsule, possibly the earliest found in the UK outside London, containing a full set of 1820 George III coins. "The actual number of human remains was a little surprising in view of the multiple burials often with infants. "One grave had 13 bodies in it. "It is a fascinating snapshot of Blackburn as it turned from a small settlement into the Industrial Revolution's 'Capital of Cotton'. "It shows the poverty and poor health of the people before the introduction of clean water and the terrible level of infant mortality." Among the finds were the remains of an injured Crimean War veteran, who may have been treated by 'Lady of Lamp' Florence Nightingale and her pioneering team of military nurses. The site of St Peter's Church itself, built between 1819 and 1821, with the coin collection secreted in a ceremonial corner stone, were excavated along with a third of the burial ground.
http://www.thisislancashire.co.uk/news/14227214.Clearance_work_for_new_Blackburn_road_reveals_2_000_bodies_and_a_treasure_trove_of_goods/
INDE -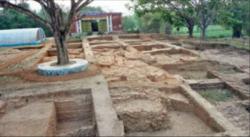 Moghalmari - The ancient site at Moghalmari witnessed much excitement on Sunday morning when around 40 bronze artifacts, dating back to fifth and sixth centuries, tumbled out of the earth, as the state archaeology department re-launched excavation of the Buddhist vihara after a gap of two years. The digging work coincided with a two-day Moghalmari Festival inaugurated on Sunday. About two kilometres away from Dantan in West Midnapur as bronze artefacts dating back to fifth and sixth centuries started tumbling out of the ground, one after the other. The state archaeology department has re-started the excavations at the site after a gap of two years.While the smallest statuettes were around 7cm high, the biggest ones stood tall at 20-25cm, with widths varying from six to 12cm. While most were bronze Buddhas, statuettes of Saraswati and Avalokiteshwaras were also found. "We are going very slow with the digging work as relics are strwen across the entire zone. Finding over 40 antique figurines in a single day is definitely rare and prized. We are thrilled beyond explanation," said Prakash Maity, who is in charge of the Moghalmari excavation. "Earlier, we found stucco figurines, gold, silver and mixed metal coins, pendants, votifs and seals." The site dates back to the post-Gupta period when the dynasty's influence waned and local satraps-here, Raja Samachar Dev, gained control. The pre-Pala phase of Bengal history was shrouded in mystery, experts said.
http://timesofindia.indiatimes.com/city/kolkata/40-Buddhist-relics-unearthed-at-Moghalmari-in-a-single-day/articleshow/50710121.cms
INDE –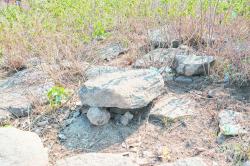 Ranchi - Jharkhand's second largest cluster of megaliths - prehistoric tombstones in layman terms - was discovered on the capital doorstep today, prompting conservation clamour from the archaeological fraternity. The 300-plus giant stones were found randomly placed over an area of 400sqm at Yamuna Nagar, a residential colony off Ratu Road, 12km from the heart of Ranchi. They were mostly hidden under shrubs and garbage when eminent archaeologist and retired deputy director of state art and culture department Harendra Prasad Sinha and his team chanced upon them this morning. "Megaliths have been found at a number of districts like Chatra, Hazaribagh, Ramgarh, Lohardaga and Khunti, besides Ranchi, in the past. But, this is the second largest find after some 7,000 stones were physically discovered at Chokahatu in Silli (70km from the capital) in 2005. A British colonel had written about it in the 19th century though," Sinha told The Telegraph. Sinha believes, were used in the Neolithic Age around 1AD to cover mortal remains of the dead. Some of the large stones were found resting on four smaller ones like a table. "In archaeology, these are called tabletop megaliths. The single erect ones are menhirs and the flat ones are cap stones," he explained.
http://www.telegraphindia.com/1160125/jsp/frontpage/story_65733.jsp#.VqZRzt-uM8o
TURQUIE –
Istanbul - Archaeologists have uncovered a Roman-Byzantine grave underneath Istanbul's famous İstiklal Avenue, providing evidence of human activity in one of the city's most important areas at a date earlier than previously thought. The grave was unearthed during the restoration of the historic Casa Garibaldi building on the avenue when a worker discovered a 1,600- to 1800-year-old skull eight meters under the surface. The skeletons, which are thought to belong to Orthodox Byzantine era, were then sanctified by an Orthodox priest from Greece's Mont Athos, or Ayronos, as Zeynep Kızıltan, president of Istanbul Archaeology Museums, said the grave was established between the fourth and sixth centuries A.D.
http://www.hurriyetdailynews.com/roman-byzantine-grave-unearthed-on-istanbuls-istiklal-avenue.aspx?pageID=238&nID=94245&NewsCatID=341
INDE –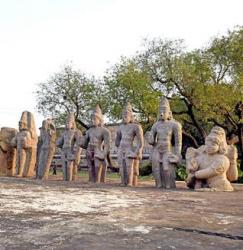 Gangaikondacholapuram - The Archaeological Survey of India (ASI) has taken special efforts for the conservation of old stone idols got during the course of renovation of the temple dedicated to Sri Brahadeeswarar at Gangaikondacholapuram near Jayamkondam. The temple, built by Rajendra Chola has been declared as World Heritage Monument by the UNESCO about a decade ago, indicating its architectural beauty. A large number of broken pieces of stone idols were also obtained. "We conserve 13 idols which are in perfect shape. Most of them represent Sri Ambal while a few forms of Lord Siva are also protected," sources said adding that ASI attached priority for conservation of idols got at ancient temples. While the unbroken idols have been arranged in a row over a concrete platform, the damaged pieces have been stocked in the vicinity.
http://www.thehindu.com/news/cities/Tiruchirapalli/old-idols-being-preserved/article8149729.ece?