INSTITUT SUPERIEUR D'ANTHROPOLOGIE
INSTITUTE OF ANTHROPOLOGY
ONLINE COURSES / COURS A DISTANCE
SPRING TERM : APRIL 2015
REGISTER NOW
INDE -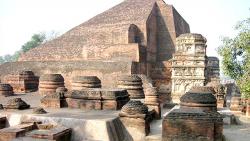 Nalanda - Even as the future of the nomination dossier of Delhi as a world heritage city for 2015 continues to be uncertain, the Archaeological Survey of India (ASI) is readying itself to submit a dossier for including the ruins of ancient Nalanda in the list for 2016. Nalanda has an ancient history going back to the days of Mahavira and Buddha. It not only enjoys a special place in the history of Buddhism but also in the history of art, religion, architecture and scriptures. The dossier reflects how Nalanda exhibits an important interchange of human values over a span of time. The remains at Nalanda were included in the world heritage sites tentative list in 2009, the first step to initiate the nomination process.?
http://www.hindustantimes.com/india-news/nalanda-may-become-world-heritage-site-in-2016/article1-1310318.aspx?
ESPAGNE –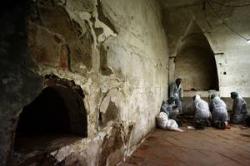 Madrid - Experts searching for the remains of Miguel de Cervantes have started what they hope will be the final phase of their nine-month quest to solve the mystery of where the great Spanish writer was laid to rest. The author of "Don Quixote" was buried in 1616 at the Convent of the Barefoot Trinitarians in Madrid's historic Barrio de las Letras, or Literary Quarter, but the exact whereabouts of his grave within the tiny convent chapel are unknown. A team of archaeologists and anthropologists decided to start excavations at the site after identifying what they believe are three unrecorded and unidentified graves in the chapel's crypt. Those bones were being exhumed and analyzed.
http://newsok.com/spains-hunt-for-author-cervantes-remains-enters-key-phase/article/feed/787676?custom_click=rss&utm_source=feedburner&utm_medium=feed&utm_campaign=Feed%3A+Newsok%2FNews+%28NewsOK.com+RSS+-+news%29
AFGHANISTAN –
 Dasht-e-Qala - Shortaghy is an ancient site in this district which according to archeological investigations, its background goes to over 5000 years and belongs to Bronze era located on the road between Khwaja Bahauddin and Dasht-e-Qala  districts and several civilization have been buried there.During excavations, archeologists discovered precious ancient relics including remnants of an ancient spinning mill, pottery, decoration, earthenware's, and basin, cups, fruit pots, weights, made from clay, stone axes etc., plus best golden jewelries and precious stones including Lapis, cornelian, bones and animals' horns, skeletons of pre-historic human-being belonging to Bronze era of 3500 years old and even several graveyards. Before Takharids, Yusachis were inhabited there.  Historically and commercially, Shortaghi located along the east, west and northern Silk Route connected Rome to China and Khwarazm to India and had constituted one of the biggest trade centers in Central Asia. In that time the water level of Amu River was higher than today and people used it frequently than now. For the first time, animals were domesticated there. Other ancient site of this area is called Ai Khanom, from which as a result of archeological excavations a sport stadium, conference hall, rooms etc. were unearthed which had been used for accommodation of military personal with a historical background of over 23000 years.  It belonged to Greece era and was constructed by the order of Alexander the Great by Solokos one of his senor military commanders. Priceless sculptures, coins, vessels and diverse dishes were discovered from these areas which were put in exhibition of a number of Asian and European countries.  We have a permanent exhibition in Afghan National Museum called "Hazar Shahr" in which the works of Ai Khanom have been deployed that seriously attracted the attention of visitors. This district is entirely an ancient area and in the past it had been the shelter of a unique civilization at regional and universal level belonging to pre-Islamic and post-Islamic centuries. Nawabad is another ancient village in this district from which large quantities of historical relics were discovered due to legal and illegal excavations. The Pangani village was recognized as an ancient site in 1391 (2012) in which during construction of houses by locals. Many coins were discovered, that belonged post-Islamic ere of Sasanides. Most likely there are other ancient sites there. Ainuddin Sedaqat
http://www.bakhtarnews.com.af/eng/culture/item/16056-ancient-district-of-dasht-e-qala.html?
ROYAUME UNI –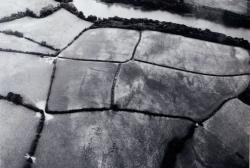 South Devon - Archaeologists have been given the go ahead for a project which could uncover the secrets of a 5,000 year-old settlement. The historical dig will be focused around a cluster of fields in South Devon which are believed to be home to several bronze and iron age buildings.
http://www.westernmorningnews.co.uk/Archaeologists-prepare-uncover-secrets/story-25917724-detail/story.html