INSTITUT SUPERIEUR D'ANTHROPOLOGIE
INSTITUTE OF ANTHROPOLOGY
ONLINE COURSES / COURS A DISTANCE
SPRING SESSION : APRIL 2013
 REGISTER NOW 
FRANCE – Toulouse - Gros plan sur le pillage fréquent et important des sites de fouille, ce qui alimente l'archéologie noire.
VIDEO = http://www.youtube.com/watch?v=Y10C8yvAPic
USA - Clark County - Scientists with the Kentucky Archaeology Survey ramped up their search for evidence of a long-lost Native American village in Clark County. Dr. Maggard of the Kentucky Archaeological Survey teamed up with the University of Kentuky in an attempt to"... relocate or document the contact period, 'Shawnee Village' referred to as 'eskippathiki,' which is early to mid-1700's ," Dr. Maggard said. Evidence of that village requires more than just finding arrow-heads, says Dr. Maggard. He's specifically looking for evidence of where arrow-heads were made. "We have some early Shawnee accounts that the village was located here, and then we also have the early European settler accounts that the village was purportedly in the Indian old field region."
VIDEO = http://www.lex18.com/news/search-continues-for-evidence-of-lost-shawnee-village-in-clark-county
ROYAUME UNI –

 High Pasture Cave - Several Bronze and Iron Age finds have been made at High Pasture Cave. They include the remains of what archaeologists believe to be the earliest stringed instrument to be found so far in western Europe. The small burnt and broken piece of carved wood was found during an excavation in a cave on Skye. Archaeologists said it was likely to be part of the bridge of a lyre dating to more than 2,300 years ago. Music archaeologist Dr Graeme Lawson said the discovery marked a "step change" in music history. Other caves in the Highlands include the Inchnadamph Bone Caves, where the prehistoric remains of animals, including bears, and humans have been uncovered. Another cave on Skye thought to have been occupied by people as early as 3BC was still being lived in in 2010. A new hearth for a fire and stacks of wood cut for kindling were found in the L-shaped fissure at Leitir Fura, Kinloch, on Skye.
http://www.bbc.co.uk/news/uk-scotland-highlands-islands-22296689
FRANCE –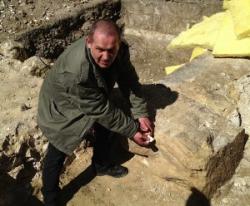 Rouen - Le service régional d'archéologie a mis au jour la statue d'un Christ en majesté dans l'enceinte de l'archevêché de Rouen. La statue sculptée dans un bloc de pierre de Caen ornait probablement au XIè ou XIIè siècle le tympan de la cathédrale romane aujourd'hui disparue. « Ce Christ exceptionnel devient la statue la plus ancienne découverte sur le site de l'archevêché », s'est réjoui mercredi Luc Lioger, directeur régional de la DRAC. Des fouilles ont débuté en mai 2012 sur les parties de l'archevêché appelées à être occupées par l'Historial Jeanne d'Arc. En cours d'année, les investigations se sont portées dans l'actuelle cour Saint-Evode là où sera installée l'entrée principale de l'Historial. « La fouille à cet endroit a révélé un imposant massif de fondation qui constituait au début du XIIè siècle la limite nord du palais archiépiscopal. La base et les fondations de ce mur ont été dégagées », explique l'archéologue Dominique Pitte. Il y a quelques semaines « j'ai repéré une anomalie dans ces fondations et la présence (inattendue) d'une pierre de Caen. La statue posée sur le côté effleurait le sol. On a découvert qu'il s'agissait d'un Christ en gloire avec les deux lettres caractéristiques "RI" pour "INRI" ou Jésus de Nazareth visibles près du visage », raconte l'archéologue Eric Follain.
http://www.filfax.com/blogs/redaction/2013/04/26/archeveche-de-rouen-mise-au-jour-dun-christ-en-majeste-du-xie-siecle/
SRI LANKA –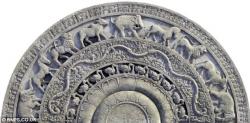 Anuradhapura - An ancient Buddhist artefact discovered being used as a doorstep and valued at £30,000 has been sold for more than £500,000. The granite relic was given to Bronwen Hickmottâ's parents by a tea planter who returned to Britain from Sri Lanka in the 1950s. The museum piece from the Anuradhapura period, between 400BC to 1017AD, is decorated with carvings of lions, horses, elephants and birds. It is said to symbolise the four stages life - growth, energy, power and forbearance. The city of Anuradhapura is the greatest monastic city of the ancient world that dates from the middle of the 5th century BC. It is today a UNESCO World Heritage Site.
http://www.dailymail.co.uk/news/article-2313725/1-300-year-old-Buddhist-temple-stone-used-family-doorstep-sells-500-000-auction-BBCs-Antiques-Roadshow-Sotherbys-turned-away.html 
OMAN – Dibba - An international team of archaeologists has stumbled upon a cache of relics dating back several millennia in the northern Omani enclave of Musandam. The discovery, which was made in the Dibba district of Musandam Governorate, is believed to be some 3,500 years old, and has been billed by the Ministry of Heritage and Culture as among the most stunning archaeological finds of recent times. According to a report in the Arabic newspaper Oman, the site first came to light last year when construction workers building the foundations of a local sports club, chanced upon what appeared to be an ancient tomb strewn with human bones. Italian and Greek archaeologists, who were brought in by the Ministry to study the site, have since uncovered the trappings of a full-fledged burial chamber housing the human remains of at least 188 individuals. Scattered around the site were remnants of pottery, swords, daggers and ancient jewellery. Using carbon-dating techniques, experts have pinpointed the site's antiquity to around 1300BC.
http://gulfnews.com/news/gulf/oman/millennia-old-burial-chamber-found-in-oman-1.1175535
USA –
 – Lincoln - With the 2015 sesquicentennial of Lincoln's death approaching, interest in it is rising, and with new tools, researchers at the University of Arizona have turned their attention to one of the last remaining mysteries about what was "perhaps the largest traditional funeral in American history," says Wayne Wesolowski. Wesolowski, a chemist and model train maker, was director of the Lincoln Train Project at Benedictine University near Chicago for 10 years. In 1995, he completed a years-long project of building a scale model of Lincoln's car, the locomotive and hearse and horses, all together measuring nearly 15 feet in length. After 30 years as a chemistry professor at Benedictine, Wesolowski retired to Tucson, and continues to teach as a chemistry lecturer at the UA. The car burned in a fire in 1911, having been sold at auction to Union Pacific after the funeral and passing through several private hands afterward. Just one artifact of exterior wood survived, and after years of searching, Wesolowski acquired a pencil sized piece of trim.
http://phys.org/news/2013-04-mystery-lincoln-funeral.html#jCp
INDE –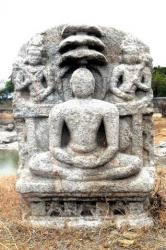 Swaminathapuram - A stone idol of Jainism founder Mahaveer, dating back to the 8th century AD, was excavated from the bank of the Amaravathi River at Swaminathapuram village near the temple town on Tuesday. A team comprising archaeologist P. Narayanamurthy, Deputy Superintending Archaeologist Murtheswari and historian Raja conducted the dating of the idol. The five-foot-tall and four-foot-wide idol has been carved out in white granite stone. Mahaveer, with a halo around his head, is seen in a reclining posture. Two cobras are carved on either side of the figure. An umbrella appears over the head. The face of the idol is slightly damaged. However, the umbrella and arch behind him are intact, they said. The excavation site is said to straddle the Pandia and Kongu kingdoms. The idol confirms that Jainism flourished in these regions during the period.
http://www.thehindu.com/news/national/tamil-nadu/stone-idol-of-mahaveer-excavated-from-river-bank/article4653236.ece