INSTITUT SUPERIEUR D'ANTHROPOLOGIE
INSTITUTE OF ANTHROPOLOGY
ONLINE COURSES / COURS A DISTANCE
SUMMER TERM : JULY 2014
REGISTER NOW
AUSTRALIE -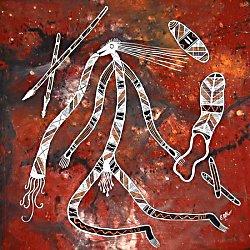 Tasmanie - Professor Cosgrove said that Tasmanian Aborigines had, for the past 40,000 years, used a flaked stone technology similar to European Neanderthals of 300,000 to 30,000 years ago, but were anatomically and behaviourally modern.``My talk was about how the Tasmanian Aborigines managed to survive, thrive and use landscapes in a very systematic manner for 40,000 years,'' he said. ``These people are not under any environmental pressure, they know exactly what they are doing and that's why they survived for 40,000 years. ``For people to say that their populations were dwindling and that they were isolated, I think, is a nonsense - in fact, the archaeological material that we've found show completely the opposite. ``All these ideas of how the Tasmanian Aboriginals were primitive and simple - no, that's not the case, they were very sophisticated, used landscapes very well and knew exactly what they were doing.'' Professor Cosgrove said that his conclusions were drawn from the archaeological evidence and that did not lie. ``Archaeology tells us that during the last ice age, these people were . . . using the landscape in a seasonal manner, moving into the highlands in summer time and back to the lowlands in the winter time,'' he said. ``There's good evidence from the wallaby jaws, the prey animal, to show that. ``When you look at the wallabies' teeth, it tells you when that animal was killed and this can be used as a proxy to see how the people moved and when.'' Professor Cosgrove said that he was certain the Aboriginal population before European contact was considerably higher than the 3000-5000 previously suggested and urged people to embrace the evidence that had been unearthed during the past few decades.
http://www.examiner.com.au/story/2243701/beliefs-on-aborigines-challenged/?cs=95
CAMEROUN –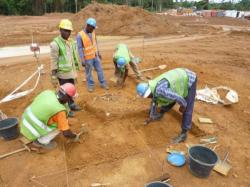 Lom Pangar -The group of consultants assembled by Vabioce, WBC and HMS has just been declared the recipients of a deal "to conduct rescue archaeology on the entirety of the Lom Pangar Dam construction site," in the East region of Cameroon. According to a press release published to this effect by the Managing Director of the Electricity Development Corporation (EDC), Théodore Nsangou, the deal in total is worth 990.9 million FCfa. Recently, the project leader (EDC) issued a press release announcing the discovery of very rare historical findings.  Lom Pangar Dam is the second construction project in Cameroon to incorporate rescue archaeology after the Chad-Cameroon pipeline. In a book entitled "De Kome à Kribi: Archéologie préventive le long de l'oleoduc Tchad-Cameroun, 1999-2004", (From Kome to Kribi: Rescue archaeology along the Chad-Cameroon pipeline, 1999-2004)  a team of international experts committed to this task reveals, for example, having investigated a distance of 1,070 km, that they discovered "an impressive 472 sites dating back to the Middle Stone  Age-Iron Age period, including numerous sites of foremost importance were discovered in regions that were previously unknown to archaeology."
http://www.businessincameroon.com/energy/2504-4799-vabioce/wbc/hms-to-pocket-one-billion-fcfa-for-rescue-archaeology-at-lom-pangar
INDE –
 Joysagar / Charaideo - The Archaeological Survey of India (ASI), which is taking care of conservation work of 16th century temples in Sibsagar district of Assam, will take up similar projects in Joysagar and Charaideo soon. After completing the conservation of the 17 monuments in Sibsagar, the ASI will initiate work at the group of monuments in Joysagar and Charaideo in a phased manner as per priority, ASI Superintending Archaeologist M K Chauley said here. Describing about the conservation work at the 16th century dilapidated temples at Gaurisagar in Sibsagar district, including the temples such as Sivadol and Vishnudol, Chauley told PTI that the structures were re-plastered after removal of plants. The major challenge in the work was the green foliage which crept up due to the rains which lash the state for six to seven months a year, he said. "These vegetation growths are of various types from micro to macro. The micro vegetation dies with change in weather, whereas the macro vegetal ones grow deep roots all over the temple," Chauley said. Though the plants were cut, their roots grow thick over a period of time and damage the walls, especially by widening the cracks in the joints of the projections of the temple, he said. "It is through these gaps that water trickles down into the Sikhara and the temple keeping the garbhagriha (sanctum sanctorum) dampens throughout the year," Chauley said.
http://www.thehindubusinessline.com/news/article5953396.ece?utm_source=RSS_Feed&utm_medium=RSS&utm_campaign=RSS_Syndication
INDE - Bhuinpura - Ruins of a nearly 150-year old temple have surfaced during digging for the Haridaspur-Paradip rail line project at Bhuinpura in Kendrapara district. Labourers stumbled upon the summit structure (Dadhi Nauti) of the place of worship during earth digging work at the village coming under Bagada gram panchayat, District Culture Officer Golakh Chandra Behera said today. The archaeologists of state archaeology department have inspected the site. The administration is yet to receive the report of their findings, he said. The curator of state archaeology department S K Badu, however, said "we visited the site where the remnants of a Hindu temple were discovered. The department is examining the remains to ascertain its antique character. However our preliminary view is that the temple must be over 150-year-old." The village where the chance discovery was made is situated in close periphery of the Luna river and it has a history of causing recurring flood. Thus there is possibility that the temple might have been destroyed by nature-induced devastation, he said. Side by side with Hinduism, Buddhism flourished in large areas of Kendrapara under Bhaumakar dynasty. There is every possibility that Buddhist treasures might be discovered from the spot. There are plenty of instances in these areas where Hindus worshipped Buddhist divinities, claimed historian Harischandra Prusti. 
http://www.dnaindia.com/india/report-ruins-of-150-year-old-temple-discovered-in-kendrapara-1982325?
CANADA –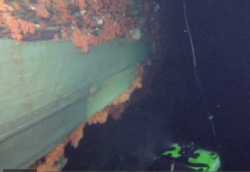 Beechey Island - The Canadian Armed Forces and Parks Canada teamed up to capture stunning new underwater images of Canada's most northerly shipwreck, which dates back to the mid-19th century. The Breadalbane, a three-masted merchant ship, became trapped in packed ice in 1853 in the Barrow Strait near Beechey Island, Nunavut, while supplying ships involved in the search for Captain John Franklin's lost expedition. The wreck has been declared a national historic site. Naval divers with Operation Nunalivut, an annual military operation in the Arctic, joined forces with Parks Canada's underwater archaeology service and SeaBotix Inc. to capture the footage. "Six days of diving with remotely operated vehicles this year have given us an up-to-date view of an incredible wreck that preserves a moment of time in Canadian history," Jonathan Moore, senior underwater archaeologist with Parks Canada, said in a press release. "We've learned a huge amount...it's rare to have such a detailed view of a shipwreck from 1853."
VIDEO = http://www.torontosun.com/2014/04/25/breadalbane-wreckage?