INSTITUT SUPERIEUR D'ANTHROPOLOGIE
INSTITUTE OF ANTHROPOLOGY
ONLINE COURSES / COURS A DISTANCE
WINTER TERM : JANUARY 2018
REGISTER NOW
EGYPTE –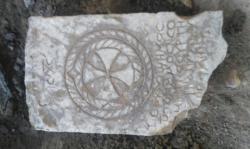 Louxor - Archaeologists in Luxor have stumbled upon a decorative Coptic tombstone buried on the eastern side of the Sphinxes Avenue, under Al-Mathan Bridge. The tombstone is carved of limestone and decorated with a cross and Coptic texts, Mostafa Waziri, secretary-general of the Supreme Council of Antiquities, told Ahram Online. The exact date of the object has not yet been ascertained, nor the identity of the deceased. However, Mostafa Al-Saghir, director of the Sphinxes Avenue, said experts are now studying the tombstone find out. The excavations in the Sphinxes Avenue are part of a Ministry of Antiquities programme to restore the area and transform it into an open-air museum.
http://english.ahram.org.eg/NewsContent/9/42/280244/Heritage/Coptic/Coptic-tombstone-unearthed-at-Sphinxes-Avenue-in-L.aspx
TURQUIE-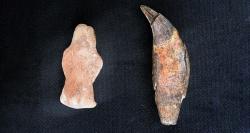 Yeşilova - archeologists have discovered an approximately 8,600-year-old bear statuette during excavation works in the Yeşilova Mound, in Turkey's western province of Izmir. The Head of the Excavation Committee, Zafer Derin, reported that more than 200 important findings that reflect life in the Neolithic period were obtained during the excavations in the Yeşilova Mound, one of the oldest settlements near Izmir. The five-centimeter-high bear statuette, made from baked clay, was one of the most interesting findings, Derin said. He said he believed that the bear was used as a toy, and to attract children to the wildlife. Another unique discovery found in the same excavation is a 5,000-year-old baby bottle that resembles a little sparrow. "Maybe it was used to give water or milk to babies some 5,000 years ago," Derin said. "You know the famous saying mothers tell their children when they don't want to drink milk 'look the bird is coming'? Maybe it came out thousands of years ago" he added. Another ancient finding was an 8,000-year-old little house sculpture, which gives crucial details about the architecture of the Neolithic period.
https://www.dailysabah.com/history/2017/10/22/8600-year-old-bear-statuette-unearthed-in-turkeys-izmir