25 MAI 2011 NEWS : Fatasil Ambari - Artsakh - Chester - Lyndhurst - Port Joli - Egypte -
25 MAI 2011 NEWS : Fatasil Ambari - Artsakh - Chester - Lyndhurst - Port Joli - Egypte -
- 25 MAI
- INDE –Fatasil Ambari - The directorate of archaeology, Assam collected 9 pieces of stone architectural relics from Dhirenpara of Fatasil Ambari area today which were first noticed by Mintu Ali, a local youth of the area, a press release said. Out of these nine pieces, two were recovered by the officials of the Directorate of Archaeology from the residence of Mohammad Ali, a resident of Dhirenpara. Dr HN Dutta, director of the directorate of Archaeology, Assam immediately rushed to the spot aongwith Ranjana Sarma, Director (Exploration & Excavation Branch), Chabina Hasan, Exploration officer of the directorate, Nilkamal Singh, a research scholar and taking into consideration the entire situation, the directorate of Archaeology took all the necessary steps and finally today at 9.00 am collected the stone architectural relics, along with the help of the local people Mintu Ali, Imtiaz Ali, Arjun Das, Suman Dey and Nipen Chakraborty under the guidance of the officials of theDirectorate of Archaeology, Assam.
http://www.assamtribune.com/scripts/detailsnew.asp?id=may2611/city07
- ARMENIE – Artsakh - Archaeological finds dating back to 6th century B.C., which were discovered in Artsakh, seem to be baiting Azerbaijan. In January, a burial place of two women, along with their golden and bronze decorations estimated at approx. USD 21,5 million, was discovered in Artsakh's Kashatagh region. Right after the report, passions flared up in Azerbaijan. Baku, having decided the treasures belong to Azeri side, made up its mind to stop at nothing to take away the artefacts found. Moreover, the Director of Archaeology and Ethnography institute of ANSA Maisa Rahimova came up with an absurd idea, stating that Azeri archaeologists intend to launch excavations on Artsakh territory. Hard to believe she meant it: given its military rhetoric against Artsakh, Azerbaijan cannot seriously hope to receive permission to excavate from Artsakh authorities. It's not difficult to see that the archaeological excavation will be used as a mere pretext to organize diversions and terrorist acts in Artsakh. Azerbaijan will use archaeological excavations as a cover for diversions it couldn't succeed in due to the agility of Artsakh servicemen. Artsakh, in turn, reminded Azerbaijan about the Armenian cemetery in Jugha, completely obliterated by Azeri soldiers. Azerbaijan was advised not to worry: Artsakh scientists are performing necessary archaeological excavations, proving time after time that Azeris have no historic, moral or legal relevance to Karabakh.
http://www.panarmenian.net/eng/world/news/70883/
- ROYAUME-UNI – Chester - An archaeological dig under way in Chester's Grosvenor Park may find previously unknown buildings associated with a great mansion house that was destroyed in the Civil War in the 17th century. Experts from Cheshire West and Chester Council's Historic Environment Team and University of Chester may also find part of a Roman road to the nearby amphitheatre. Simon Ward, director of the dig, said: "We are looking forward to a fruitful and exciting season expanding our knowledge of this interesting part of Chester close to the Roman Amphitheatre and Chester's original cathedral St John's Church."
http://www.chesterchronicle.co.uk/chester-news/local-chester-news/2011/05/25/chester-grosvenor-park-dig-hopes-to-uncover-historic-mansion-house-59067-28760135/
- ROYAUME-UNI – Lyndhurst - A New Forest church is starting an archaeological investigation which it is hoped could reveal clues about medieval settlements in Lyndhurst. The dig at St Michael and All Angels will remove a 5ft (1.5m) deep and 16ft (5m) wide earth mound to allow a new driveway to be built. Any fragments of artefacts could give an insight into previous settlements and religious activity on the site. There was no archaeological investigation undertaken when the current church was built in the 1860s. However it is known that it replaced one built in the 1760s. Records also show there was a royal hunting lodge on the site of the current Queen's House, adjacent to the church, which was known to have had a chapel attached. As part of other improvement works, there are also plans to investigate beneath the church floor for other evidence of religious activities on the site.
http://www.bbc.co.uk/news/uk-england-hampshire-13499391
- CANADA –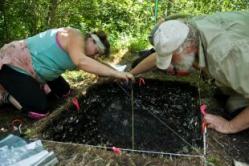 Port Joli - Last year, over July and August Betts and his colleagues from the researchers from the Canadian Museum of Civilization explored several sites of shell middens in the Thomas Raddall Provincial Park. Middens are ancient refuse heaps, essentially garbage dumps, made up mostly of clamshells. However they prove valuable to archeologists, because they usually also contain pieces of domestic life as well. "They are wonderful deposits for archeologists, because the calcium carbonate in clamshells neutralizes the acidity in Nova Scotia soils," said Betts. "You get great preservation of artifacts, bones, and even seeds from plants that are up to 2,000 years old." Their findings were studied over the fall and winter. Betts says the middens in Port Joli were particularly rich in items, containing dozens and dozens of artifacts. One of the more interesting items they found was flooring, likely from a wigwam, which dates back about 600 years. "One of the interesting things about the house floor was the artifacts were patterned in certain ways." He says the flooring also showed a clear indication of a divided floor plan. On one side were arrowheads and stone flakes from creating tools. The other side had signs of old scrapers, used by women to scrape animal hides, and ceramic pieces. Betts says this shows that men and women worked on two separate sides of the structure. Another interesting find, he says, was a midden about a metre deep and filled only with shells and bits of charred wood. The spot was likely used for drying shellfish for winter use, he says. . Because of it's size, Betts says it was likely a communal gathering spot, and dating puts it developing over a 50 year period about 1,500 years ago. The three sites in Port Joli he says have never been seen in the Maritimes or even Maine, so it is a very specific find for the area. With the data they have found, he says, aboriginal people first started exploiting the shellfish, possibly the first time they actually were in the area, about 1,500 years ago. However Port Joli did not give up all of its secrets. The sites were in continual use right up until European contact 350 to 400 years ago, and then it abruptly comes to an end.
http://www.theadvance.ca/Arts/2011-05-25/article-2533134/Life-in-Port-Joli,-1,500-years-ago/1
- EGYPTE –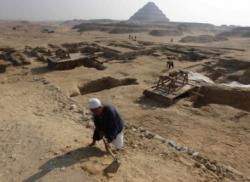 - Seventeen lost pyramids and numerous other buildings have been uncovered by space archaeologists scanning Egypt form space using infra-red satellite technology. A team led by Dr Sarah Parcak working in a Nasa-sponsored laboratory in the United States observed Egypt via satellites orbiting 700km above the earth. Evidence of unknown buildings across the country – including houses, temples, tombs and even pyramids – was uncovered by the team, and archaeologists then secured permission from the Egyptian authorities to dig for sites.More than 1,000 tombs and 3,000 ancient settlements were discovered by the team, bolstering the reputation of space archaeology. "I couldn't believe we could locate so many sites all over Egypt," Parcak said. The pioneering technology used by Parcak's team can detect objects less than 1m in diameter on the earth's surface, and the infra-red technology can detect different materials under the surface. So far, two of the pyramids found by the team have been confirmed to exist following digs. Parcak has said she believes that further historical sites exist in Egypt – particularly around the River Nile.
http://www.thejournal.ie/seventeen-lost-pyramids-uncovered-using-pioneering-space-archeology-143232-May2011/