INSTITUT SUPERIEUR D'ANTHROPOLOGIE
INSTITUTE OF ANTHROPOLOGY
ONLINE COURSES / COURS A DISTANCE
SUMMER TERM : JULY 2014
REGISTER NOW
PEROU –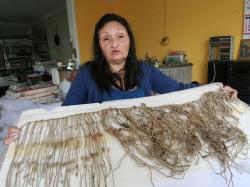 Incahuasi - A set of twenty-five well-preserved quipus were found in the archaeological complex of Incahuasi, south of Lima, Alejandro Chu, archaeologist in charge of the site reported on Tuesday.Chu told Andina News Agency that this is a major finding as the quipus were found in warehouses or kallancas and not in a funerary context, as most discoveries in the past, "what makes us believe they were used for administrative purposes". According to the Peruvian archaeologist, these objects, used by the Inca empire and previous societies in the Andean region, have different sizes and they have multiple knotted strings of different colors. Incahuasi or Inca house, located 29.5 kilometers south to the Cañete-Lunahuana highway- is the most important and strategic city built by the Incas in the valley of Lunahuana. With no written language, the Inca devised a tool for recording the movement of people and goods. A quipu is essentially a group of wool and cotton strings tied together. The strings are dyed in many different colors, and they are joined together in many different manners and they have a wide variety and number of knots tied in them. Together the type of wool, the colors, the knots and the joins hold information that was once readable by several South American societies. Many of these quipus were destroyed by the Spanish conquistadors in the 16th century, but approximately 200 of them dating no earlier than about 650 AD have been found. Although archaeologists do not all agree about the function of the knotted strings, one fairly compelling argument is that the quipu was a method of record keeping.
http://www.peruthisweek.com/news-archaeologists-find-25-quipus-at-inca-site-in-peru-103338
USA –
 Plymouth - Every American schoolchild knows the story of the Pilgrims' settlement of Plymouth. But even the most exacting US historian cannot say for sure precisely where that settlement stood.Now, a team of archeologists is digging through the sand at the bottom of Burial Hill in Plymouth center, their hopes set on unlocking a mystery that has intrigued researchers for generations: the location of the early 17th-century palisades that would define the original borders of the town that calls itself America's Hometown. What is known is that the Pilgrims built their first fort atop the hill, with its sweeping view of their houses and the harbor beyond it, and in 1622 enclosed the fort and their settlement with palisades that extended down toward the waterfront. But those walls were later removed. By the end of the 17th century the entire hill had become a cemetery, and today, most of the territory believed to be within the original borders of Plymouth village is either paved over or built over. The grassy area along School Street, at the bottom of Burial Hill, is owned by the town, but no one had ever dug there, in part for fear of disturbing unmarked graves. The UMass Boston survey team used ground-penetrating radar — a geophysical survey device that allowed them to avoid graves while identifying foundations of 19th-century structures that once lined School Street. The researchers believe these buildings may be located on the sites of early 17th-century homes.
http://www.bostonglobe.com/metro/2014/06/20/archeologists-seek-solve-year-old-mystery-plymouth-burial-hill/qpGet3XvbxFh0yUqQLfOOM/story.html?rss_id=Top-GNP
USA - Warm Springs - The ancient remains of a young man and part of his bow have been discovered near Warm Springs campground.  Officials have yet to date the jawbone, ribs and other bone fragments but say they are historic. "It's not somebody modern day," said Walter Kemp, pathologist at the state crime lab in Missoula. The remains have been turned over to state archeologist Stan Wilmoth with the Montana Historical Society, who suspects they are less than 2,000 years old and from a Native American man. "An awful lot of different groups would have been in the area," he said. Those tribes include Shoshone, Salish and Blackfeet.
http://mtstandard.com/news/local/ancient-remains-found-near-warm-springs-expert-says-they-could/article_31cb7de6-fb6d-11e3-85d3-001a4bcf887a.html?comment_form=true
ROYAUME UNI –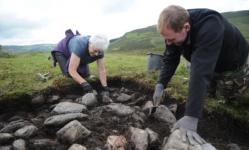 Glenshee - The third and final phase of a major archaeological project at Glenshee has started.Since 2012, Perth and Kinross Heritage Trust has been leading a series of digs in a bid to unveil how locals lived more than a thousand years ago. The continued excavation of a Pictish longhouse at Lair is a key part of the project, as such structures are exceptionally rare in Scotland. The turf-built structures are often overlooked in favour of the grandeur of hillforts, the Picts' defensive structures still evident across the country, including Moncrieffe Hill near Perth. Nonetheless, they show how everyday Pictish people would have lived — as opposed to the wealthy kings and leaders of the time. Although the details of this year's dig have yet to be revealed, a report from 2013 has unveiled the findings of previous excavations. This includes a detailed description of eight artefacts found on the site. Experts found one knife blade dated back to Anglo-Scandinavian times — around 1068 — while a candle pricket was similar to examples from medieval deposits found in York.
http://www.thecourier.co.uk/news/local/perth-kinross/diggers-get-working-to-reveal-lives-of-the-picts-at-glenshee-1.439946?