25 JUILLET 2015 NEWS: Ipplepen - Georgetown - Dandumailaram - Zhaocun  - Pliska -
25 JUILLET 2015 NEWS: Ipplepen - Georgetown - Dandumailaram - Zhaocun  - Pliska -
INSTITUT SUPERIEUR D'ANTHROPOLOGIE
INSTITUTE OF ANTHROPOLOGY
ONLINE COURSES / COURS A DISTANCE
FALL TERM : OCTOBER 2015
REGISTER NOW
ROYAUME UNI –
Ipplepen - An archaeological dig in a rural village near Exeter is yielding more ancient secrets. Last year experts working on a major field study at Ipplepen, Devon, excavated a Roman road, complete with ancient wheel ruts and potholes. Now they have uncovered new insights into how the community lived, through the discovery of new archaeological features and pottery, such as a continental food storage jug that would have travelled across Europe before it was used at the site. The team uncovered a large fragment of storage jar, known as an amphora, buried under the surface of the Roman road. The jar was made on the continent and originally contained food such as olive oil or wine. The Roman road revealed last summer forms part of the largest known Romano-British activity in Devon outside of Exeter. A significant number of Roman coin finds, the Roman road and a geophysical survey highlighted the importance of this extensive site and its potential to explore the relationship between the Roman empire and Britain's population at the time, specifically in the West Country. Previous field studies have revealed an Iron Age ring ditch enclosure and further Romano-British features, along with glimpses of evidence for even earlier Bronze Age and Neolithic activity. One of the new trenches this year is indicating that there are small structures which could be small rural houses which are probably contemporary with, and roughly in alignment with the road.
http://www.exeterexpressandecho.co.uk/Ancient-storage-jar-discovered-Roman-Road-Exeter/story-27478547-detail/story.html
USA –
Georgetown - Yarrow Mamout was something of a local celebrity in early 19th-century Georgetown. Taken from Africa in 1752 and sold into slavery, he eventually gained his freedom and made himself into a comfortable homeowner and something of a local financier. A Muslim, he prayed toward Mecca in the southeast corner of his snug plot of land and walked the streets of the village, singing chants that were probably from the Koran. He could read and write in Arabic. And in his later years, he sat for two formal portraits, including one by Charles Willson Peale, one of the most celebrated portrait painters of the 18th and 19th centuries. But after his death in 1823, Yarrow virtually disappeared into a sleepy corner of history. Now he may literally rise again. Archaeologists are hoping to find traces of the man — bones, a coffin or even just evidence of the home he built — on his Dent Place NW property. There's about a 50-50 chance that he's buried there. It was not uncommon for people to be buried on their property in the 19th century.
http://www.washingtonpost.com/lifestyle/style/what-lies-beneath-searching-for-the-bones-of-yarrow-mamout-a-turn-of-the-19th-century-georgetown-celebrity/2015/07/23/22517f0e-2fe8-11e5-8f36-18d1d501920d_story.html
INDE –
Dandumailaram - The discovery of a massive pit that appears like a tunnel or bunker on the outskirts of Dandumailaram village created a sensation in Samsthan Narayanpur mandal in Nalgonda district and the rural parts of Hayathnagar and Ibrahimptnam mandals in Rangareddy. The villagers said that the place was located close to Rachakonda fort which was ruled by Recherla Padmnayakas between 12th and 15th Century AD which was later ruled by Qutub Shahis and Asaf Jahis. Since the area was also a hot bed of Telangana Armed Struggle, that fought against Nizam rule and Naxalbari movement, the villagers believe that the pit might be a bunker or tunnel.
http://www.thehindu.com/news/national/telangana/discovery-of-pit-resembling-tunnel-creates-ripples/article7459083.ece
CHINE - Zhaocun - Many cultural relics have been found in the ruins of an village dating back to the Shang Dynasty (1600 BC-1046 BC) in north China's Hebei Province. Ceramic fragments, ash pits and animal bones have been unearthed in the ruins in Zhaocun Village, Xingtai City, according to Geng Xiaoning, director of the local cultural relics protection station. The ruins were discovered in 1980s. Archeologists began a rescue excavation at the site on Friday since the development and expansion of the village in recent years threatens the ruins.
http://news.xinhuanet.com/english/2015-07/24/c_134444526.htm?
BULGARIE –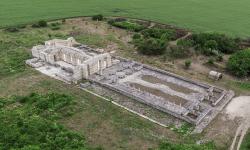 Pliska - Archaeologists excavating the 9th century AD Great Basilica in Pliska, capital of the First Bulgarian Empire between 680 and 893 AD, have reached water inside the temple's so called holy well, i.e. the sacred spring, also known with the Greek word "ayazmo", a spring or a small body of waterrevered by pagans and/or Christians. It is in the same holy well that in June 2015 the Bulgarian archaeologists found the symbolic grave of St. Boyan Enravota, an heir to the throne who became Bulgaria's first martyr for Christianity in the early 9th century AD. The Great Basilica in Pliska was completed around 875 AD; it construction started immediately after the First Bulgarian Empire (632/680-1018 AD) adopted Christianity as its official and only legal religion during the reign of Knyaz Boris I Mihail (r. 852-889;893 AD) in 865 AD – an event whose 1,150thanniversary was recently celebrated in Bulgaria.
http://archaeologyinbulgaria.com/2015/07/24/bulgarian-archaeologists-reach-water-in-holy-well-in-great-basilica-in-early-medieval-capital-pliska