25 JANVIER 2016 NEWS: Lima - Chahun Jo Daro - Nalgonda - East Anglia - Kathmandou - Tucson - Khadur Sahib -
25 JANVIER 2016 NEWS: Lima - Chahun Jo Daro - Nalgonda - East Anglia - Kathmandou - Tucson - Khadur Sahib -
INSTITUT SUPERIEUR D'ANTHROPOLOGIE
INSTITUTE OF ANTHROPOLOGY
ONLINE COURSES / COURS A DISTANCE
SPRING TERM : APRIL 2016
REGISTER NOW
PEROU –
Lima - Archaeologists announced the discovery of a presumed weaver at Lima's oldest huaca, El Paraiso (Paradise). The remains were found with weaving materials and date back to more than 3,500 years ago, reports Peru21. Located only a few kilometers north of the Peruvian capital, in the district of San Martin de Porres, the remains found in El Paraiso have led specialists to believe that the Lima settlement had contact with highland cultures. Chief of the archaeological project at the El Paraiso huaca, Cecilia Aguilar, told Andina news agency that the female weaver had textile instruments and products that did not originate from the coast. This indicates the possibility that they had contact with outside communities. Following analysis of the remains, they believe that the individual died due to a hit to the face and was unable to cure it. Additionally findings include clay figures and food waste dating back to more than 3,500 years ago (considered the Cotton Preceramic period). Specialists have also reported that some of the objects found depicted on clay figures are similar to those found in Caral.
VIDEO = https://www.youtube.com/watch?v=b0KAx0941cs
http://www.peruthisweek.com/news-lima-remains-of-presumed-weaver-dating-back-to-3500-years-ago-found-in-huaca-108654
PAKISTAN –
Chahun Jo Daro - Consul General of France in Karachi Francois Dall'Orso on Friday visited Chahun Jo Daro — a site where traces of a 4,500-year-old civilisation similar to Moenjodaro were discovered in 1930 — to meet a team of experts from his country who have been excavating a specified piece of land for the past two weeks. Mr Dall'Orso observed that Chahun Jo Daro had some resemblance with Moenjodaro which served to indicate that the site was part of the Indus valley civilisation. Aurore Didier, who heads the French archaeological mission, told the media that she along with her team had been doing research and exploration work at the 200x300-metre land for the past two weeks and intended to continue with the task for another three weeks. "Actually we had started the research work last year," she added. She said the mission would continue with its work for five years with five-six weeks of on-site exploration every year. She referred to the history of the region and the research work done since 1930, and observed that Chahun Jo Daro was believed to be a centre of craftsmanship as suggested by some artefacts discovered at the site. She stressed the need for preserving the discoveries made so far. "We have found painted pottery, bangles, beads and a few terracotta objects during excavation at this site and they seemed to be as old as the Indus valley civilisation," she said. Chahun Jo Daro was first discovered by Indian archaeologist N.G. Maju­mdar in 1930, when some artefacts were found at the site. Later, the objects were sent to museums in Mumbai and the United States. However, no research work on the site was done in the next 80 years. In 2011, the Sindh archaeology department undertook excavation at a 29-acre area surrounding the site in Nawabshah district and approached some foreign missions with exploration proposals.
http://www.dawn.com/news/1234779/french-experts-discover-artefacts-at-chahun-jo-daro
INDE – Nalgonda - Deputy Director of Archaeology and Museums P. Brahma Chary said that they would shortly start excavation of the early historical site located between Pazzur and Yarragaddagudem villages of Thipparthy mandal in the district, probably in the first week of February. Speaking to The Hindu , Brahma Chary said that they have got the nod of the Archaeological Survey of India (ASI) recently. During the visit on Thursday, the archaeological officials found a mango shaped ornament bead made with glass used by women of the early historic period. The Archaeology authorities found antiquities like terracotta figurines of women, ornamental beads, spool, couple of grinding stones, red ware and black ware pottery, decorated red ware and part of rim of a storage pot, bricks and other such items earlier, but they never found anything made of glass. Stating that they have found enough evidence at the site signifying a habitation around 2nd Century AD, he said, "We have discussed with the farmers of Yarragaddagudem village who have consented to give their land for excavation during the summer."
http://www.thehindu.com/todays-paper/tp-national/tp-telangana/excavation-of-historical-site-to-begin-soon-in-village-of-nalgonda/article8138098.ece
ROYAUME UNI –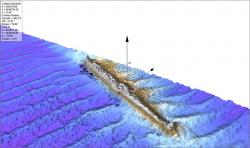 East Anglia - Windfarm development companies ScottishPower Renewables (SPR) and Vattenfall discovered more than 60 shipwrecks, including a World War I-era German submarine, in the North Sea while scanning the seabed. The uncharted vessel has been missing in action since January 13, 1915. "U-31 was the first of 11 Type U-31 submarines built between 1912 and 1915. The class were considered very good high sea boats with good surface steering; eight were sunk during operations while three surrendered and were scrapped after the war. Of those lost during operations, the whereabouts and fate of two, including U-31, was unknown," marine archaeologist Mark Dunkley of Historic England said. The submarine is well preserved and will be protected from any windfarm development.
VIDEO = http://www.scottishpowerrenewables.com/news/pages/seabed_scanning_for_east_anglian_windfarm_reveals_uncharted_wwi_german_submarine.asp
NEPAL –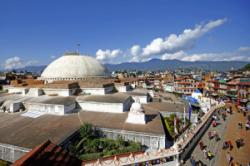 Kathmandou - The Bouddhanath Area Development Committee (BADC) has started renovation of Bouddhanath Stupa. The stupa had suffered damages to its different parts in the magnitude-7.6 earthquake on April 25 last year. The Committee forwarded renovation tasks after the Department of Archaeology gave it a green signal to carry out the renovation in its original form. Committee Chairman Sampurna Kumar Lama said that the Committee started renovation task of the Stupa, enlisted as the world heritage site, with the support from Department of Archaeology.It would be completed within a year, he added.
http://thehimalayantimes.com/kathmandu/bouddhanath-stupa-renovation-begins/
USA –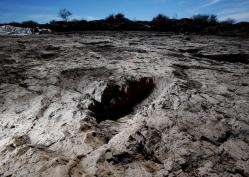 Tucson - Preparations for road construction near Tucson, Arizona, revealed the 2,500-year-old fields and footprints of farmers, children, and dogs. The field and prints were well preserved by a nearby creek that flooded its banks and covered them with a mica-rich sediment that formed a mineralized crust. Archaeologist Dan Arnit of Innovative Excavating was able to follow the movements of specific individuals around the field. One set shows where a large adult walked diagonally across the field, stopped to work on a berm or open a weir to let in water, and then returned across the field and over a ditch on a different path. Another farmer was probably being followed by a dog, whose paw print was found inside a foot print. The field still has depressions where the farmers had placed their plants. "So we've excavated a number of these planting depressions and will run samples for pollen and phytoliths to get a sense of what was being grown," Jerome Hesse, project manager for SWCA Environmental Consultants, told Western Digs. "We're doing everything we can to document the footprints, because they are smack-dab in the middle of the road," added Suzanne Griset of SWCA.
http://westerndigs.org/oldest-human-footprints-in-the-southwest-discovered-at-tucson-construction-site/
INDE –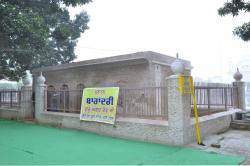 Khadur Sahib - Khadur Sahib is a historical place sanctified by the visit of eight Sikh Gurus. Sri Guru Angad Dev Ji, the second Sikh Guru of the Sikhs preached essence of Gurbani at this place. The Guru modified and developed the Gurmukhi alphabet, Gurmukhi primer, established first of its kind Gurmukhi school, established Mal Akhara (sports arena), got the Janam Sakhi of Guru Nanak Dev Ji written by Bhai Perra Mokha ji, had Goshati with Sidhs and served mankind for nearly 13 years during his Guruship period. His devoted wife Mata Khiwi Ji enforced the practice of "Langar" (free community kitchen) at this sacred place irrespective of ones, caste, colour and creed. The relationship of Guru Angad Dev Ji with an old building of Bara Dari and Khoohi Mata Khivi Ji was under scanner for a long time. Recently the relationship of the authenticity of the Bara Dari Building and Old Khoohi of Mata Khivi Ji at Khadur Sahib was verified and established with the early buildings of 16th century by the Directorate Cultural Affairs, Archaeology and Museums Punjab. On getting the heritage status under able guidance of Baba Sewa Singh, the highly precious heritage structures were opened for public by Panj Pyaras after performing Kirtan and Ardas. Bara Dari building is 33 feet long and 12.7 feet wide. The building structure is built with 'Lakhauri' bricks, Choona and high profile archaeological professionalism by the artisans.