25 - 26 FEVRIER 2012 NEWS : Espagne - Canfield Island - Oihi Bay - Penola - Glenarm -
25 - 26 FEVRIER 2012 NEWS : Espagne - Canfield Island - Oihi Bay - Penola - Glenarm -
INSTITUT SUPERIEUR D'ANTHROPOLOGIE 
INSTITUTE OF ANTHROPOLOGY
ONLINE COURSES / COURS A DISTANCE
INSCRIPTION  2012 /  Session II : Avril 2012
REGISTRATION 2012 /  Term II : April 2012
ESPAGNE – 
 Coins worth nearly half a billion dollars finally arrived in Spain on Saturday after lying in a sunken warship for more than 200 years and following a five-year legal battle between the Spanish government and a salvage company. The Nuestra Senora de las Mercedes, a 49-gun navy frigate, set sail from the coast of Peru - then a colony of Spain - with coins to help replenish the Spanish treasury's coffers. In 1804, British warships attacked as the frigate was approaching the Spanish port of Cadiz and the ship went down, with 249 killed, a Spanish government website said. On Saturday, Spanish military aircraft landed at the Torrejon air force base near Madrid bearing 594,000 gold and silver coins recovered from the wreck by U.S.-based Odyssey Marine Exploration in 2007.
http://uk.reuters.com/article/2012/02/25/us-spain-usa-shipwreck-idUKTRE81O0P520120225
USA –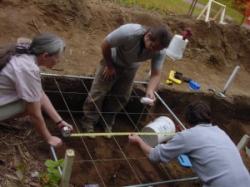 Canfield Island - Canfield Island is a recent addition to the Susquehanna shoreline, having been added during the 19th century during Northcentral Pennsylvania's lumber boom. But, before sawyers toiled in the mill, processing logs into lumber, American Indians called the area home. In fact, for the past 4,000 years or so, people have traveled to the river's edge at Canfield, following the seasons as they hunted and gathered and eventually farmed. Northcentral Chapter 8 of the Society for Pennsylvania Archaeology excavated at Canfield Island during the 1970s and '80s, under the watchful eye of James Bressler, the region's self-taught archaeological expert and patron of prehistory. I joined Northcentral Chapter 8 at Canfield Island in 2003, bringing along my Lycoming College archaeology field school. The students experienced public archaeology as they learned method and theory alongside non-students of all ages. In fact, Bressler was in his mid-80s at the time, still spry enough to join the group and point out interesting features that cropped up during the excavation. All artifacts, field notes and reports generated by the Lycoming College archaeology, working with Northcentral Chapter 8 and its partner the Lycoming County Historical Society, are curated at the society's museum.
http://www.northcentralpa.com/feeditem/2012-02-24_canfield-island  
NOUVELLE ZELANDE – Oihi Bay - An archaeological investigation at Oihi Bay, site of the earliest permanent European habitation in New Zealand, is revealing some fascinating details of life in the Bay of Islands in a very different era. The pickings have been rich; so far they have discovered numerous writing slates and pencils, a toy cannon, glass beads (commonly used for trade), a bronze bracelet (complete with a clasp still in working order), nails and pieces of ceramics. But the most exciting find as of earlier this week was the fireplace in what they believe to have been New Zealand's first schoolhouse. "The most interesting feature is the fireplace. You know you've got a house when you find a fireplace," Dr Middleton said. "The clay marble, the toy cannon; immediately you have the sense that there were children here," she said. The settlement was the early focal point for Maori/European interaction in the Bay of Islands, until other locations with better anchorages became more popular with visiting ships in the early 1820s, and other European settlements were established in Kerikeri, Paihia and Kororareka. The Oihi Mission Station was abandoned in 1832 when the last of its missionaries moved about 1km to Te Puna.
http://www.odt.co.nz/campus/university-otago/198974/archaeological-site-window-past
AUSTRALIE –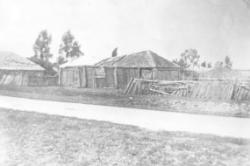 Penola - Archaeologists at a dig in South Australia believe they have pinpointed the exact site of Mary MacKillop's first school. Mary MacKillop - Australia's first Catholic saint - set up her first school in a stable at Penola in the state's south-east in 1866. A dig led by Flinders University Associate Professor Heather Burke has been taking place for artefacts in the town. Professor Burke says it seems likely they have now found the precise site of the stable where the school was first set up. "We think we may have found the footings of an outbuilding," she said. "We're really hoping that this is the site of the stable because clearly that's the building that's most important to that whole story. "It's not the cottages on that block, but the stable that she put her school into, but we're just waiting on the results of some more excavation to see if any of the artefacts perhaps can enlighten us a little bit more." She says more excavation will be done in the hope of shedding more light on the discovery.
http://www.abc.net.au/news/2012-02-15/mackillop-stable-school-dig/3832064/?site=brisbane
IRLANDE – Glenarm - A unique wooden 'shoe last', once used by a medieval shoemaker, is just one of the fascinating artefacts shown in a new publication which has been launched. 'Deer Park Farms' is about a unique excavation and analysis of a site that was lived in, more or less continuously, for several hundred years starting in the sixth century AD. The site was excavated in the late 1980s and the wooden shoe last, used for making and repairing fine leather shoes – left foot, size 7 – was just one of a unique set of discoveries made during the excavation. Deer Park Farms townland, near Glenarm, had a uniquely high level of archaeological survival, including organic remains, from wooden structures to insect and parasite remains, which do not usually survive on dry-land sites. This survival was due to large portions of the site being waterlogged, and the fact that the site had not been disturbed after it was abandoned centuries ago. Preservation was so good that cavity wall insulation survived in between the intact wicker walls of the houses. The excavations even uncovered bones that had been gnawed by the dog that probably guarded the household at night!  
http://www.larnetimes.co.uk/news/local/new_book_reveals_insight_into_glenarm_life_1_000_years_ago_1_3548960