INSTITUT SUPERIEUR D'ANTHROPOLOGIE
INSTITUTE OF ANTHROPOLOGY
ONLINE COURSES / COURS A DISTANCE
WINTER TERM : JANUARY 2017
REGISTER NOW
ROUMANIE –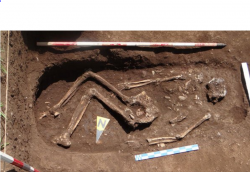 Prahova - Romanian archaeologists have found yet another ancient tomb in Romania's Prahova county, not very far from Bucharest. The tomb is believed to be around 5000 years old. Another such tomb was discovered in Prahova county in April this year, and another one was found in October 2015. This week's discovery was made in an area where a new industrial park should be built. "The entire assembly is interesting. There is a circle made of stones around the grave, which has a diameter of about 5 meters. He was probably a male placed in a position typical of their era, as they laid him on the back and lifted his knees, bending them," said Alin Franculeasa, an archaeologist from the Prahova County History and Archaeology Museum, reports local Mediafax. According to him, there are more than 300 archaeological sites in the towns around the city of Ploiesti, Prahova county. "We dug around 15-16 such mounds in recent years, all in the context of investment works," he added. Another ancient tomb was discovered in the same area on Wednesday, but this one was not preserved so well.
http://www.romania-insider.com/ancient-tomb-disocvered-romanias-prahova-county/
INDE - Pudukkottai - Almost a decade ago, archaeologists confirmed that the Neolithic people of Tamil Nadu shared the same language family of the Harappan group following the finding of Neolithic celts at Sembian Kandiyur near Mayiladuthurai. The symbol was first identified from pottery graffiti at Sanur, near Tindivanam followed by Mangudi and Tirunelveli. Epigraphists found that the signs corresponded with the characters in the Indus script.Meanwhile, a team of amateur archaeologist unearthed ancient pottery remains near Pudukkottai a couple of days ago. The damaged potteries with graffiti marks were found to be a primitive form of written script that is similar to that of the graffiti found in other parts of the state. Based on the information from a local resident, members of Pudukkottai Archaeological Research Foundation had gone on an explorative study at Ramasamypuram, Mangalanadu- Ambalathidal.The site is spread across 173 acres and located in the banks of Villuni River, in the boundaries of Ramasamypuram and Mangalanadu, which is filled with black and red pottery pieces, along with burnt out metal, mud casting for metal shapes and crystal stones, says archaeology enthusiast and founder of the foundation A Manikandan."The graffiti found here on pots are of two types, one is phonetic and the other is a pictograph. The pictograph looks like an upside down trident. The Greek archaeological experts opine that these symbols depicts the burial site of a warrior," he told TOI.However, he says that according to some, it is a simple mark of pot makers. "These kind of marks are found in Sri Lanka, Greece, and various ancient archaeological sites in India. In this light, the symbols and pictograph must be the universal language of the ancient times. The bones and other remains found at the site should be send for carbon dating and the foundation is taking proper steps to find the actual..
http://timesofindia.indiatimes.com/city/chennai/Ancient-pottery-with-graffiti-found-near-Pudukottai/articleshow/55005525.cms
KAZAKHSTAN – Toktamys - Archaeologists discovered gold jewelry of the Bronze Age in the East Kazakhstan region. In addition, scientists have found decorated national instrument called sybyzgy, dishes used in the 11th century BC and arrowheads. Shyngystau expedition started their work in the summer. They camped near the Lake Chagan in the village Toktamys. Excavations of Kyrykungir burial were carried in this area. ULAN UMITKALIYEV, HEAD OF ARCHAEOLOGY AND ETHNOLOGY DEPARTMENT, GUMILYOV EURASIAN NATIONAL UNIVERSITY: We began this work in 2014. Our team has already examined 11 forts belonging to the Bronze Age. In addition, we investigated two monuments, which belong to the Iron Age. During excavations, archaeologists found 140 assyks (knuckle bones) in men's grave. They believe that assyks served a different function those days. For the ancient inhabitants, they were not just a toy for a child, but also a mascot. This fact is of a particular importance for archaeologists. ULAN UMITKALIYEV, HEAD OF ARCHAEOLOGY AND ETHNOLOGY DEPARTMENT, GUMILYOV EURASIAN NATIONAL UNIVERSITY: We believe that in ancient times, mourners threw assyks to the grave and then covered it with soil. Assyks were symbols of courage. Some wore them as a talisman, and threw it to the grave when loved ones died. Assyks have been found in many tombs.
http://kazakh-tv.kz/en/view/news_kazakhstan/page_176603_archaeologists-discovered-gold-jewelry-of-the-bronze-age-in-the-east-kazakhstan-region
GEORGIE –
Colchis - A group of archaeologists have discovered ruins of ancient settlement in western Georgia's Samegrelo region, local media report. The settlement allegedly dated back to the 6th or 4th century BC, and the discovery was made in Anaklia, a Black Sea resort where a major port is currently being built. The information about the discovery was released by local radio Atinati, based in Zugdidi, Samegrelo. Head of the Monument Protection Department of Zugdidi Gamgeoba (local governing body) Lasha Jikia told radio Atinati experts had discovered two layers of ancient settlement of Colchis style. Jikia also said the newly discovered cultural monument was large and held about two hectares of land in Anaklia. "What's been discovered is 2,500 years old Colchis town or village which seems to have been tightly linked to the Greek world," Atinati quoted an archaeologist involved in the discovery. Colchis was an ancient kingdom and region on the coast of the Black Sea, centered in present-day western Georgia. It has been described in modern scholarship as "the earliest Georgian formation" which, along with the Kingdom of Iberia, would later contribute significantly to the development of the medieval Georgian statehood and the Georgian nation. Internationally, Colchis is perhaps best known for its role in Greco-Roman mythology, most notably as the destination of the Argonauts, as well as the home to Medea and the Golden Fleece. Experts said a further archaeological expedition would be held at the site starting in spring.