24 NOVEMBRE 2015 NEWS: Llanbadoc - Stratonikeia - Torcastle - Petra - Vallée des Rois - Zibo - Yemen -
24 NOVEMBRE 2015 NEWS: Llanbadoc - Stratonikeia - Torcastle - Petra - Vallée des Rois - Zibo - Yemen -
INSTITUT SUPERIEUR D'ANTHROPOLOGIE
INSTITUTE OF ANTHROPOLOGY
ONLINE COURSES / COURS A DISTANCE
WINTER TERM : JANUARY 2016
REGISTER NOW
ROYAUME UNI –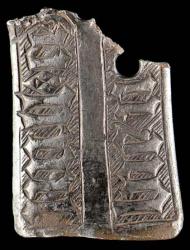 Llanbadoc - The metal detectorist who found a fragment of late medieval mount near the River Usk in March 2014, inscribed with the 15th century words "none this good", believes the newly-declared treasure could have formed part of the grip of a sword lost by a knight near the site of the 1405 Battle of Pwll Melyn. A slightly concave curvature and an invocation to the Virgin in Latin and Low German - also seen on finger rings from the period - feature on the rivet-holed mount, discovered near Llanbadoc, in Monmouthshire, and reported to the National Roman Legion Museum in Caerleon. The silver mount bears two incomplete inscriptions engraved against a recessed diagonally hatched background. There are two incomplete holes, suggesting that it once formed part of a composite object. Curators at National Museum Wales say the surviving fragment represents half its original length, leaving room on the missing section for another short motto or an enamelled shields of arms.
http://www.culture24.org.uk/history-and-heritage/archaeology/art541824-english-welsh-knight-sword-river-usk-archaeology
TURQUIE –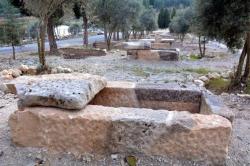 Stratonikeia - The head of the Stratonikeia's excavations, Prof. Bilal Söğüt, told reporters that Stratonikeia was known as the "city of love and gladiators." He noted that a total of 12 gladiator graves, which were unearthed during excavations, are now being exhibited at the entrance of the ancient city. "We know the names of all of these gladiators. We will put some information and symbolic paintings about them next to the graves. He earlier said remains from many eras in history could be seen in the ancient city, where they have discovered a settlement dating back 3,500 years. Home to settlements of Leleges and Carians throughout history, Söğüt said Stratonikeia was also important during the Hellenistic, Roman, Byzantine, Anatolian beyliks, Ottoman and Republican eras.
http://www.hurriyetdailynews.com/3000-year-old-gladiator-graves-on-display-in-turkeys-mugla.aspx?pageID=238&nID=91508&NewsCatID=375
ROYAUME UNI –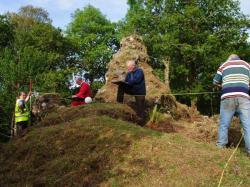 Torcastle - The ruins of a medieval Highland castle are once again accessible and attractive thanks to the work of local volunteers. The castle at Torcastle near Banavie, which is designated a scheduled monument, is set on a prominent knoll overlooking the River Lochy. Until recently it had been hidden within an overgrown jungle. But following approval from Historic Environment Scotland, Lochaber Archaeological Society undertook the necessary work to safeguard and make visible what remains of the medieval tower house. Originally the property of the Clan Chattan, the castle came into the possession of the MacIntoshes in the late 13th century but was later occupied by the Camerons and probably remained the seat of the chiefs until the 17th Cameron built his residence at Achnacarry in the mid-1600s.
https://www.pressandjournal.co.uk/fp/news/highlands/757695/medieval-castle-cleared-by-local-group/
JORDANIE –
Petra - When it comes to ancient cities, they don't come much more exotic than Petra in Jordan, made famous by Indiana Jones and the Last Crusade, and that's where Google's Trekker takes us with its latest Street View imagery. Google handed over its blog post announcing it to Queen Rania of Jordan. To this day, after too many trips to count, Jordan's ancient archeological site, the Rose-Red city of Petra, still fills me with awe. Concealed in majestic mountain gorges, visitors can wander through the entire city of Petra, imagining what life was like in the thriving trading center and capital of the Nabataean kingdom. Carved by hand into vibrant red, white and pink sandstone cliffs, it has, miraculously, survived earthquakes to withstand the test of time … You can begin your tour of Petra here, with 30 other Jordanian Street View tours available here.
http://9to5google.com/2015/11/23/street-view-petra-jordan/?
EGYPTE – Vallée des Rois - Egyptian antiquities minister, Mamdouh el Damati, has announced that work inside Tutankhamun's tomb will start on November 26 and will last for three days. Its aim will be to discover whether there are hidden chambers inside. British archaeologist Nicholas Reeves first asked for further investigations on the tomb. The British Egyptologist claims that one of the walls of the young Pharaoh's tomb could hide the last resting place of Queen Nefertiti. The minister added that work will be carried out with modern techniques that will not damage the mausoleum's structure.
http://www.ansamed.info/ansamed/en/news/sections/culture/2015/11/23/archaeology-nefertiti-work-on-tutankhamuns-tomb-starts_9a444895-294e-45fc-ba29-ce77e4b33b30.html?
CHINE - Zibo - A tomb dating back about 500 years with rare brightly coloured murals was on Sunday discovered by archaeologists in east China's Shandong province. Wang Zimeng with the provincial institute of archaeology said that the tomb of the mid to late Ming Dynasty (1368-1644) was discovered in Zhangdian District, Zibo city. The tomb consists of three burial chambers. Exquisite murals depicting people, dragons, a phoenix and flowers were painted in the tomb. Ming tombs with such murals are rarely found. This new finding is the only one in Zibo area, state-run Xinhua news agency reported.
http://www.dnaindia.com/world/report-rare-ming-dynasty-tomb-with-murals-found-in-china-2147805?
YEMEN –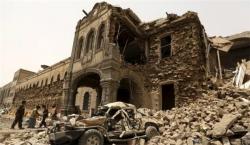 - The Saudi-led aggression has destroyed nearly two dozens archeological landmarks in Yemen since the beginning of Riyadh government's airstrikes on the Arab country, the General Organization of Antiquities and Museums announced on Saturday. The demolished archeological sites are stretched from capital Sana'a to Ma'rib, Aden, Dhale, Sa'ada, Ta'iz, Hodayda, Shabwa and Hajjah, the organization said. A sum of six ancient cities, six castles, three museums, two mosques, four palaces and several other archeological sites have been destroyed in Yemen. Less reported in the Saudi-led bombardments is the damage inflicted on cultural heritage sites in Yemen that have made extraordinary contributions to world civilization. Director of Yemen's General Organization of Antiquities and Museums Mohannad al-Sayani said that 23 sites and monuments have been severely damaged or destroyed since the beginning of the conflict. Sixty thousand years ago, early man walked through Yemen along the Bab al-Mandab, one of the major out-of-Africa routes that Homo sapiens took to colonize Eurasia. Archaeologists have found the remnants of prehistoric cultures that navigated the Red and Arabian Seas 8,000 years ago; these early travelers and traders left behind impressive megaliths. Then there are the prehistoric walled hilltop towns and massive cities that were ruled by the South Arabia's kingdoms of the first millennium B.C. Yemen also boasts a rich Islamic heritage that includes some of the oldest, most elaborately decorated mosques in the world. On June 12, the historic city of Sana'a, a UNESCO World Heritage Site, was bombarded by the Saudis. This city, continuously inhabited for over 2,500 years, contains some of the most beautiful traditional architecture in the world. The deliberate targeting of a civilian district of the old city was inexcusable and raises serious questions about Saudi Arabia's intentions in this conflict. Ten other sites in Yemen are on the tentative UNESCO World Heritage List. One of these, the old city of Sa'ada, has also suffered extensive damage from air attack.