24 MARS 2020 NEWS
ONLINE COURSES / COURS A DISTANCE
WINTER TERM : APRIL 2020
REGISTER NOW
CHINE –
Pingliangtai - Archaeologists have unearthed a number of pottery drain pipes at a Neolithic site of Longshan Culture dating back more than 4,000 years and believe they form China's earliest and most complete urban drainage system. The city drainage system was excavated in the Pingliangtai Ancient City ruins in central China's Henan Province. "The pottery pipes were connected with drainage ditches in the city," said Cao Yanpeng, associate research fellow with the Henan Provincial Institute of Cultural Relics and Archaeology. The development of public facilities and productivity are key indicators to measure the level of civilization in society. The discovery is of considerable significance to the future studies of the ancient city. Discovered in 1980, the Pingliangtai ruins were once a regional center in the Longshan Culture. A lot of cultural relics, including delicate jade ware and pottery were excavated there, Cao said. Previously, several wheel ruts dating back at least 4,200 years were also found at the ruins. They are believed to be China's earliest wheel ruts.
http://www.xinhuanet.com/english/2020-03/23/c_138907973.htm
ESPAGNE - Llanos del Pretorio - A study by archaeologists from the University of Granada present a zooarchaeological, osteometric, paleopathological and biochemistry study related to various burials of dogs and human remains in the Roman necropolis of Llanos del Pretorio located outside the walls of Roman Cordoba. The study looks at the morphological approach to the dogs existing in the Roman cities of southern Hispania, in which at least two different morphologies have been extracted; one of medium size, similar to that of different hunting and racing breeds of today, and another of very small sizes. One of the dogs exhumed is of particular interest, being around 20 centimeters in height, with shortened limbs and a flat nose that was discovered close to human burials. The UGR finding is one of the oldest recognized cases of micromorphic dogs in the whole of the Roman Empire. It is difficult to know the external appearance of this animal only by the bones (long or short fur, color, morphology of the ears, etc.), but its skeletal structure is similar to current small breeds, such as the Pekingese or individually considering the skull, some types of Chihuahua. "The existence of small dogs as pets, objects of affection and special consideration for their owners, has been known since classical antiquity, a fact corroborated by texts, epigraphy and iconography," says Martínez Sánchez. Classical authors such as Pliny the Elder and Claudio Eliano cite the taste of the urban classes for these animals, of which even funerary epigraphs have come to be known not unlike those known to beloved servants or slaves.
https://www.heritagedaily.com/2020/03/romans-already-had-miniature-dogs-as-pets-over-2000-years-ago/126727
BANGLADESH –
Gaurighona - A Buddhist monastery temple complex has been discovered in southwestern Bangladesh by researchers from the regional archaeology departments of Khulna and Barisal. The temple complex includes two temples, courtyards, and 18 rooms with unusually thick walls where monks are thought to have lived between the ninth and mid-eleventh centuries. Remains of another temple are thought to have been lost to more recent construction. "After excavating the site, we have found fragments of ornamented bricks, terracotta plaques, and clay pots," said research assistant Urmila Hasnat. "The fragments of terracotta bricks and plaques have engravings of lotus flowers and geometric shapes." Traces of stucco decorated with flowers and geometric shapes were also recovered, in addition to a type of clay pot only found in Buddhist monasteries dating to between the seventh and eleventh centuries, she added.
https://www.dhakatribune.com/bangladesh/nation/2020/03/18/ancient-buddhist-monastery-discovered-after-1200-years
ROYAUME UNI –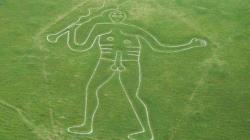 Cerne Abbas - Archaeologists are hoping to establish the age of an ancient naked figure sculpted into a chalk hillside. Soil samples have been extracted from the Cerne Abbas Giant in Dorset. Tests are expected to reveal a "date range" for when the landmark was created. It is hoped results, on soil samples from the giant's elbows and feet, will be available in July. The technique used will be the same as that used to date the Uffington White Horse in Oxfordshire in the 1990s. Prof Phillip Toms, of the University of Gloucestershire, will attempt to date the samples using a technique called optically stimulated luminescence (OSL). Martin Papworth, senior archaeologist at the National Trust, said the OSL technique was used to "determine when mineral grains in soil were last exposed to sunlight". He said the Uffington White Horse was found to be nearly 3,000 years old which was "even more ancient that we had expected". "It is likely that the tests will give us a date range, rather than a specific age, but we hope they will help us better understand, and care for, this famous landmark," he continued. The earliest recorded mention of the Cerne Abbas Giant was in 1694. To preserve the landmark, last year a team of volunteers hammered 17 tonnes of new chalk by hand. Local folklore has long held the 180ft (55m) chalk man to be a fertility aid. It was gifted to the National Trust in 1920 by the Pitt-Rivers family. Early antiquarians linked the giant with the Anglo-Saxon deity Helis, while others believe he is the classical hero Hercules. Others have said he was carved during the English Civil War as a parody of Oliver Cromwell, although he is commonly believed to have some association with a pagan fertility cult. A further layer of mystery was revealed in the 1980s when a survey revealed anomalies that suggested he originally wore a cloak and stood over a disembodied head. There has also been a suggestion his significant anatomy is in fact the result of merging a smaller penis with a representation of his navel during a re-cut by the Victorians.