24 Mars 2016 NEWS: Maltepe - Colchester - Stratford on Avon - Wilmington -
24 Mars 2016 NEWS: Maltepe - Colchester - Stratford on Avon - Wilmington -
INSTITUT SUPERIEUR D'ANTHROPOLOGIE
INSTITUTE OF ANTHROPOLOGY
ONLINE COURSES / COURS A DISTANCE
SPRING TERM : APRIL 2016
REGISTER NOW
BULGARIE –
Maltepe - The excavation of the largest unstudied Thracian mound in Bulgaria and the Balkan peninsula will begin in May. The Thracian mound of Maltepe, is located near the village of Manole, fifteen kilometres from the city of Plovdiv. Archaeologists are expecting to find remains and treasures of noblemen from the Odrysian tribe, with their hopes being particularly high as the mound has not been subject to looting.
http://www.novinite.com/articles/173679/Excavation+of+Bulgaria's+Largest+Thracian+Mound+to+Begin+in+May
ROYAUME UNI –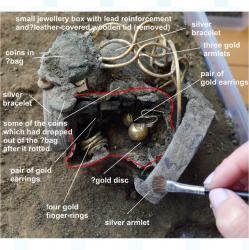 Colchester - Roman treasure dating from 60AD has been revealed at Colchester Castle. Known as 'The Fenwick Treasure', after it was found under the department store, it dates from the time of the Boudican Uprising.
http://www.itv.com/news/anglia/2016-03-23/pictures-roman-treasure-hoard-goes-on-display/
ROYAUME UNI –
Stratford on Avon - The first archaeological investigation of Shakespeare's grave at Holy Trinity church in Stratford-on-Avon has been carried out. The most striking conclusion is that Shakespeare's head appears to be missing and that the skull was probably stolen from what is a shallow grave by trophy hunters. The archaeological team used non-invasive ground-penetrating radar (GPR) to examine the grave and were able to put to bed a few myths about Shakespeare's burial.
http://www.theguardian.com/culture/2016/mar/23/shakespeare-stolen-skull-grave-robbing-tale-true?
USA –
Wilmington - Archaeological experts are weighing in on a cannon construction crews found under the street on Wilmington's river front. Crews found the cannon under the street right in front of the federal courthouse. Many of you have spent countless nights dancing or singing to a summer concert series on Wilmington's riverfront. Now, experts are saying a 300 year old cannon has been sitting right underneath your feet. Chris southerly with the underwater archaeology branch office says the size, style and design of the cannon would date it to the early 18th century. That is around the time the Mitchell-Anderson house was built. The Mitchell-Anderson House is the oldest house in Wilmington that is still standing. "More than likely it could have been off of an armed vessel at the time," Southerly said. "We have ,you know, there are a lot of shipwrecks here you know in the vicinity especially the Cape Fear River that date from the Colonial times to modern times that are even still visible." The cannon will now be sent to their lab in Fort Fisher for tests.
http://www.wwaytv3.com/2016/03/23/archaeological-experts-cannon-found-on-riverfront-from-1700s/