23 SEPTEMBRE 2014 NEWS: Amphipolis - Wipsowo -
23 SEPTEMBRE 2014 NEWS: Amphipolis - Wipsowo -
INSTITUT SUPERIEUR D'ANTHROPOLOGIE
INSTITUTE OF ANTHROPOLOGY
ONLINE COURSES / COURS A DISTANCE
FALL TERM : OCTOBER 2014
REGISTER NOW
GRECE –
 Amphipolis - The Greek Ministry of Culture announced that the caryatids flanking the second doorway at the Kasta Hill tomb site have been completely uncovered. Standing more than seven feet tall, their well-preserved feet wear kothornoi, or thick-soled shoes, that bear traces of red and yellow paint. According to a report, parts of the statues' broken hands and arms were recovered from the surrounding soil. The tomb is estimated to be 2,300 years old, and is thought to have been designed by Dinocrates, chief architect to Alexander the Great. It may contain the remains of someone from his inner circle.
http://www.archaeology.org/news/2536-140922-greece-amphipolis-caryatid-sandals
POLOGNE -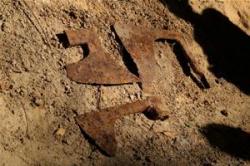 Wipsowo - Three Teutonic battle axes from the late Middle Ages have been found by engineers who remove World War II artillery shells left the forests in the Forest District Wipsowo (Warmia and Mazury). Historic weapons will be donated to the museum. Engineers stumbled upon the historic axes by chance, while searching the woods metal detectors. The weapons have been initially identified by an archaeologist as late-medieval Teutonic battle axes. Iron axes were close to each other, shallow underground, among the roots of trees. "It can be assumed that this is a deposit that someone left for better times. Perhaps the person fled, hid the weapons and never returned to this place" - told PAP Agata Trzop-Szczypiorska, responsible for archaeological supervision of the engineers' work. According to the archaeologist, clearing the forest of unexploded shells has just begun, so there is hope for more finds. After completion of the work, Teutonic axes will be preserved and donated to the Museum of Warmia and Mazury in Olsztyn.
http://www.naukawpolsce.pap.pl/en/news/news,401862,engineers-found-teutonic-axes-in-the-forest-district-wipsowo.html