23 SEPTEMBRE 2015 NEWS: Satyanarayanapuram - Demre - Savannah -
23 SEPTEMBRE 2015 NEWS: Satyanarayanapuram - Demre - Savannah -
INSTITUT SUPERIEUR D'ANTHROPOLOGIE
INSTITUTE OF ANTHROPOLOGY
ONLINE COURSES / COURS A DISTANCE
FALL TERM : OCTOBER 2015
REGISTER NOW
INDE –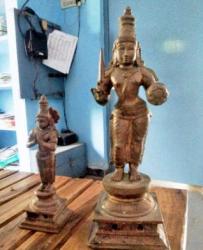 Satyanarayanapuram - Two rare bronze and copper idols, one of them identified as Alwar, found in the fields of Satyanarayanapuram village of Tripuraram mandal recently, were handed over to Tripuraram police by the villagers.
http://www.thehindu.com/news/national/telangana/found-in-fields/article7676132.ece?textsize=large&test=1
TURQUIE –
Demre - Ottoman-era ceramics have been discovered during excavations at the Noel Baba (Santa Claus) Museum excavations in the southern province of Antalya's Demre district. One of the most visited places in Antalya, the Noel Baba Museum pursuing excavations in its western courtyard. The head of the excavations at the museum, Hacettepe University Faculty of History of Arts Professor Sema Doğan said that works continued on at a deep layer since Demre was filled with five-meters of alluvion in the 13th century. She said the Turkish-Ottoman era had a significant place in the history of Demre, adding that the team had found lots of 19th-century pots and pans used in daily life as well as Byzantine-era artifacts in the lower layers.
http://www.hurriyetdailynews.com/Default.aspx?pageID=238&nid=88800&NewsCatID=375
USA –
Savannah - As the mechanized stage of recovery began in earnest this week, marine archaeologists working on the CSS Georgia had just started to dig in for the long haul – anticipating tedious, 12-hour days of sifting through concretion-covered objects from the dregs of the Savannah River. However, consider their surprise when the "five-finger" grapple delivered a 9,000-pound Dahlgren rifled cannon – previously undiscovered by several high-tech, multibeam sonar surveys – to their barge Tuesday. Besides the big-ticket items like the second Dahlgren, archaeologists are recovering a plethora of Civil War minutiae – leather shoes, wrenches, ceramic bottles, an anvil – turning the tedious into a treasure trove.
https://www.dvidshub.net/news/176414/second-dahlgren-rifled-cannon-surprises-css-georgia-archaeologists#.VgFeCd9Vikq