INSTITUT SUPERIEUR D'ANTHROPOLOGIE
INSTITUTE OF ANTHROPOLOGY
ONLINE COURSES / COURS A DISTANCE
WINTER TERM : JANUARY 2016
REGISTER NOW
USA –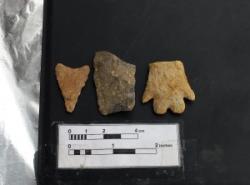 Yarmouthport - Volunteers for the archaeological project at the Taylor-Bray Farm in Yarmouthport found two stone points last week that could be from 8,000 to over 10,000 years old. he focus for the dig this fall was pre-colonial Native American activities at the farm. The archaeological project at the farm started in 2009 when volunteers discovered artifacts below the floorboards of the 18th century farm house. Native American artifacts found at the site indicate a seasonal use of the property. Workers on the dig last fall discovered post hole soil features that show the exact location of the original 17th century Taylor farm house. The dig this fall is expected to last through early November.
http://www.capecod.com/newscenter/yarmouthport-archaeological-dig-uncovers-10000-year-old-artifacts/
ROYAUME UNI –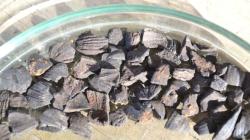 Staffin Bay - The remains of hazelnuts eaten by some of Skye's earliest inhabitants were found at a dig on the island, archaeologists have revealed. Hazelnuts were a favourite snack of Mesolithic hunter-gatherers, according to archaeologists at the University of the Highlands and Islands (UHI). The shells found at an excavation above Staffin Bay could be 8,000-years-old. Dan Lee, lifelong learning and outreach archaeologist at UHI, said: "We have found lots of fragments of charred hazelnut shells in the lower soil samples. "They are the ideal thing to date as they have a short life span and were a Mesolithic favourite. "There is so much material in the samples we took that we will not be able to process them all with the current budget, but all is pointing to lots of potential to go back for another phase and include them in that." He added: "We have what we need for now, to allow us to date the Mesolithic activity at the site." Other finds made at the five-day dig included flints and a piece of bone possibly handcrafted into shape for use as a toggle or bead.
http://www.bbc.com/news/uk-scotland-highlands-islands-34604576
ROYAUME UNI – Ogof Colomendy - Archaeologists are excavating a cave where 5,000-year-old human bones were discovered in the 1970s. Experts have returned to the site at Loggerheads Country Park, near Mold, Flintshire, to see what else remains since the discovery at Ogof Colomendy. The exact location of the site is normally a closely-guarded secret. Those finds in the 1970s are with the National Museum of Wales, including Neolithic bones from at least three individuals. But now archaeologists led by the Clwyd-Powys Archaeological Trust have returned. Ms Gale said: "Are there any undisturbed remains where there might be burials. Because if there are, that is very important and we should be trying to protect them."
http://www.bbc.com/news/uk-wales-north-east-wales-34591021
IRAN –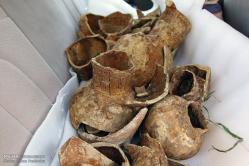 Ispahan - Subway workers discovered valuable potteries and ceramic objects belonging to the Seljuk period at a depth of six meters underground, thanks to the excavations undertaken in the construction of the Isfahan subway.
http://en.mehrnews.com/photo/111202/Historical-objects-discovered-in-Isfahan-subway-excavations