23 NOVEMBRE 2011 NEWS
23 NOVEMBRE
INDI-UNI : ANTHROPOLOGY - ARCHAEOLOGY
INSCRIPTION 2011 – 2012 COURS A DISTANCE
REGISTRATION 2011 – 2012 ONLINE COURSES
ROYAUME UNI –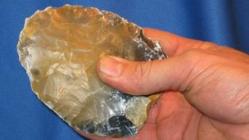 Moreton in Marsh - A Stone Age hand axe which was found on a building site could help prove part of Gloucestershire was once "almost on the seaside", experts have said. Archaeologists uncovered the finely-worked stone tool, which may be about 100,000 years old, on a housing development in Moreton-in-Marsh. They said they believed it may have been used by cavemen on the shores of a lake that spanned across the Midlands. The axe is thought to have been used primarily for butchering large animals. The tool was found by Cotswold Archaeology earlier this month on the building site at The Fire Service College. A similar axe was found nearby a few years ago, which experts said made the latest find "hugely significant". Neil Holbrook, chief executive at Cotswold Archaeology, said: "Back in the deep distant past, before the Ice Age, there was a huge lake in central Britain covering most of what is now Warwickshire and heading up to Leicestershire, which geologists now call Lake Harrison. "Moreton-in-Marsh would have been on the southern shore of this great lake. "Perhaps it's just too much coincidence that we've found these two prehistoric axes in that location. "I wonder whether these Neanderthals were coming to camp and forage on the shores of the lake? "Perhaps it points to a time when Moreton-in-Marsh was almost on the seaside."
http://www.bbc.co.uk/news/uk-england-gloucestershire-15851081
ISRAËL –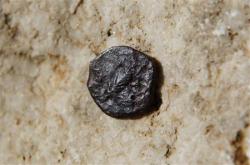 Jérusalem - Israeli archaeologists Wednesday said they had found ancient coins that overturned widely-held beliefs about the origins of Jerusalem's Western Wall, one of Judaism's holiest sites. For centuries, many thought the wall was built by King Herod - also infamous, in the Christian tradition, for his efforts to hunt down the baby Jesus in the original Christmas story. But archaeologists said they had found coins buried under the wall's foundations minted 20 years after King Herod's death in 4 B.C., showing the structure was completed by his successors. "This bit of archaeological information illustrates the fact that the construction of the Temple Mount walls and (the adjacent) Robinson's Arch was an enormous project that lasted decades and was not completed during Herod's lifetime," the Authority added. The authority said academic historians were already aware of an account by the Jewish historian Josephus that the wall was completed by Herod's great grandson. But that report had done nothing to dispel the popular story that Herod completed the wall and the coins were the first hard evidence to back up Josephus's version. The Western Wall was a perimeter wall of the Second Jewish Temple destroyed by Jerusalem's Roman conquerors in 70 AD. Herod still keeps the credit for driving the expansion of the compound of the Biblical Jewish Temple, beginning what Josephus described as "the largest project the world has ever heard of." The temple compound is now home to the al-Aqsa mosque and Dome of the Rock shrine and is revered by Muslims as the "Noble Sanctuary."
http://in.reuters.com/article/2011/11/23/us-israel-archaeology-idINTRE7AM0XL20111123
ROYAUME UNI –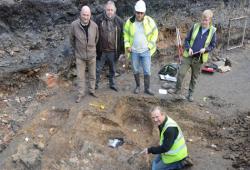 Tipton - Evidence of the large timber building on Shrubbery Avenue in Tipton has been discovered along with pieces of pottery dating back to the 12th century. The find is important historically as it is thought to be the earliest discovery of its kind in the town. Borough archaeologists along with a team from MetroMola, working on behalf of the Museum of London Archaeology, have spent the last two weeks at the site. They were originally looking for the remains of the former Tipton Green Hall which was said to have been built in 1400. The archaeologist found evidence of this building but also of earlier buildings on the site. They discovered the remains of what they think was a large timber building and also the pottery pieces which date from the 12th to 17th centuries.
http://www.expressandstar.com/news/2011/11/23/secrets-of-medieval-building-are-uncovered/
IRLANDE –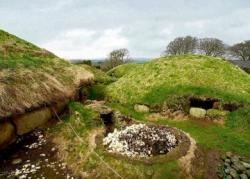 Bru na Bóinne - The Bru na Bóinne passage grave sites continue to surprise archaeologists, with two large enclosures discovered near Knowth. The formation of one of them is unique in Ireland, leaving researchers mystified about how it might have been used. The two buried features were found in a field adjacent to Knowth, no more than 40 or 50m from the famous passage tombs there, according to Joe Fenwick of NUI Galway. Last July he surveyed the roughly 100sq m field using non-invasive techniques that could "see" below the soil surface. There were virtually no bumps or irregularities at the surface, which would be the usual tell-tale sign of possible structures or past excavations underneath, he said. Mr Fenwick, of Galway's school of geography and archaeology, probed below the surface using a magnetometer. This detects changes in the natural magnetism of the soil caused by ground disturbance. He described his shock when not one but two large hidden features emerged. One is a large rectangular enclosure, in effect a soil platform 65m wide and of an as yet uncertain length. This is surrounded by a wide ditch of about 15 metres across. The second – an enclosure made of two concentric rings – was unknown in Ireland, he said. The outer is 70m across and has a surrounding 3-4m ditch. The inner ring has its own ditch around it and is 25-30m across. "The ring enclosure was completely unexpected because there were no signs of it on the surface," he said. "It is fantastically exciting. It is difficult to come up with a parallel for it. There is a possibility it could be a ring fort but it doesn't match others." He believes the features date back to the 12th or 13th century. The rectangular platform may have been built by Cistercian monks who were cloistered at nearby Mellifont Abbey. The survey also revealed what may be walls built on the platform. "It was a major piece of construction. It was not built for farming activity." Knowth, along with the nearby Newgrange and Dowth passage graves, are collectively a World Heritage Site. They are between 5,000 and 5,200 years old.
http://www.irishtimes.com/newspaper/ireland/2011/1123/1224307999876.html
FRANCE - Bagneux-la-Fosse - Un nouveau groupe scolaire devait être construit. Conformément à la loi, un diagnostic archéologique a dû être réalisé sur le terrain communal. De nombreux vestiges immobiliers et objets antiques et du Moyen Âge semblent avoir été repérés, entraînant des fouilles. Une solution semble avoir été trouvée pour limiter lesdites fouilles. Toutefois, plusieurs semaines y seront consacrées au printemps.
http://www.lest-eclair.fr/article/a-la-une/groupe-scolaire-des-fouilles-archeologiques-en-attendant-la-construction
ROYAUME UNI –
Exeter - Columns from a Norman crypt which were excavated in August have been re-buried indefinitely, at a Devon church. Two columns with intricate carvings were unearthed at St Stephen's Church on Exeter High Street. t was the first time they had been seen since an excavation in 1826. It had been hoped the columns would go on display, but the masonry was considered unsafe and the columns have now been re-buried. Archaeologist Stewart Brown said: "There are only two known crypts in Devon and Cornwall and the other one's a Saxon crypt. "This one has columns and is altogether more grand." The two columns, which would have supported the roof of the crypt were topped by capitals with carved foliage. Mr Brown said the columns had cathedral grandeur and were probably the last surviving parts of the crypt. He said: "William Warelwast, who became the Bishop of Exeter in the early 12th Century was a very important man who did a massive amount of building in Exeter and this probably explains why we have such grand architecture. "He may have had access to Norman masons as the work is very grand for a parish church and is comparable to Worcester Cathedral."