ONLINE COURSES / COURS A DISTANCE
SUMMER TERM : JULY 2020
REGISTER NOW
MALTE –
Tarxien - An incredible, undisturbed tomb probably dating back to the Punic period has been found in Tarxien. The tomb was found with its stone sealing slab still in place. A rare occurrence, the undisturbed tomb revealed a chamber which an intact set of burial paraphernalia, with several untouched and completely intact urns. The urns on the sides of the chamber still contained ashes from cremation rituals and were accompanied by an amphora and several small sized pots which were likely to have held funerary goods. The dating of the tomb to the Punic period means that the find is likely to date back to some 2,000 years ago. Tarxien is known as something of an archaeological centre in Malta, with multiple findings stretching across various period of history and pre-history being made in the past century. Foremost amongst those findings is that of Tarxien Temples in 1913, which is on the UNESCO World Heritage List and which dates back to between 3600 and 2500 BC.
https://www.independent.com.mt/articles/2020-05-21/local-news/Incredible-undisturbed-Punic-tomb-found-in-Tarxien-6736223390
Rép. TCHEQUE - Domašín - Archeologists working on a dig in the area around the village of Domašín in North-East Bohemia have found evidence of an Iron Age burial site likely associated with an Urnfield culture settlement found in the nearby village of Černíkovice.
https://www.radio.cz/en/section/news/archaelogists-announce-find-of-iron-age-burial-site-in-north-east-bohemia
ISRAEL –
Jerusalem - Archaeologists on Tuesday exhibited a recently uncovered, unusual series of 2,000-year-old chambers carved out of the bedrock beneath the Western Wall plaza in Jerusalem. The Israel Antiquities Authority's excavations are uncovering new sections of a sprawling network of ancient subterranean passageways running alongside a contested Jerusalem holy site known to Jews as the Temple Mount and to Muslims as the Noble Sanctuary. Archaeologists began excavating a large, late Byzantine building located around 35 meters (120 feet) from the base of the wall last year. Beneath the plain white mosaic tiled floor of the monumental structure, they discovered a series of small chambers hewn out of the bedrock. Fragments of clay oil lamps and limestone cups helped date the subterranean rooms to around 2,000 years ago. Lead archaeologist Barak Monnickendam-Givon said the "very huge investment in rock cut installation work" below ground had never been found before in the ancient city and was "very puzzling." It remains unclear what the tiny chambers were used for. The underground archaeological excavation is taking place about six or seven meters (20 feet) beneath the modern street level of the Western Wall plaza. Researchers hope the discovery of common items, such as bone and ceramic fragments, will help shed light on daily life in Jerusalem before its destruction by Rome in 70 A.D.
https://apnews.com/586a7951ef8bf229bec124369c8d4be1
ALLEMAGNE –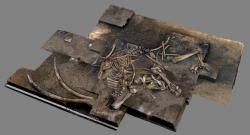 Schöningen - Elephants ranged over Schöningen in Lower Saxony 300,000 years ago. In recent years, remains of at least ten elephants have been found at the Palaeolithic sites situated on the edges of the former opencast lignite mine. Now, archaeologists have recovered for the first time in Schöningen an almost complete skeleton of a Eurasian straight-tusked elephant (Palaeoloxodon antiquus). The animal died on what was then the western lakeshore - what exactly happened and what the biotope surrounding the area was like 300,000 years ago is now being carefully reconstructed by the team. The preliminary study will be published in Archäologie in Deutschland and will be first presented at a press conference in Schöningen on Tuesday the 19th of May. The elephant skeleton lies on the 300,000 years old lakeshore in water-saturated sediments. Like most of the finds at Schöningen, it is extraordinarily well preserved as Jordi Serangeli, head of the excavation in Schöningen explains. "We found both 2.3-metre-long tusks, the complete lower jaw, numerous vertebrae and ribs as well as large bones belonging to three of the legs and even all five delicate hyoid bones." The elephant is an older female with worn teeth, as archaeozoologist Ivo Verheijen explains. "The animal had a shoulder height of about 3.2 metres and weighed about 6.8 tonnes - it was therefore larger than today's African elephant cows." It most probably died of old age and not as a result of human hunting. "Elephants often remain near and in water when they are sick or old," says Verheijen. "Numerous bite marks on the recovered bones show that carnivores visited the carcass." However, the hominins of that time would have profited from the elephant too; the team found 30 small flint flakes and two long bones which were used as tools for knapping among the elephant bones. Bárbara Rodríguez Álvarez was able to find micro flakes embedded in these two bones, which proves that resharpening of stone artefacts took place near to the elephant remains. She also refit two small flakes, this confirms that flint knapping took place at the spot where elephant skeleton was found. "The Stone Age hunters probably cut meat, tendons and fat from the carcass," says Serangeli. Elephants that die may have been a diverse and relatively common source of food and resources for Homo heidelbergensis.
https://uni-tuebingen.de/en/university/news-and-publications/press-releases/press-releases/article/a-300000-year-old-nearly-complete-elephant-skeleton-from-schoeningen/
INDE –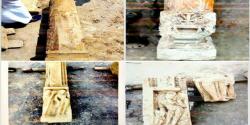 Ayodhya - In a major development, remains of ancient temples, pillar, idols of deities and a Shivlinga have been spotted at Ram Janma Bhoomi (RJB) temple site in Ayodhya where the work of levelling the land meant for construction of proposed Ram temple is underway. A five-foot Shivlinga, seven pillars of black touchstone, six pillars of red sandstone, structrues of flowers and broken idols of deities were found at the site. However, the director, state archaeological department, AK Singh refused to comment on the emergence of remains. He said that he had come to know about the findings through media reports and was not in a position to comment on the authenticity of the artefacts unless he saw them himself.
https://www.newindianexpress.com/nation/2020/may/21/remains-of-ancient-temples-shivlinga-idols-found-at-ayodhya-temple-site-2146202.html