23 JUILLET 2013 NEWS: Monasterace Marina / Kaulonia - Yejiashan - Cap Tissa - Londres - Malte - Alabanda - Inishbofin -
23 JUILLET 2013 NEWS: Monasterace Marina / Kaulonia - Yejiashan - Cap Tissa - Londres - Malte - Alabanda - Inishbofin -
INSTITUT SUPERIEUR D'ANTHROPOLOGIE
INSTITUTE OF ANTHROPOLOGY
ONLINE COURSES / COURS A DISTANCE
FALL TERM : OCTOBER 2013
REGISTER NOW
ITALIE –
 Monasterace Marina / Kaulonia - The largest and most articulated Hellenistic mosaic from Magna Grecia has been found in Monasterace Marina, ancient Kaulonia, in the southern Italian region of Calabria. Last year mosaics depicting a dragon and dolphin were found here. The others found this year represent a small dolphin, a new dragon and a large dolphin fighting the dragon discovered last year. The area has been called 'the room of dragons and doplhins' and the finding confirms the presence of one of the largest Hellenistic mosaics from Magna Grecia over a surface of about 30 square metres. The mosaic dates back between the end of the IV and the first decades of the III century BC. Archaeologist Francesco Cuteri is coordinating the work with the participation of Italian university students and students with the college of Bahia Blanca, Argentina, under the direction of Maria Teresa Iannelli, archaeological superintendent of Calabria
http://www.ansamed.info/ansamed/en/news/sections/culture/2013/07/23/Archaeology-largest-Hellenistic-mosaic-found-Calabria_9061420.html?idPhoto=1 
CHINE –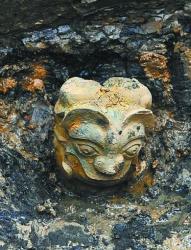 Yejiashan - Archaeologists said they have discovered a rare bronze head with two faces dating back more than 3,000 years in a tomb complex in central China's Hubei Province.The sculpture featuring huge eyes, protruding cheekbones and horns was unearthed from the Yejiashan Graveyard in the city of Suizhou. The graveyard consists of a cluster of tombs believed to have belonged to nobles during the early Western Zhou Dynasty (1046-771 BC). The sculpture was found positioned over the head of the owner of tomb M111, suggesting that it was of some significance at the time, said Zhang Changping, a history professor at Wuhan University. "It is the first time that such a sculpture has been discovered from the Western Zhou Dynasty," said archaeologist Li Boqian from Peking University, who suspected the item to be a patron god. The shape and design of the sculpture are similar to masks uncovered from the Sanxingdui Ruins in southwest China's Sichuan Province, although archaeologists said it more closely resembles another two-faced sculpture found in 1989 in a Shang Dynasty (1600-1046 BC) tomb in east China's Jiangxi Province. First discovered in 2011, the Yejiashan Graveyard was inscribed among China's Top 10 Archeological Findings that year. The latest excavation has found the dynasty's first painted bronze and a tomb burying a set of 19 dings (cooking vessels) and 12 guis (food containers) that surpassed the burial norms for a king.
http://www.kaogu.cn/en/detail.asp?ProductID=4291
MAROC – Cap Tissa  - Le jeune plongeur Saïd Aït Baâziz est sorti de l'anonymat grâce à sa découverte archéologique maritime, première du genre au Maroc, près des côtes de Safi. Le jeune safiote, âgé de 29 ans, a découvert, en effet, les vestiges d'un navire de guerre vieux de plus de quatre siècles, selon des experts du ministère de la Culture. Cette découverte, sans précédent au niveau national et qui remonte à l'époque la dynastie des Saâdyine, renseigne sur la place de choix qu'occupait la ville de Safi à l'époque, en tant que plaque tournante du commerce avec les pays européens, notamment l'Espagne, le Portugal et la Grande-Bretagne. Elle met aussi en évidence l'importance des recherches sous-marines et peut marquer un nouveau départ pour cette discipline au Maroc.
http://www.atlasinfo.fr/Said-Ait-Baaziz-le-plongeur-qui-a-decouvert-le-premier-site-archeologique-sous-marin-au-Maroc_a44229.html
ROYAUME UNI –
 Londres – Archaeologists found the four-metre-long walrus with 1,500 human bodies as part of excavations at the station in 2003, amid the renovation of the station into the Eurostar terminal. The bones were in a coffin with eight other sets of human remains, which are thought to have been used for medical research some time after 1822. Both the archaeologist who discovered the bones, Phil Emery, and the zoologist who studied them for the Museum of London Archaeology, Alan Pipe, are not sure how the bones came to be in St Pancras Church on the northern side of the station. "It's a bit of a mystery", Mr Emery told The Times. "We did some research to see if we could find any record of a walrus being dealt with, for example, by the London Zoological Society, but we drew a blank."
http://www.telegraph.co.uk/earth/wildlife/10196753/Walrus-remains-found-buried-under-St-Pancras-station-in-London.html 
MALTE -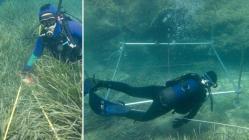 Marine archaeologists excavating the Mellieha wreck, which is shedding light on Malta in Roman times at around 300AD.
VIDEO = http://www.timesofmalta.com/articles/view/20130722/local/Mellie-a-wreck-yielding-secrets-of-Roman-times.478994
TURQUIE –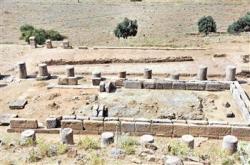 – Alabanda - Excavation works of a 2,200-year-old "Goddess Rome Temple" have started in the Alabanda Ancient City near Turkey's southwestern province of Aydin. The ancient city sheds light on the history of the region, Archeology lecturer at the Adnan Menderes University, Dr. Suat Ateslier, told Anadolu Agency. Ateslier emphasized that Roman historian Titus Livius Patavinus (Livy) mentioned the Alabanda and temples in ancient articles and added that by following their works in that way, they finally identified the location of the temple. Built for strengthen relations with Ancient Rome. Ateslier drew attention to the greatness of the Goddess Rome Temple as it was bigger and much more magnificent than the previously unearthed Apollo and Zeus temples in Alabanda. As the Goddess Rome Temple is bigger than the mother goddesses temples, we have to think about receiving the political and military support of Ancient Rome. Alabanda had an intense war period during the second century BC with Rhodes and asked support from the Ancient Rome.
http://www.hurriyetdailynews.com/alabanda-excavation-sheds-light-on-history.aspx?pageID=238&nID=51110&NewsCatID=375
IRLANDE –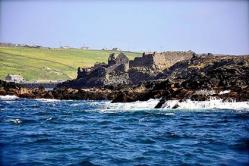 Inishbofin – Archaeologists from the University of Notre Dame, Indiana, have unearthed part of a "lost" famine village, known as "Poirtins", on the island of Inishbofin, of the Galway coast. The experts believe that up to 100 people inhabited the village, made up of large, long, single-storey thatched house. They also found porcelain on the site. The structure of the buildings also shows that these homes were "successful residents" for the time, according to Dr Ian Kuijt, professor of anthropology at the University of Notre Dame. Gibbons told the Times, "The monumental type of architecture was unusual, and the settlement was not marked on the 1776 map of Inishbofin which shows houses further to the north." The Notre Dame team believe that the settlement was just 20 or 30 years old before it was abandoned. Kuijt said the downturn in fishing, or the tenant farmers could have been factors in its demise. However, another theory is that at this time 1822 the population was struck by a famine. In the local cemetery there is a memorial slab dedicated to a priest who ministered to people dying of starvation and fever at that time. The stone from the buildings was taken and used for road building and other relief work elsewhere.
http://www.irishcentral.com/news/Notre-Dame-archaeologists-unearth-lost-famine-village-on-Galway-island-216202741.html