INSTITUT SUPERIEUR D'ANTHROPOLOGIE
INSTITUTE OF ANTHROPOLOGY
ONLINE COURSES / COURS A DISTANCE
SPRING TERM : APRIL 2018
REGISTER NOW
ROYAUME UNI –
Vindolanda - A team of archaeologists in Northumberland, England have unearthed what they believe to be the oldest surviving pair of Roman boxing gloves.The gloves were discovered at an ancient Roman barracks site called Vindolanda, near Hadrian's Wall. They were found neatly "concealed beneath a concrete floor laid by the Romans," with a collection of swords, writing tools and shoes, according to the Daily Mail. Since the gloves are so well preserved, scientists are calling the pair of boxing globes an "astonishing discovery."While some Roman statues have depicted boxers from that general time period, this is the first time scientists are getting a glimpse of what the life of a boxer might have actually looked like. What's interesting about the two newly discovered gloves is that they're not identical. An archaeologist involved in the dig notes that one glove is smaller and "in near perfect condition." The smaller glove is also filled with a tightly wrapped coil of leather that likely packed an extra punch when striking an opponent. The larger glove is also pretty impressive — it's made entirely of one piece of leather and filled with an indiscernible natural material to absorb impact. Though boxing precedes the Roman Empire, in its heyday, Roman soldiers practiced boxing and other hand-to-hand combat to keep them sharp and prepared for battle.
http://dailycaller.com/2018/02/20/archaeologists-ancient-rome-boxing-gloves
R0YAUME UNI –
Chester - Archaeologists have found a wall from a Roman barrack block after investigations began into the area where the proposed Chester Northgate Development will be built. And already experts believe they have found the remains of a Roman wall in Hamilton Place, at the rear of The Forum shopping centre, which would have formed part of the soldiers' barracks. What is discovered may shed more light not only on the ancient Roman fortress but also the Medieval/Saxon town that followed.
https://www.chesterchronicle.co.uk/news/chester-cheshire-news/archaeologists-find-roman-barrack-block-14314159
INDE –
Andipatti - A team of amateur archaeologists discovered an oil press belonging to 10th century C.E. near Andipatti with a Tamil script. It is one of the earliest Tamil inscriptions to be found in this region.The team took estampage of the inscription and it was brought to C. Santhalingam, secretary, Pandyanadu Centre for Historical Research, to decipher. "Based on the inscription, the oil press belongs to 10th century CE. It is written in Tamil script and says that the oil press was installed by one Kudiyaan Thevan for common purpose. Also, the inscription throws light on the village and its geographical location. The place is inscribed as 'Thenmutta Naatu Kannimangalam'. Probably, there should have been many Kannimangalams and this one is located in Thenmutta Naadu, a geographical unit Kings followed in those periods. Places in and around Andipatti region were called as Thenmutta Naadu and there are references," says Santhalingam.Though discovering an oil press is nothing new in these parts as the team identified similar one in Chitharevu near Periyakulam six months ago. What made the discovery significant is the Tamil script on it. Earlier ones had Vattezhuthu script. "King Raja Raja Chola I ruled Pandya Kingdom during 10th century CE and he introduced Tamil script here as he was quite adept in it. Also, he did not know to read Vattezhuthu. Hence, he recorded all his documents in Tamil script and encouraged the people to learn the same. The king had even translated Vattezhuthu script to Tamil script evident from the Kutralanathar Temple inscriptions in Courtallam. Comparatively, Tamil script was easy to learn than Vattezhuthu and public patronage grew that saw the decline of Vattezhuthu. Gradually, Tamil script gained prominence," he says. Tamil script was widely practiced and popularised by Pallavas who had inscribed on the door jambs of sanctum santorum of temples in Thanjavur. "In fact, it was Pallavas who helped Cholas learn the script. Most of the inscriptions after Chola rule in Pandya kingdom are in Tamil script,". Early inscriptions found in Pandya Kingdom are in Tamil Brahmi and Vattezhuthu scripts. Even in Irukkandurai, a medieval period port city in Radhapuram Taluk in Tirunelveli, which was discovered by Santhalingam and his team last year, there are 25 inscriptions. Of them, only three belonged to early Pandyas and they are in Vattezhuthu whereas the rest are in Tamil script and they talk about the prowess of Rajendra Chola I.The oil press found in Andipatti goes into history as the symbol of transition from Vattezhuthu to Tamil script.
http://www.thehindu.com/society/10th-century-ce-oil-press-discovered-near-andipatti-with-a-tamil-script/article22814589.ece
TURQUIE –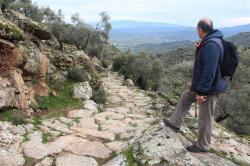 Söke - Four kilometers of a 2,300-year-old stone road, which connects the ancient cities of Alinda and Herakleia (Latmos) in the western province of Aydın's Söke district, have been destroyed by villagers to make way for their olive groves. EKODOSD president Bahattin Sürücü said the construction of the stone road was at a great expense by the ancient city of Herakleia's founder Pleistarkhos. The road connects the ancient cities of Myus, Alinda, Alabanda, Tralleis to each other, as well as the Menderes Valley to the Marsyas Valley.
http://www.hurriyetdailynews.com/ancient-road-destroyed-to-make-way-for-villagers-olive-groves-in-aydin-127634
MALAISIE – Penang - Archaeologists in Penang discovered twin cannons buried 1.2m below the ground beside Fort Cornwallis at the Esplanade here.The 2.2m and 2.35m-long cannons, which are believed to be at least 200 years old, were discovered during the excavation of the fort's moat and outer defensive structures at around 2pm on Monday.Penang chief archaeologist Datuk Dr Mokhtar Saidin said the discovery could change Fort Cornwallis' history as a "peaceful fort" . "One of the interpretations was that the fort was not involved in any war. "However, with the discovery of the cannons and cannonballs at the end of last year, we might have to take another look at the fort's history. Dr Mokhtar said the cannons could be even older than two centuries as there were markings of "GR" (George Rex), the symbol of King George III, who reigned in Great Britain from 1760 to 1820. "There were no markings of any cannons in the 1877 map.
VIDEO = https://www.thestar.com.my/news/nation/2018/02/21/double-ang-pow-discovery-in-penang/