INSTITUT SUPERIEUR D'ANTHROPOLOGIE
INSTITUTE OF ANTHROPOLOGY
ONLINE COURSES / COURS A DISTANCE
WINTER TERM : JANUARY 2016
REGISTER NOW
TURQUIE –
Ağın - The Roman-era rock tombs in the eastern province of Elazığ's Ağın district will soon be brought to light, according to District Gov. Mehmet Fatih Yakınoğlu, who said the district was not very well known despite its historical touristic features such as the Hastek Fortress, İspir Mansion, rock tombs, mounds, the Sülük and Keban dam lakes and traditional Ağın houses. Yakınoğlu said archaeological excavations would shed light on the history of the district, and that the rock tombs were believed to have a history of nearly 2,000 years. "Historians say there was a settlement around these tombs. Comprehensive works will be carried out to find out the culture and life style of people thousands of years ago " he said
http://www.hurriyetdailynews.com/rock-tombs-of-elazig-to-serve-tourism-.aspx?pageID=238&nid=92874
TURQUIE –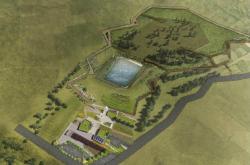 Alacahöyük - Fifteen ancient tree species that grew 4,500 years ago in Alacahöyük, one of the most important centers of the Hittite civilization will be planted in order to create a "Hittite Forest" in the central Anatolian province of Çorum. Located almost 80 kilometers away from Çorum, home to the capital of Hittite civilization, Hattuşa, and other significant historical sites, the ancient city of Alacahöyük, known as Turkey's first national excavation site, has been recently undergoing reconstruction work initiated by the General Directorate of State Hydraulic Works (DSİ) to revive the Hittite Dam, which was discovered in 2002 and dubbed the "oldest dam of Anatolia." Çınaroğlu, who has been the head of the excavation work in Alacahöyük for 20 years, said one of the project's most important parts was the creation of the Hittite Forest, which will be created by planting the tree species that grew in the region 4,500 years ago. He said Alacahöyük was introduced to the scientific world at the 100th anniversary of the excavations' start in 2007. He explained the dam structure served the purpose of watering fields and providing potable water during the Hittite era. Çınaroğlu said his team had identified 15 of all the tree species that existed on the Anatolian land some 4,500 years ago. It is these trees that will be planted in the forest that will surround the dam, which is still active.
http://www.hurriyetdailynews.com/Default.aspx?pageID=238&nid=92819&NewsCatID=375
LIBYE –
Sabratha - Fears for the future of the Roman theatre at Sabratha, one of the world's finest relics of classical antiquity. Islamic State fighters have seized control of the Libyan town of Sabratha, site of one of the world's best-preserved ancient Roman theatres.
http://www.telegraph.co.uk/news/worldnews/islamic-state/12045883/Islamic-State-seizes-Unesco-heritage-site-in-Libya.html
BULGARIE –
Kovil - An Ancient Thracian rock step pyramid with a rock sun temple dating back to 2500 BC has been identified in theEastern Rhodope Mountains in Southern Bulgaria by an expedition of historians and thracologists. The Thracian pyramid in question was shaped out of the natural rocksin the mountain near the town ofKovil, Krumovgrad Municipality, Kardzhali District. It is about 15 meters tall, and consists of five stepped terraces, with the sun temple hacked into the rocks inside it, according to Prof. Vasil Markov, a historian specializing in the civilization of Ancient Thrace.
http://archaeologyinbulgaria.com/2015/12/21/thracologists-discover-ancient-thracian-rock-step-pyramid-in-eastern-rhodope-mountains-in-southern-bulgaria/
BRESIL –
Amapa - A pre-colonial astrological observatory in the Brazilian rainforest was built to be aligned to the sunrise on the December solstice - which falls on 22 December in 2015. The so-called Amazonian Stonehenge, in Brazil's northern-most state Amapa, is believed to have been constructed over 1,000 years ago. But the site was only discovered in 2006, and plans are now are afoot to make it a national archaeological heritage park.
VIDEO = http://www.bbc.co.uk/news/magazine-35152918
IRAN –
Chehrabad - Researchers at Tehran University of Medical Sciences performed a CT scanning of Iranian auto mummies dubbed 'Saltman' on Mon. to discover new findings and learn more about various aspects of life of ancient Persians. Dr. Shirani of the CT angiography room said the 'saltmen' have been mummified under natural circumstances, namely appropriate temperate, low humidity and a lot of amount of salt, therefore, further studies required noninvasive methods such as CT scanning. The Saltmen were discovered in the Chehrabad salt mines, located on the southern part of the Hamzehlu village, on the west side of Zanjan. By 2010 the remains of six men had been discovered, most of them accidentally killed by the collapse of galleries they were working in some 2000 years ago. Three bodies are dated to the Parthian (247 BCE–224 CE) and Sassanid (224–651 CE) eras, and the remainder to the Achaemenid Dynasty (550–330 BCE).
http://en.mehrnews.com/news/113052/CT-Scans-performed-on-Iranian-Saltmummies?
SUEDE –
Munka Ljungby - Swedish construction workers have stumbled on a well-preserved burial chamber containing around 20 coffins, including children's, while refurbishing a church in Munka Ljungby in southern Sweden. "There were around 20 coffins in the crypt all over the place. It was not a dignified room," architect Mikael Forsberg told regional newspaper Kvällsposten. Some of the smaller coffins are believed to have belonged to children.The church in Munka Ljungby was built in the 12th century by monks from a nearby monastery. It was used by the residents of Skillinge, a large mansion built by Danish nobility family Krabbe. "The crypt is from somewhere between the 16th century and the 19th century. It's definitely no later than from 1860," archaeologist Per Sarnäs told The Local on Tuesday after news of the find hit the headlines in Sweden.