23 AOUT 2011 NEWS : San Juan - St. Croix Island - Toronto - Huy - Taxila - Kimberley - Woodland - Haddo House - Petworth -
23 AOUT 2011 NEWS : San Juan - St. Croix Island - Toronto - Huy - Taxila - Kimberley - Woodland - Haddo House - Petworth -
- 23 AOÛT
- INDI-UNI :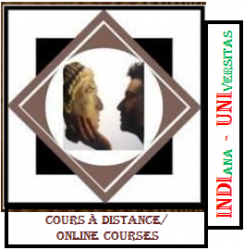 PRE-INSCRIPTION : 15 Juin – 31 Août
PRE-REGISTRATION: June 15th - August 31st
- PHILIPPINES –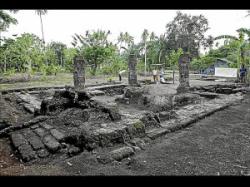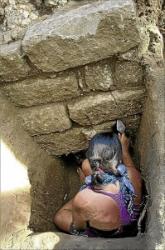 San Juan - To conclude its three-year archaeological excavation of Spanish-era stone house ruins in San Juan, Batangas, the University of the Philippines-Diliman Archaeological Studies Program (UP-ASP) conducted a rigorous archaeological excavation of the second of two Spanish-era stone house ruins located in Barangay Pinagbayanan in San Juan, Batangas. From the name "Pinagbayanan," which means "where the former town once stood," Barangay Pinagbayanan was the former town proper of San Juan, Batangas in 1848, when San Juan was first recognized as a separate municipality in Batangas. However, due to persistent flooding starting from 1883, as stated in original Spanish documents, the town proper was moved to Calit-Calit, the current Poblacion, in 1890, leaving only remnants of the original town. Among the ruins that were remnants of the old town were two stone structures that were likely to have been Spanish-era stone houses. For the past two field seasons (2009 and 2010), Structure A, whose foundations were constructed mainly of adobe blocks, was excavated, revealing methods of and materials for construction. This year, the second structure, located 40 meters south of Structure A and owned by Dr. Edgardo de Villa Salud, was excavated. Structure B, with a National Museum of the Philippines site code IV-2009-G, with visible positive features such as walls and pillars that delineate the entirety of the structure's foundations after decades of abandonment, remains in the collective consciousness of the community.
http://lifestyle.inquirer.net/10493/spanish-era-stone-houses-see-the-light-of-day-once-more
- CANADA –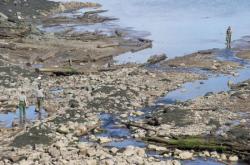 St. Croix Island - For hundreds of years a tiny island at the Maine-New Brunswick border has been a treasure trove of artifacts. It has yielded ancient burial sites, provided clues on Canada's French settlers and was declared an international historic site. But after providing so much rich detail to both Canadian and American history books, St. Croix Island is facing the ravages of time. High levels of erosion are eating away at the uninhabited piece of land, and a small group of archaeologist is now hoping its work will help preserve the historic site. Five American archaeologists have been at the island, the first site French explorer Samuel de Champlain settled in 1604, for the past week, picking through the intertidal waters around the vacant 2.6-hectare patch of land in Passamaquoddy Bay. It's the first time the water around the site has been examined. The research team from Submerged Resources Center of the United States National Park Services is focused on a small cove on the Canadian side of the island. Combing through rocks and seaweed and using everything from remote-sensing equipment to metal detectors, they are trying to unearth any remaining artifacts and salvage what may be left of the early settlers.
http://www.thestar.com/news/canada/article/1040351--researchers-in-a-race-against-time-on-historic-island
- CANADA –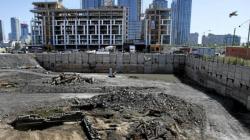 Toronto - A huge archeological dig that unearthed evidence of Toronto's 19th-century railway boom is being plowed over to make way for condominium construction. The dig, adjacent to the Bathurst Street bridge south of Front Street, uncovered the foundations of part of a giant cruciform-shaped building that in the 1850s housed the steam engine service and repair facilities of the Grand Trunk Railway. It also revealed some remaining portions of the Queen's Wharf – a massive wooden dock that jutted into Lake Ontario – and a wood-lined channel that directed the flow of now-defunct Garrison Creek to the waterfront.
http://www.theglobeandmail.com/news/national/toronto/toronto-archeological-site-must-make-way-for-condos/article2131936/
- BELGIQUE – Huy - A Huy, l'assainissement de l'ancienne fonderie Félon et Lange, en bord de Meuse dans le quartier St-Victor, a permis aux archéologues de la Région wallonne de mettre au jour d'importantes traces d'occupation. Elles confirment la présence d'au moins deux implantations de culte et d'un très important cimetière, remontant à l'époque mérovingienne. Catherine Péters est archéologue à la Région Wallonne. Elle conduit les fouilles sur cette très ancienne implantation de culte, où de nombreuses tombes des époques gothiques et romanes ont été découvertes: "C'est le site de l'ancienne Église Saint-Hilaire qui était toujours connue en 1823 mais elle a été détruite en 1825. C'est une Église qui était déjà mentionnée en 1020. On soupçonne, d'après les découvertes qu'on a faites jusqu'ici, qu'au chœur de l'Église, il y a un petit édifice primitif qui serait un petit édifice mérovingien". Les fouilles devraient se poursuivre encore plusieurs semaines, avec d'autres découvertes sans doute à la clé.
http://www.rtbf.be/info/regions/detail_huy-des-fouilles-merovingiennes-a-l-ancienne-fonderie?id=6632483
- PAKISTAN – Taxila - Unchecked and large-scale quarrying and blasting in the stone-crushing area in the vicinity of the Unesco World Heritage Site has been causing an irreparable damage to the historical monuments of Taxila Museum, but the government departments supposed to be preserving the site seem to be protecting the stone-crushers business instead of doing their job. In an earlier report of the Department of Archaeology it was mentioned that continuous quarrying and blasting in close proximity of these ancient sites for the last many decades have caused substantial loss to the monuments in Taxila Museum.
http://www.thenews.com.pk/TodaysPrintDetail.aspx?ID=64128&Cat=6&dt=8/23/2011
- AUSTRALIE – Kimberley - Archaeologists on the Kimberley coast have wrapped up the first dig at an Aboriginal campsite they believe may be between 6,000 and 10,000 years old. Project director June Ross says they have dug down through metres of shell remnants, indicating people ate shellfish meals at the site for hundreds of generations. She says the team also found items such as vegetable matter and string which they hope will prove to be the oldest discovered in the northern Kimberley. Dr Ross says it will now take several months to carbon-date the samples.
http://www.abc.net.au/news/2011-08-23/kimberley-archaeology-camp-dig/2851474 -
- ROYAUME UNI – x Woodland - Woodland which is believed to have been home to a community of metal workers in the 12th and 13th centuries is the focus of a new project which aims to uncover the secrets of its past. Experts have already found evidence of large slag heaps and bell pits on the site, which are thought to be evidence of iron smelting and the making of metal weapons.
http://www.yorkshirepost.co.uk/news/around-yorkshire/local-stories/bid_to_uncover_secrets_of_medieval_metal_workers_1_3702061
- ROYAUME UNI –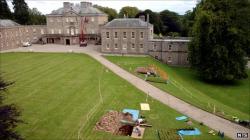 Haddo House - Excavations at Haddo House in Aberdeenshire have revealed remains of the historic Palace of Kelly. The National Trust for Scotland (NTS) said work at its property, near Methlick, had uncovered the seat of the Gordons of Haddo prior to the 1730s. Excavation co-director Dr Hilary Murray added: "It is amazing to realise that when the terrace in front of Haddo was created in the 18th Century, the earlier buildings were simply partially demolished and filled in with rubble before the lawn was planted".
http://www.bbc.co.uk/news/uk-scotland-north-east-orkney-shetland-14632567
- ROYAUME UNI – Petworth - The Coultershaw Trust has been given a £30,000 lottery boost to aid its £267,000 restoration plans on the site close to Petworth which is home to the historic beam pump. The Coultershaw pump, which celebrated 30 years of opening to the public in July last year, is waterwheel-driven and was installed in 1782 to pump water from the River Rother to Petworth, some 1.5 miles away and 150 feet higher.
http://www.midhurstandpetworth.co.uk/community/petworth_restoration_plans_get_lottery_boost_1_298