INSTITUT SUPERIEUR D'ANTHROPOLOGIE
INSTITUTE OF ANTHROPOLOGY
ONLINE COURSES / COURS A DISTANCE
WINTER TERM : JANUARY 2014
REGISTER NOW 
GUADELOUPE –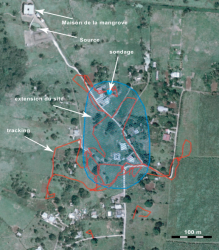 Belle Plaine - La fouille archéologique préventive réalisée actuellement par l'Inrap, a été prescrite par l'État (direction des Affaires culturelles, service de l'Archéologie de Guadeloupe). Elle est menée sur le site de Belle-Plaine en amont des travaux de construction du nouveau Centre hospitalier universitaire de Pointe-à-Pitre pour lesquels Icade-Semsamar ont été mandatés. Cette intervention fait suite à un diagnostic réalisé en mai 2011 qui avait révélé les vestiges d'un site précolombien situé sur un petit relief. Commencée le 28 octobre dernier, la fouille a pour objectif de mettre au jour la totalité des vestiges, de les documenter et de les archiver avant l'aménagement futur. Le passé amérindien de ce secteur des Abymes est peu connu contrairement à son histoire coloniale liée à la production du sucre. En Guadeloupe, les amérindiens ont laissé des traces fugaces dans le paysage moderne, à l'exception des roches gravées et des amas de coquillages.Lors du diagnostic archéologique, d'anciens creusements, fosses et trous de poteau, ont été mis au jour. Ces structures en creux, contenant des objets céramiques, attestent la présence de bâtiments en bois à l'époque amérindienne.La fouille a pour objectif d'étudier ces creusements et leur organisation afin de mieux comprendre et dater la présence amérindienne dans cette région qui se situe probablement vers 1000 de notre ère. Les premiers résultats nous ont montré une distribution spatiale organisée avec des fosses profondes à parois droites localisées en pente du petit relief, en lien avec une zone d'habitat située au sommet. Ces fosses sont accompagnées d'inhumations qui indiquent l'importance du site. Des indices comme certaines caractéristiques d'une part des objets céramiques évoquent aussi une occupation du site aux alentours de la fin du XVe siècle, à l'arrivée des premiers navigateurs européens. 
http://www.inrap.fr/archeologie-preventive/Actualites/Communiques-de-presse/p-17087-Fouille-archeologique-aux-Abymes-Visite-de-presse-lundi-25-novembre-2013-a-10-h.htm
BAHRAIN –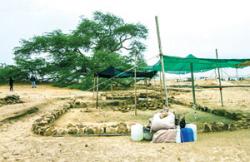 Tree of Life / A'ali burial mounds - Conserving two of Bahrain's key historical sites will be the focus of the archaeology season, which got underway earlier this month. A Danish team, led by Dr Stephen Larsen, is already focusing on carbon dating the royal burial mounds in A'ali, confirmed Culture Ministry archaeologist-in-charge Salman Al Mahari. A Bahraini team is also working on preserving a settlement at the Tree of Life site, ahead of a development that will see an amphitheatre introduced in an effort to attract more tourists. They aim to finish their work by the beginning of next month, after which they will move onto a site in Al Haj to determine if it is of archaeological significance. "We have had a long collaboration with the Danish team," said Mr Al Mahari. "They usually come every other year. "This year they're focusing on the royal burial mounds and attempting to find the exact date by carbon dating." The expert said the site around Tree of Life was excavated for the first time in 2010. "We used to think that the tree was the only important thing at that site," he said. "But there is a mound, and excavation uncovered it as an important site. "We discovered a settlement at the site from the Islamic period. "The Tree of Life itself was discovered to have been planted in one of the courtyards at the settlement, so it indeed could be between 400 to 600 years old." Mr Al Mahari revealed 40 per cent of the site was initially excavated, but was buried again in order to preserve it. "Now that there is a development project taking place in the area, we're excavating and conserving it so that tourists will be able to walk around and see the settlements," he said. "They excavated more of the settlement too, so approximately 50pc is now excavated. "Because the site is very fragile and crumbling, we have to strengthen and preserve it to make it easier for visitors to understand." Next February, a French team will arrive to continue work at the Bahrain Fort, focusing on a mosque on the site. They will continue excavating and researching the site.
http://www.gulf-daily-news.com/NewsDetails.aspx?storyid=365496
INDE - Sonbhadra - The recent evidences discovered from Sonbhadra and Chandauli districts prove that the invention and use of iron is indigenous to India as against the popular belief that the iron and techniques came with the Aryans. Renowned scholar of archaeology and retired professor of Banaras Hindu University Vibha Tripathi said on Saturday. She was delivering a lecture on Iron Ageon the fourth day of the ongoing 10-day workshop for appreciation of the archaeology and culture organized by the regional office of archaeology, department of culture, for public. Tripathi said invention of iron using techniques that played a major role in the second urbanization and allowed the people who till then were involved in agrarian pursuits, to indulge in other activities of life.
http://timesofindia.indiatimes.com/city/varanasi/Sonbhadra-excavations-point-to-use-of-iron/articleshow/26289172.cms
ROYAUME UNI -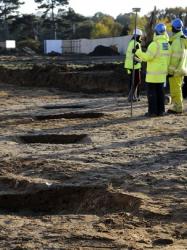 Ipswich - An archaeological dig on the site of a former World War Two airfield in Suffolk has revealed evidence of Bronze Age burial chambers. The site, on the outskirts of Ipswich, is being excavated in readiness for a new care home due to open in 2015. Fragments of pottery and urns indicated the site was "very close to a burial mound", archaeologists said. Mark Hinman from Pre-Construct Archaeology said: "This is very much preservation by record, we record it so people can get on and build. "We've found fragments of beaker pottery, which is quite decorated with zigzag designs and collared urn vessels. "These were usually used in the burial of human remains in the Bronze Age period, so these items give us a sense we're very close to a burial mound. "It's still early days but we're digging various ditches. Nearby excavations have shown this area was a popular settlement for farming and the burial mounds indicate a high population in the period. "They also show a claim of ownership on the land and how we were moving from a mobile hunter/gathering society into the settled farmers we became as a nation."
http://www.bbc.co.uk/news/uk-england-suffolk-25057532
PEROU -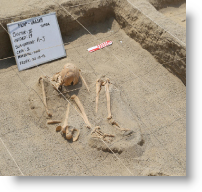 Yautan - Archaeologists have uncovered remains of a girl who was most probably used as a sacrifice some 1,500 years ago. The discovery was made in the district of Yautan, 40km inland from Casma in the Ancash region. The remains of the girl were discovered in a tomb by a group of archaeologists and students from the University of Santiago Antunez de Mayolo in Huaraz. The archaeologists believe the girl could have been sacrificed as an offering to gods of the sea, perhaps as protection against the climate changes caused by the El Niño ocean current. The team of experts, led by archaeologist Hilder Cruz, believe the burial site is possibly Wari culture, although in excavations a year ago, pots found were from Chavin.  Also in Chavin fashion, the site was built at the confluence of two rivers, the Chavin and the Yautan. The Wari empire spanned much of modern Peru during the 8th and 9th Centuries A.D. Experts say that its capital, Huari, had a population of some 40,000 people, which would have been a major global urban center at the time. Much is still not known about the Wari, which like other pre-Hispanic civilizations, is overshadowed in Peru by the Incas. 
http://www.peruviantimes.com/22/archaeologists-uncover-remains-of-girl-sacrificed-some-1500-years-ago/20746/