22 NOVEMBRE 2014 NEWS: Banteay - Lake Shore - Lake Michigan - Kumhrar - Kibyra - Düzce - Paris -
22 NOVEMBRE 2014 NEWS: Banteay - Lake Shore - Lake Michigan - Kumhrar - Kibyra - Düzce - Paris -
INSTITUT SUPERIEUR D'ANTHROPOLOGIE
INSTITUTE OF ANTHROPOLOGY
ONLINE COURSES / COURS A DISTANCE
WINTER TERM : JANUARY 2015
REGISTER NOW
CAMBODGE –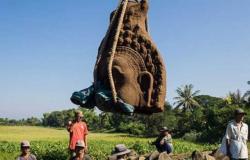 Banteay - Three Angkorian-era statue heads were found under more than half a metre of soil last week at Banteay Chhmar temple in Banteay Meanchey province. The massive heads were unearthed between Friday and Sunday during a government-sponsored renovation of the temple, said preservation official Mao Sy. "Three [heads] were found. Two are intact, but one was broken in the head and mouth," Sy said, adding that the statues came from the end of the 12th-century reign of Jayavarman VII. Sy estimated the statues' heads fell off their bodies several decades ago and were buried by layers of earth brought in by floods. "If they had not been buried deep into the ground, they would have been cut off, looted and sold. It is very fortunate these statues did not end up getting sold abroad," he said.,The heads, made of sandstone, will be put in storage and reassembled once further parts are found. The heads were part of a causeway depicting the stirring of the Ocean of Milk, an ancient Hindu fable under which gods and demons worked together to churn the seas by wrapping a serpent around a mountain and rotating it. A similar array of statues pulling a serpent exists in the Bayon temple in Siem Reap province, but Bantaey Chhmar is far less visited. At the end of October, the same excavation team discovered a human skeleton at the temple's south entrance. Speculated to have been that of a Khmer Issarak who died fighting the French over 60 years ago, its origins remain a mystery.
http://www.phnompenhpost.com/national/three-statue-heads-unearthed
USA-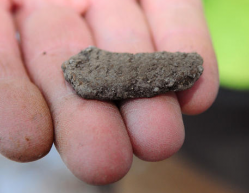 Lake Shore - Archaeological work ahead of a highway reconstruction project through a northern Minnesota town is unearthing campsites and artifacts from 2,000 years ago.The 10-person team digs holes, and then uses hand-held shovels and screens to sift through the dirt. So far, they have found rare stone net weights, ceramic pottery pieces, arrowheads, spear points, fire-cracked rocks and animal bones. The artifacts indicate the existence of Native American campsites, according to Florin. He said he was most excited to find about 25 rare stone net weights, which were used several hundred years ago to weigh down fishing nets.The little ceramic pieces date back about 2,000 years, while some of the other artifacts are roughly 500 to 800 years old. A few moose and elk bones found among the campsites are date back 1,000 years or so.,Many of the artifacts the team has discovered are typical of prehistoric people and the area, Florin said.
http://www.therepublic.com/view/story/c8b0b8e87ab24932944e80faef2e7d27/MN--Lake-Shore-Archaeology
USA –
 Lake Michigan - Shipwrecks are a part of the rich history of the Great Lakes, and now there is a new way to check out hundreds of shipwrecks in Lakes Michigan and Superior.  Wisconsin Sea Grant has collaborated with the Wisconsin Historical Society on shipwreck projects since the 1990s. A recent project has been turning the wrecks digital, so people don't have to get their feet wet to look at this part of Wisconsin history. These images and histories can be found on a new website, which shares them along with the locations and a growing number of videos of hundreds of local shipwrecks. There are about 760 shipwrecks in the Wisconsin waters of the Great Lakes, but many of these cannot be found. 
http://www.620wtmj.com/news/local/New-website-lets-you-explore-Lake-Michigans-shipwrecks-283375651.html
INDE –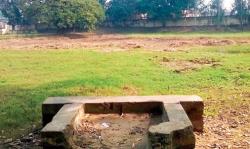 Kumhrar - The excavated remains of the ancient Mauryan Palace at Kumhrar, the living signs of Patna's glorious past, has fallen victim to the apathy of the Archaeological Survey of India (ASI) as well as the state government. An 80-pillared assembly hall, which embodies perhaps the very first evidence of ancient Pataliputra — the city in which we live today, has been lost into oblivion, as the hall is buried under soil up to 20ft from nearly a decade at the Mauryan heritage site located along the Old Bypass Road at Kankerbagh. Despite a complete ban on any kind of construction around 100m of this protected site, houses have mushroomed merely inches from its boundary walls on all sides. With the houses came the uncontrolled discharge of sewage water, leading to formation of a puddle on the south-western corner of the Mauryan site."The entire world got to know about Pataliputra after the discovery of the Mauryan Palace at Kumhrar, especially the 80-pillar assembly hall. It is in this hall, where Emperor Asoka used to hold meetings with the people of Pataliputra, his capital. Some historical texts also mention that the third Buddhist council was also held here. Despite such rich historical significance, this site is facing utter neglect at present," said Jaya Deva Mishra, a professor with the department of ancient history and archaeology at Patna University. The famed pillared hall first came to light in 1912-15 during excavations carried out by British Archaeological Survey of India under D.B. Spooner with funds donated by the Tatas after remaining buried for two millennia. In this excavation, traces of 72 pillars were found. Further, during the excavation carried out at the same site in 1951-55 by city-based K.P. Jayaswal Research Institute, eight more pillars of the hall and four additional ones belonging to the entrance or porch were exposed. Since then, it is popularly referred to as the Eighty Pillared Hall.
http://www.telegraphindia.com/1141121/jsp/frontpage/story_19068301.jsp#.VG9tVfl5OpA
TURQUIE –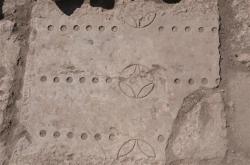 Kibyra - Two game pieces from the Roman era 1,800 years ago have been found in the ancient city of Kibyra, in the southern Turkish province of Burdur's Gölhisar district. "We don't have too much information about this game but we believe that it was played by two people on squares … with dice," Professor Ünal Demirer said, adding that the Roman-era game dated back 1,800-2,000 years ago at least.The game was known as "Ludus duodecim scriptorium" or "XII scripta" (game of 12 markings).Excavations in the ancient city are being conducted by Mehmet Akif Ersoy University's (MAKU) Archaeology Department. Demirer said the works had been continuing since 2007 on the avenue of the ancient city's agora, adding that the game pieces were also used for other purposes. "The game was found in the pool structure. We think that it was also used for another purpose. Because of its Latin name, we attribute the game to the Romans. It is like today's Jacks. People spent time in the agora playing such games," he said."Ludus duodecim scriptorum" was a board game popular during the time of the Roman Empire. The game tabula in Byzantium is thought to be a descendant of this game, and both are similar to modern backgammon. Very little information about specific gameplay has survived, though we know that it was played using three cubic dice, and each player had 15 pieces.
http://www.hurriyetdailynews.com/ancient-game-found-in-roman-era-city.aspx?pageID=238&nid=74637&NewsCatID=375
TURQUIE –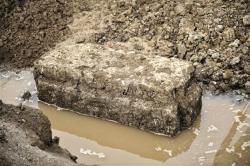 Düzce - Sewer system excavations in the northwestern Turkish province of Düzce have unearthed an ancient tomb. The municipality team found a human skull six meters below ground level and a closed stone tomb measuring three meters long and one meter wide. Police officers arrived shortly afterward and took security measures around the area. An examination by Provincial Culture and Tourism Directorate Konuralp Museum experts revealed that the tomb dates back to the Roman era. Düzce Governor Ali İhsan Su said the skull appears to have belonged to a medium-sized person. "We don't exactly know what is inside the tomb. Historical remains are found everywhere in Anatolia. Officials estimate [the tomb] is from the Roman era. It is important for us to remove the tomb without damaging it," the governor said.
http://www.hurriyetdailynews.com/
FRANCE –
 Paris - Un sauvetage très particulier ! Les plongeurs ont récupéré ce jeudi 20 novembre un mascaron dans la Seine. Cette sculpture de valeur, représentant une figure humaine effrayante, sera bientôt exposée. Dans l'équipage, le directeur adjoint des affaires culturelles d'Ile-de-France est attentif à la manœuvre… C'est lui qui déterminera si la sculpture est un original du XVIe siècle ou une copie réalisée ultérieurement.
VIDEO - http://www.francetvinfo.fr/decouverte/video-une-decouverte-exceptionnelle-dans-la-seine_750545.html#xtor=AL-79-%5Barticle%5D