22 NOVEMBRE 2013 NEWS: Melbourne - Stanwick Lakes - Bourton on the Hill - Witherley -
22 NOVEMBRE 2013 NEWS: Melbourne - Stanwick Lakes - Bourton on the Hill - Witherley -
INSTITUT SUPERIEUR D'ANTHROPOLOGIE
INSTITUTE OF ANTHROPOLOGY
ONLINE COURSES / COURS A DISTANCE
WINTER TERM : JANUARY 2014
REGISTER NOW 
AUSTRALIE –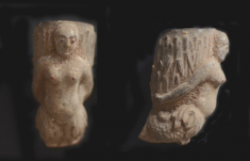 Melbourne - Imagine uncovering the simple pleasures of our colonial past where a beer and a smoke offered comfort in everyday life. That quest inspires archaeologist Sarah Myers, who is discovering relics and digging around sites like the old Carlton United Brewery in the centre of Melbourne. She's been busy unearthing a site below Swanston Street that contains material dating back to the 1850s. One relic that intrigues her is an old clay tobacco pipe bowl. "It's got a blackened rim and you can see that it's been used. It's very decorative... the figure of a woman draped around the bowl... and it's still got the paint(work)." Sarah dates the find back to the seafarers in the mid-19th century visiting Melbourne or someone in search of a life-changing find in the gold rush years. Her work on the Brewery site meant calling in jackhammers and excavators to break up concrete slabs and expose the buried remains of a previous era. "One of the really interesting features was a bluestone cistern we uncovered...they didn't have water on tap. They would have had to bring it in and store it on site to make the beer," she explains.
http://www.abc.net.au/radionational/programs/bushtelegraph/city-archaeology/5107244
ROYAUME UNI –
 Stanwick Lakes - A Roman mosaic unseen in public for more than 20 years is to go on permanent display in Northamptonshire. The relic once formed the centrepiece of one of four floors in a Roman villa that was discovered by archaeologists at Stanwick Lakes in the 1980s.Alyson Allfree, director of the Rockingham Forest Trust, which co-manages the reserve, said: "We are delighted that the mosaic has finally come home to the place where it was discovered.Ms Allfree said it was impossible to put a price on the mosaic, which is 5ft (1.5m) high and 8ft (2.5m) wide. The excavations of Stanwick Lakes in the Nene Valley were a collaboration between archaeology teams from Northamptonshire County Council and English Heritage and took place between 1984 and 1992, before the start of sand and gravel quarrying. Archaeologists discovered evidence of human activity dating back over 6,000 years, but the most important find was the Roman villa. It would have been at the centre of a farm estate supplying food to the local towns and villages. The villa was lived in for more than 200 years, starting as a stone-aisled hall in the middle of the Third Century before being developed into a more prestigious home in the second half of the Fourth Century.
VIDEO = http://www.bbc.co.uk/news/uk-england-northamptonshire-25047853 
ROYAUME UNI -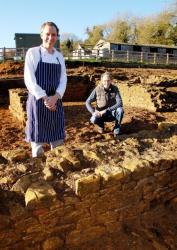 Bourton on the Hill- Tom and Will Greenstock, who took over the The Horse and Groom pub, Bourton-on-the-Hill, in 2005, are hoping to build a much-needed larger car park after finally securing planning permission. And it was when an archaeological dig was carried out on the site in preparation for the work last week that the pair got more than they bargained for.A series of medieval walls with 10 rooms arranged around a courtyard was unearthed in what is thought to be a sheep farm complex. And further excavation uncovered a skeleton dating back to 100BC buried in the foetal position about two metres below the surface.Cornelius Barton, fieldwork manager at LP Archaeology who carried out the dig, said: "It's quite unusual, most people didn't get buried like that in the Iron Age. It appears the individual was buried with a shoulder of pork."There's also quite a substantial building, probably used by somebody looking after a sheep farm. There's what looks like the remains of a sheep coat." The remains of the man – who has been nicknamed Rusty – has been sent to a specialist osteo-archaeological laboratory for further analysis to determine the age and cause of death.
http://www.tewkesburyadmag.co.uk/news/cotswolds/10824344.Skeleton_in_car_park____a_bit_of_a_surprise___/
ROYAUME UNI –
 Witherley - The child buried in an ancient Roman coffin being analysed in Warwickshire was probably a little girl according to archaeologists. A team of experts from Archaeology Warwickshire has been analysing the coffin at its Warwick base. It was buried in Witherley, near Atherstone, between 1,600 and 1,900 years ago. Just days into the analysis, experts have already found some clues to its past including two 'jet' bracelets contained in the coffin.Stuart Palmer, from Archaeology Warwickshire, said: "Finding the two jet bangles was a surprise. "They rather suggest that the child was female although we cannot say with certainty if they were worn as bracelets, clothing adornments or were woven into long hair." Fragments of skeleton have also been found in the coffin and experts are hoping to find traces of herbs flowers, oils and even clothing. It may also be possible to find evidence for Roman medicines or drugs but tests will take months to finish.
http://www.coventrytelegraph.net/news/coventry-news/coffin-clues-point-roman-girl-6324456