22 NOVEMBRE 2011 NEWS
22 NOVEMBRE
INDI-UNI : ANTHROPOLOGY - ARCHAEOLOGY
INSCRIPTION 2011 – 2012 COURS A DISTANCE
REGISTRATION 2011 – 2012 ONLINE COURSES
NOUVELLE ZELANDE –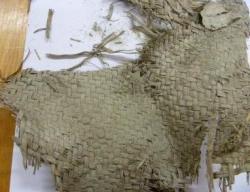 Roxburgh Gorge - A collection of historic artefacts, including what is thought to be a fragment of a Maori sleeping mat or food bag, have been removed from the Roxburgh Gorge by Department of Conservation (Doc) staff. Doc community relations ranger Jacob Dexter said they spent two days earlier this month going through all the rock shelters on crown land in the gorge "looking for anything that could potentially be important". He said the flax was found in a shelter that was "clearly European", of stacked stone construction, and though they did not know the history of the hut, the flax appeared to be "of Maori weave" and the position in the hut "indicated it could be a sleeping mat or food bag, but we are not sure because it is only a fragment". In addition to the flax textile, the team found bits of European cloth, some tartan, some bottles and moa bones. With the exception of the moa bones, all the items were found inside huts. The artefacts were identified during an archaeological assessment of the gorge done as a requirement of resource consent for the Roxburgh Gorge cycle trail.
http://www.odt.co.nz/regions/central-otago/187732/artefacts-found-gorge
ROYAUME UNI –
Ratley - A Warwickshire man has described the moment builders found human bones under his patio. The couple have lived at their house in Ratley, a village in south Warwickshire, for nearly seven years. The village is near to Edgehill - site of the the battle of Edgehill, where the King's army clashed with Parliamentarians in 1642 at the start of the English Civil War. The bones were discovered last year but the service has only recently released the test results. The archaeologists identified the remains of at least four bodies which included two adult females, a young male and a juvenile aged between 10 and 12. Radiocarbon dates from two of the skeletons show that they died around 650-820 AD in what is known as the middle Saxon period. England at this time was divided into a number of kingdoms and Ratley may have been in a frontier war zone between the Saxon kingdom of the Hwicce and the eventually dominant Anglian kingdom of Mercia.
http://www.bbc.co.uk/news/uk-england-coventry-warwickshire-15837458
MEXIQUE –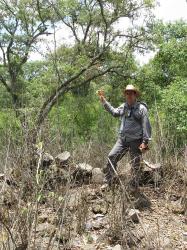 Purépecha - Colorado State University archaeology Professor Christopher Fisher and geography Professor Stephen Leisz have used LiDAR (Light Detection and Radar) technology to document thousands of architectural features from an ancient city in western Mexico that could help provide insights into the formation of the pre-Hispanic Purépecha (Tarascan) Empire and help unravel connections between complex societies and climate change. The city, which predominately dates to between A.D. 1000 to A.D. 1520, may have held as many as 30,000 residents and features thousands of architectural remains, including pyramids, roads, buildings and the first documented ball court in the region. The urban center is located within the Lake Pátzcuaro Basin in Michoacán, Mexico, which was the geopolitical core of the Purépecha Empire at the time of European contact (A.D. 1520). Fisher and Leisz, said the discovery could help researchers better understand the Purépecha civilization, which was a contemporary and rival of the Aztecs in central Mexico. The unique site, which covers more than 10 square kilometers, is located at 7,000 feet in elevation, a four-hour drive northwest of Mexico City. "This is a very exciting discovery because it can document the growth of complex societies in the region and help determine social and environment factors that contributed to the formation of the Purépecha Empire," Fisher said. "The city, at its height, was similar to a modern suburb, filled with neighborhoods where people lived their daily lives. This discovery will provide important clues into the formation of the empire as well as the impact of climate and environmental change, migration, changes in social complexity and other important issues." Fisher started surveying the site in 2008 and realized that the complex spatial arrangment, size and multi-functional nature indicated it was a city. After two seasons of intensive field work (approximately three months during the summer) Fisher's team had documented more than 2,600 architectural features. Given the pace of the fieldwork, it would have taken at least a decade to fully document the architecture at the settlement.
http://www.news.colostate.edu/Release/5981
USA –
Chapel Hill - UNC archaeologists thought they had stumbled upon an old well in McCorkle Place. One even older than the Old Well. But after a week of digging up a plot of land next to Vance Hall, a team of undergraduates, graduate students and faculty believe what they had originally thought to be a well might actually have been a house and hotel. University contractors first discovered remnants of historical property while preparing to install a new storm water pipe in October, said Steve Davis, associate director of UNC's Research Laboratories of Archaeology. After realizing that the historical remnants were not of a well, the group speculated that the site could be a large cellar or possibly an outhouse. Now that they are further into the project, Davis and the group believe they have come across a backyard cellar they suspect was associated with a detached kitchen from a house that stood in the first half of the 1800s. The group also found green-edged, pearlware plates that were brought over from England and used in the early 1800s, in addition to fragments of locally made plates most likely from southern Alamance County.
http://www.dailytarheel.com/index.php/article/2011/11/dig_reveals_buildings_under_mccorkle_place
INDE –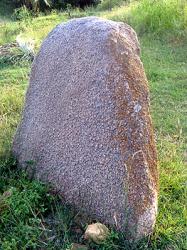 Udupi - Menhirs (standing stones) marking the burial of pregnant women belonging to the Megalithic Iron-Age period have been found at Gollarakatte, on the southern slope of Chikka Tirupati Betta, near Arsikere. Due to their gigantic nature and height, they are known as 'Anekallu' (elephant stone), 'Niliskal' (standing stone), or 'Rakkasakal'(demon stone). Such menhirs have been found in Northern Karnataka, Tamil Nadu, Andhra Pradesh, and Kerala, but are not common in southern Karnataka. Dr Narsimaiah and Dr Sundara had reported the presence of a few menhirs in Baise, Murumba, in Malnad region. Professor T Murugeshi found some in Buddhana Jeddu, Nitturu, and Kurkal in coastal Karnataka. Dr Hanumana Nayak located some in Garudanagiri and Banavara, while Dr S G Ramdas Reddy found them in Mandya and Mysore region. Now, once again Professor T Murugeshi and his team have discovered a group of menhirs in Arasikere, stated a press release. Megalithic culture was dominant in South India and is identified by its different types of burials. Stone circles, cists, dolmens, alignments, and urn burials, were quite common in southern Karnataka and elsewhere in South India. But menhirs are a type of burial distinguished by their gigantic undressed or slightly dressed stones of varying sizes. They are found in an upright position and normally range from 1m to 5m in height. Among the Arasikere group of menhirs, the biggest is about 5m in height and the smallest is 1.5m. They are made of granite, which is locally available in Hirekal Betta. The bigger one is like a double-edged sword with a sharp tip at the end. The second one looks like a spear head. The third one is like a horseshoe. Others had fallen flat on the ground. Dr A Sundara assigned the Karnataka Megalithic to 1000 BC and menhirs of Malnad region to 1200 BC to 1000 BC. "Arasikere group of menhirs may be safely assigned to 1000 to 800 BC," said Prof Murugeshi.
http://www.daijiworld.com/news/news_disp.asp?n_id=122702
MICRONESIE –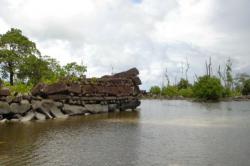 Pohnpei - The Micronesian authorities are organizing a community consultation on the Nan Madol Archaeological Site of Pohnpei with a view to the preparation of a management plan. This consultation will be held in partnership with the Japan Consortium for International Cooperation in Cultural Heritage (JCIC) and with financial assistance under UNESCO/Japanese Funds-in-Trust. It will provide an opportunity to discuss a strategy and action plan for the Safeguarding of Nan Madol. The meeting will bring together communities concerned and international and national experts in the areas of archaeology, environmental management, climate change and sustainable tourism.