INSTITUT SUPERIEUR D'ANTHROPOLOGIE
INSTITUTE OF ANTHROPOLOGY
ONLINE COURSES / COURS A DISTANCE
SUMMER TERM : JULY 2013
REGISTER NOW
TURQUIE –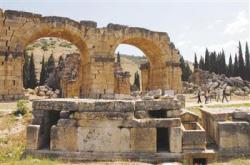 Hierapolis - Pamukkale University will be working with the Italian team of archaeologists that has been working in the ancient city of Hierapolis in the Aegean province of Denizli. The Italian team has been at the focus of discussions for two years because of claims that excavations were moving too slowly in the area.  While the Italian team has been carrying out excavations and restoration works in the ancient city for 56 years, the Denizli Governor's Office applied to the Culture and Tourism Ministry, and the ministry gave approval for the archaeology department of Pamukkale University under the leadership of Professor Celal Şimşek to work on the site. Şimşek and his team will carry out excavations in the ancient city 12 months a year. The Italian excavation team will be working with Pamukkale University but work at the excavation site only two months a year. Maor Demir said excavations would start at once in Hierapolis, which is home to some 2,000 graves from the Hellenistic period until the ancient age. "The world's most unique types of graves are in Hierapolis. The asphalt pavement made in 1986 between the graves will be removed and excavations will begin on the right and left side of the road. We will revive a [piece of] significant world heritage. There will be no financial problem because the ministry and the Special Provincial Administration will provide the necessary budget." Demir said the Italians had the accumulations of 56 years in Hierapolis and would share them with the Turkish team during joint work. "There have been important findings and restorations for 56 years, but it is not enough for us. This is why we have planned to continue excavations throughout the year."
http://www.hurriyetdailynews.com/italians-and-turks-to-cooperate-on-hierapolis.aspx?pageID=238&nID=47377&NewsCatID=375 
SAINT KITTS AND NEVIS –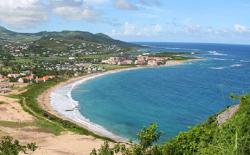 Charlestown - The Nevis historical and Conservation society announces that Archaeologists from Monmouth University will conduct a three-week archaeological project at Fort Charles.  Fort Charles is one of the earliest British Forts in the Caribbean and was occupied for more than two centuries. Archaeology at the site will document the changing experience of colonial citizens from initial settlement in the mid-1600s to the eventual abandonment of the fort in the late 1800s. The project's leader, Dr. Edward González-Tennant is hopeful that this summer's project will also provide new information regarding the non-plantation experiences of enslaved Africans, who were often forced to work at British Forts. He believes a more exciting potential is the ability to investigate the lives of free Afro-Caribbean individuals and groups who were sometimes enlisted by the British military following emancipation in 1834.
http://www.sknvibes.com/news/newsdetails.cfm/73968
ARMENIE –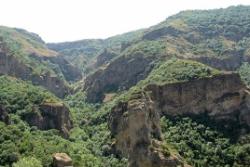 - "Images of the ages: Armenian Petroglyphs" exhibit opened on May 22 in German ministry of foreign affairs. According to dpa agency, the event features exceptional photos of ancient rock art found on Armenian mountains. A group of German archaeologists led by Dr. Harald Meller, Director of the State Agency of Monument Protection and Archaeology of the State of Saxony-Anhalt, have voiced willingness to help Armenia in her efforts to include the petroglyphs in the list of UNESCO World Heritage sites. The scientists have conducted careful survey of ancient rock art, with a database of Armenian petroglyphs to be later developed. 15 German specialists are involved in the project launched in 2011. Different patters, including images of soldiers, bears, leopards and mountain goats are carved on the Armenian rocks and mountains. According o the experts' estimates, they were carved four millennia ago. Their photos are first showcased at Berlin exhibit.
http://www.panarmenian.net/eng/news/159380/