22 DECEMBRE 2015 NEWS: Zurich - Kannur - Worthy Down - Wadi Kubbaniya -
22 DECEMBRE 2015 NEWS: Zurich - Kannur - Worthy Down - Wadi Kubbaniya -
INSTITUT SUPERIEUR D'ANTHROPOLOGIE
INSTITUTE OF ANTHROPOLOGY
ONLINE COURSES / COURS A DISTANCE
WINTER TERM : JANUARY 2016
REGISTER NOW
SUISSE –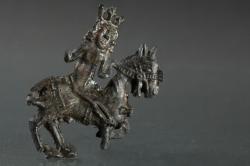 Zurich - Archaeologists working on an excavation near Zurich's Fraumünster church have found a 600-year-old metal insignia depicting the emperor Charlemagne at the graves of the city's patron saints. A similar scene of Charlemagne discovering the graves of saints Felix and Regula can be seen in another church in Zurich, the Grossmünster. According to legend, Charlemagne was led to their graves by a stag, where his horse kneeled down before the saints. At that place, Charlemagne was said to have founded the Grossmünster church. Charlemagne, who was crowned emperor in Rome on Christmas Day in AD800, has been regarded as a holy figure in Zurich since the 13th century. This latest archaeological find strengthens theories that he was regarded as such by the general public many hundred years ago, according to the city of Zurich. Excavations have been taking place near the Fraumünster for several years, and archaeologists are now identifying and dating their findings. In addition to the 35mm-wide insignia, they uncovered a star-shaped spur believed to be at least 700 years old and believed to have been lost by a rider crossing the church courtyard.
http://www.swissinfo.ch/eng/excavation_600-year-old-charlemagne-insignia-found-near-zurich-church/41853508?
INDE –
Kannur - As many as 35,930 cannonballs have been unearthed from the St Angelo's Fort in Kannur during a two-week excavation.
http://english.manoramaonline.com/news/kerala/Kannur-fort-sits-pretty-on-massive-collection-of-cannonballs.html
ROYAUME UNI –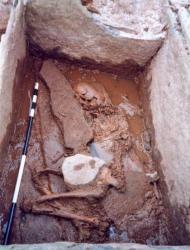 Worthy Down - A decapitated body with its head placed between its legs and two skeletons buried in rare fully extended positions have been discovered during an excavation at a proposed armed forces training facility in Hampshire, where archaeologists say the late Roman community may have been rooted in tribal tradition. At least 11 burials have been found at Worthy Down, notable for their "surprisingly wide" range of interment practices and typically hobnailed Roman footwear and boots. A coin of the Roman emperor Valens, who reigned between 364 and 378AD, and a burial in a crouched position, on its side, were also found. Only one of the graves had an east-to-west alignment – the most common in late Roman cemeteries – with the majority facing north-west-to-south-east.
http://www.culture24.org.uk/history-and-heritage/archaeology/art543378-worthy-down-army-training-roman-skeletons
EGYPTE –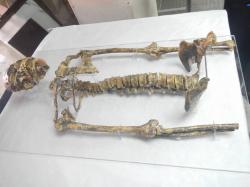 Wadi Kubbaniya - The skeleton dates back the Prehistoric Era, to the Late Paleolithic period, (21.000-19.000 B.P.) due to radiocarbon dating for the sites near burial. It was discovered by Fred Wendorf and Romuald Schild in 1982 in Wadi Kubbaniya, on the west bank of the Nile, 12 km north of Aswan. It is a fossilized human skeleton that was found in a pit covered by sand, and was enclosed in a block of calcareous sandstone. The body had been buried face down in an extended position with the head to the East and the arms along the sides. No legs were found, but fragmented portions of the lower extremities were identified. It was believed that the legs might have been flexed and folded, but their early exposure led to great damage due to abrasion. The result of the study showed that the skeleton belonged to a young man (about 23 years old). The young man's height is estimated at 172 cm. He was muscular, a strong right-handed thrower. The study also explains the cause of death: there were two flint blades in the left abdominal region, so it is supposed that he had been speared from behind. One spearhead lay in the position of the abdominal aorta and the other lay near the position of the left kidney and aorta either could have caused a fatal hemorrhage. It is worth mentioning that the skeleton have been kept at the Egyptian Museum stores and that it has been displayed for the first time at the beginning of this month (December 2015).
https://www.facebook.com/Ministry-of-Antiquities-336764893195328/