22 AVRIL 2016 NEWS: Sacsayhuaman - Sir Bani Yas - Aspero -
22 AVRIL 2016 NEWS: Sacsayhuaman - Sir Bani Yas - Aspero -
INSTITUT SUPERIEUR D'ANTHROPOLOGIE
INSTITUTE OF ANTHROPOLOGY
ONLINE COURSES / COURS A DISTANCE
SPRING TERM : APRIL 2016
REGISTER NOW
PEROU –
Sacsayhuaman - After an Inca wall was destroyed in Sacsayhuaman, Cusco, coordinator of the Archaeological Park reported the incident to the National Police and the Public Ministry of Cusco. The Inca wall, located in the Farming Community of Sencca Quespehuara, was destroyed to build a dirt road of about 1.5 km in length and 4 meters wide. The damaged structure was technically part of a retaining wall of an Inca trail, whose masonry form is united by mud and mortar, and with a width of 80 centimeters.You can even observe lithic elements lying on the surface," said archaeologist Marco del Pezo, of the Archaeological Park of Sacsayhuaman.
http://www.peruthisweek.com/news-cusco-sacsayhuaman-109354
UAE -
Sir Bani Yas Island - Sheikha Lubna Al Qasimi said the site, believed to have been built about AD600, showed that these lands had always been accepting of various religions. "Relics unearthed on the island prove that the UAE has been an incubator of civilisations," she said. "The results of archaeological excavations in the Sir Bani Yas Island unearthed a Christian monastery that was built between the six and seventh century." The monastery was discovered on the 87 square kilometre island during excavations in 1992. Sheikha Lubna said Sir Bani Yas Island had an important commercial history, as it was on the trade route between Iraq, the Arabian Gulf and then on to India and China. "The church contained private cabins for monks and prayer rooms. Archaeologists found nearly 15 kinds of pottery and glassware, some of which was used in religious ceremonies," Sheikha Lubna said, adding that she had visited several archaeological sites in the UAE, including Mleiha in Sharjah and Julphar, in Ras Al Khaimah.
http://www.thenational.ae/uae/christian-monastery-found-on-sir-bani-yas-indicates-uae-was-an-incubator-of-civilisations
PEROU –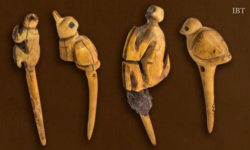 Aspero - Archaeologists in Peru have unearthed the 4,500-year-old mummy of a noblewoman that experts believe could provide new insights into the ancient Caral civilisation. The mummy was found buried in the ancient fishing village of Aspero in northern Peru along with objects featuring carved details of both coastal and jungle animals like birds and monkeys. The images of the coastal and jungle animals indicate possible trade between Aspero and the city of Caral, the most ancient civilisation of its kind in South America and the precursor of the Incas. The two regions are located 14 miles from each other. Ruth Shady, director of the Caral Archaeological Zone, explained the significance of the discovery. "The sacrifice of human beings are not regular, they're very rare," she said. "In this case it is a woman of 40 to 50 years old who was buried with evidence and objects that allow us to identify her as a woman of important social status." The Caral civilisation dates back to 2,600BC and predates the Inca civilisation by some 4,000 years.
VIDEO = http://www.ibtimes.co.uk/archaeologists-unearth-ancient-mummy-peru-1556064?