INSTITUT SUPERIEUR D'ANTHROPOLOGIE
INSTITUTE OF ANTHROPOLOGY
ONLINE COURSES / COURS A DISTANCE
FALL TERM : OCTOBER 2015
REGISTER NOW
MEXIQUE –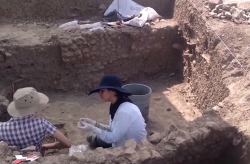 Loma del Tecomate - Sur la Loma del Tecomate, au Sinaloa, les fouilles de sauvetage se poursuivent sous la supervision de Joel Santos, archéologue du Centro INAH Sinaloa. Voici une vidéo "maison" qui vous donne une petite idée du travail des archéologues et des conditions difficiles dans lesquelles ils peuvent exercer leur art.
VIDEO = http://mexiqueancien.blogspot.fr/ / https://youtu.be/6c05FWGQ1TU
ROYAUME UNI – Otley -Evidence of the remains of a corn mill has been found dating back to 1135 at Garnett Wharfe, in Otley. Archaeologists have been working to establish the exact location and function of the Garnett's Mill buildings, which existed at the site up to and including the 20th Century, adding to the understanding of post-Medieval Otley and the importance of industry to the development of the town. Stacey Foster, sales manager of Garnett Wharfe, said: "We have uncovered former culverts that transferred water through the site from the weir to the wheel pits, then back out to the River Wharfe, which they knew existed from historic maps. "As well as this, flecks of gold and pins from cloth that may have been used to manufacture high quality paper at the mill centuries ago have also been discovered. The team will continue to excavate the site and discussions are currently underway about the best way of preserving what has been found and how we can display it for future generations to come." David Wilson Homes specifically commissioned archaeological work to establish whether anything of the 18th Century or earlier structures survived. Evidence of water wheel pits, the power transfer systems and the water management systems required to run the mill has been discovered through excavations, as well as paper and fulling mills for cleaning wool, and water culverts allowing water to flow under roads and pathways, which date as far back as the 17th Century.
http://www.yorkshireeveningpost.co.uk/news/latest-news/top-stories/stone-remains-of-old-corn-mill-found-dating-back-to-1135-1-7219466
TURQUIE –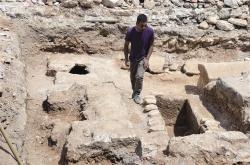 Bodrum - Salvage excavations have started in the western province of Muğla's Bodrum district after ancient tombs were unearthed during drilling works in a construction area. The tombs are believed to have been the necropolis of Halicarnassus. 
Ten tombs of different types from the Hellenistic era were found last month. While the excavations focused on these tombs and skeletons in the vicinity, five more tombs were unearthed in another area 80 meters away.  The salvage excavations were initiated by Bodrum Castle and Underwater Archaeology Museum officials, with the number of tombs increasing to eight.  The skeletons are now being examined by anthropologists, and works have begun to display them at the museum.  Officials expect more tombs to be unearthed as works continue and say the artifacts inside the tombs show that the area was the necropolis of Halicarnassus.
http://www.hurriyetdailynews.com/salvage-excavations-start-in-bodrum-.aspx?pageID=238&nID=81361&NewsCatID=375
ITALIE –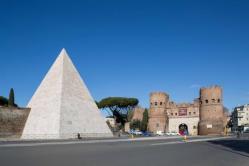 Rome -  The Egyptian-style pyramid-shaped tomb of Gaius Cestius, an Augustan era general, reopened to the public this week following an extensive restoration initiated in March 2013.  The 120 foot-high pyramid, according to Paris, was constructed in 330 days, made of white Carrara marble. The 21st century restoration of the 2000-year-old tomb took a cumulative 327 days, 75 days less than projected.The restoration was much needed after centuries of wear and tear, which included, as Paris detailed, the tomb's incorporation into the 3rd century AD walls, looting in the Middle Ages, mid-17th century restoration, and use as a meeting spot in the 19th century.
http://www.ansa.it/english/news/lifestyle/arts/2015/04/21/romes-pyramid-reopens_661e7bca-dcdc-4a58-92d4-74b6eab54bb4.html?
CHINE –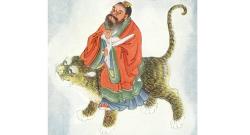 Jiangxi - The Great Shangqing Palace, a temple dedicated to a Chinese Taoist master, was excavated in east China's Jiangxi Province, said local sources Sunday evening. Zhang Daoling (34-156), who founded a sect of Taoism and was known as Celestial Master Zhang, is believed to have lived and practiced Taoism at Longhu Mountain in Jiangxi, where a temple was built during the Han Dynasty (202 B.C -220 A.D.) and renovated and expanded in the following centuries. "It was a very important Taoist site in history," said Xu Changqing, head of the Jiangxi provincial archaeological institute. The temple was destroyed in a fire in 1930. Excavation on the temple started last June. The ruins covered about 10,000 square meters (about one hectare), where pieces of pottery and porcelain as well as building components were unearthed, including some glazed tiles found in the temple's ancient paintings. "The items discovered suggest how the palace evolved from the Song Dynasty to the Qing," said Xin Lixian, a research fellow with the National Museum of China. He noted that only a small part of the palace was excavated. According to Xin, the palace's ruins were among the largest and best preserved in south China. "It also provides scientific evidence for research on ancient Chinese royal architecture," he said.
http://www.china.org.cn/arts/2015-04/20/content_35373773.htm?