INSTITUT SUPERIEUR D'ANTHROPOLOGIE
INSTITUTE OF ANTHROPOLOGY
ONLINE COURSES / COURS A DISTANCE
FALL TERM : OCTOBER 2016
REGISTER NOW
TURQUIE –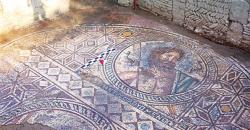 Yumurtalık - Archaeological excavations in the southern Turkish province of Adana's Yumurtalık district have unearthed a rare mosaic depicting the ancient Greek god of the sea, Poseidon. It is believed to date back to the 3rd or 4th century B.C. The Poseidon mosaic was found in the frigidarium (large cold pool of a Roman bath) part of the ancient bath at the ancient city of Aegae, which is a 1st degree archaeological field. The bottom part of the mosaic contains partly ruined writing in Greek: "Greetings to all of you bathing." Adana Provincial Culture and Tourism Director Sabri Tari said the coastal Yumurtalık district was called Aegae in the ancient era. Tari said the city served as a naval base in the era of the Roman Empire and it was also a famous place for Asclepius, the god of medicine in ancient Greek religion and mythology. "One of three big Asclepius temples of the ancient world is in this city," he added. Tari said the region is rich in historical tissue, and they had previously found a mosaic depicting the god of love, Eros. Adana Museum Deputy Director Nedim Dervişoğlu said they continued to place a big importance on excavations "During excavations, we found a mosaic on a field over a space of 11.39 square meters. It is separated into two main panels. The depiction in the southeastern part of the mosaic has been completely destroyed while the depiction in the north shows Poseidon carrying a trident. There are dolphins in the right and left of Poseidon. When the excavations are completed around the mosaic, the depiction will be meaningful. We believe it dates back to the 3rd or 4th century B.C.," Dervişoğlu said.
http://www.hurriyetdailynews.com/ancient-poseidon-mosaic-found-in-southern-turkeys-adana.aspx?pageID=238&nID=103069&NewsCatID=375
ROYAUME UNI –
Carlisle - Artefacts found during a dig in the grounds of Carlisle Cathedral are undergoing analysis by experts, with archaeologists describing the discoveries as "exciting". Floor tiles - believed to be medieval - and stained glass fragments were unearthed as history hunters explored part of the city centre site. Archaeologists were exploring the area in front of the Fratry, where Carlisle Cathedral is planning a new building. Dr Adam Tinsley, from the organisation, told the News & Star: "That gives the architects a better idea of what structures and deposits they are going to come across and whether they are significant or not. "The field work is over. Now it's the analysis of the material finds - the floor tiles and also a substantial quantity of stained glass fragments. "They do appear to relate to the former buildings of the Fratry. "Initial estimates date them to possibly as early as the 14th century." The work involved digging trenches in front of the Fratry.
http://www.newsandstar.co.uk/news/Dig-sheds-light-on-lost-cathedral-history-25ab84ca-212e-4386-8b3e-58fed9500f88-ds
ROYAUME UNI –
Scillies - A legendary lost island which was said to have extended westwards from Land's End to the Isles of Scilly and reported to have had fair-sized towns and 140 churches before being engulfed by the sea has inspired a new tidal study. The Lyonesse Project, which studies of the impact of sea level rise on the Isles of Scilly over the last 12,000 years, has been formally published by Cornwall Council, marking a culmination of seven years of work. Since the mid-eighteenth century archaeological remains including stone walls have been discovered below high water in the Isles of Scilly – which were one large island 9,000 years ago and commonly associated with the enigmatic lost land of Lyonesse. "The new data shows that the 500-year period between 2500 and 2000 BC saw the most rapid loss of land at any time in the history of Scilly — equivalent to losing two-thirds of the entire modern area of the islands" said Charlie Johns, archaeology projects officer from Cornwall Archaeological Unit. "After this the rate of change slowed significantly so that by circa 1500 BC the pattern of islands was approaching that of today, but with the dramatic difference of a vast intertidal area of saltmarsh in what is now the islands' inner lagoon.
http://www.westbriton.co.uk/cornwall-council-publishes-study-showing-impact-of-12-000-years-of-sea-level-rises-on-scillies/story-29622208-detail/story.html#2aZQ2Pdw3OqamILI.99
TURQUIE –
Alacahöyük - Archaeological works in Alacahöyük, one of the most important centers of the Hittite Empire and considered Turkey's first "national excavation field," have unearthed a 2,300-year-old secret tunnel known as a potern."This tunnel is a big discovery in terms of Hittite architecture. This is my 55th year in professional life. I never thought I would find a potern but I did," said Ankara University Professor Aykut Çınaroğlu, the head of the excavations. While focusing on a sanctuary that was unearthed in 2014, they discovered a secret tunnel, he said. Stating that more than one secret tunnel existed in the capital of the Hittites, Hattuşa, Çınaroğlu said: "This new potern proves the existence of other poterns in Alacahöyük. We are carrying out excavations right now; we have not finished yet. We started from the gate opening to the sanctuary, trying to open it. This is a potern from nearly 2,300 years ago. We have dug 23 meters so far but think that it is longer. Cleaning work is continuing, too. We will see what we will find in the end. Poterns were placed under the castle, extending into the city. We have previously found a cuneiform tablet here, featuring a king who explains to priests what to do during ceremonies. This secret tunnel might have had a sacred function." The Bronze Age had had a powerful effect on Alacahöyük, he said. "The best artwork of this effect is the Hatti era, which was 350-400 years before the Hittites. In the future, we will start working on this layer because this land has many questions about the Bronze Age that need to be answered. We have so far excavated in very limited areas, but we will try to progress and reach this age with more scientific methods." The first excavation in Alacahöyük, known as the religious capital of the Hittites, was first carried out by Ottoman archaeologist Makridi Bey in 1907.
http://www.hurriyetdailynews.com/secret-tunnel-found-in-hittite-capital-.aspx?pageID=238&nid=103034&NewsCatID=375
ROYAUME UNI – Iona - The island is best known for its monastery founded by the monk Columba, also known as Colm Cille, who had been exiled from his native Ireland as a result of his involvement in the Battle of Cul Dreimhne. But now a new find on the holy island has excited archaeologists from across Scotland and throughout the world. An archaeological team have discovered two different periods of building on top of the original village mound of more than 1,000 years, and a previously unknown extension to the medieval vallum, or wall, has all been found in a shallow ditch next to the school. The extent of the wall may rewrite experts' understanding of the way in which the community on the island in 600 and 700 AD worked together. The archaeological work has been carried out by Dr Clare Ellis of Argyll Archaeology Ltd. She said: 'It seems very likely that the turf bank and ditch are early medieval in date, perhaps 7th or 8th century, and may represent the remains of an unknown monastic boundary, while the underlying soils appear likely to date from the late Bronze Age or Iron Age. 'What is most exciting to me is that the lines of the property that exist now are very similar to the property lines that existed more than 2,000 years ago."
https://www.pressandjournal.co.uk/fp/news/highlands/1002459/prehistoric-village-found-on-iona/
TURQUIE –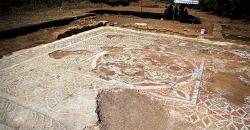 Prusias ad Hypium - Ongoing excavation works in the Prusias ad Hypium ancient city have unearthed the ruins and mosaic floor of a 3rd-4th century B.C. villa. The ancient city is located in the Aynalı village in Turkey's Black Sea province of Düzce. Düzce Governor Ali Fidan said the region has had a rich history that continues to be unearthed. "Here we have found the ruins of a 1,700-year-old villa from 300-400 A.D., as well as a mosaic with a diameter of 128 square meters. Officials are continuing their work. The villa shows that the settlement existed here in that era and the historical city of Prusias reached out to this region," Fidan said. He added that the site of the villa ruins was the border region of the city
http://www.hurriyetdailynews.com/roman-villa-remains-found-in-turkeys-duzce-.aspx?pageID=238&nid=102982&NewsCatID=375