22 AOUT 2015 NEWS: Van - Lichfield - Patan - Malkara - Qaryatain -
22 AOUT 2015 NEWS: Van - Lichfield - Patan - Malkara - Qaryatain -
INSTITUT SUPERIEUR D'ANTHROPOLOGIE
INSTITUTE OF ANTHROPOLOGY
ONLINE COURSES / COURS A DISTANCE
FALL TERM : OCTOBER 2015
REGISTER NOW
TURQUIE –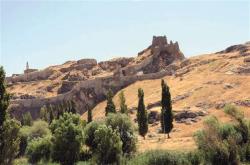 Van - Excavations around the ancient fortress in the southeastern city of Van, led by the head of Istanbul University's Van Regional History and Archeology Research Center, Professor Erkan Konyar, have recently started to look into the site's 5,000-year history. A team of 40 scientists from 12 universities across Turkey will conduct research to unearth the history of the fortress, which had once overlooked the Urartian capital Tushpa. Konyar said his team is due to work at three different sites near the fortress: The ancient Van city, the castle, and the castle mound. "We are working in the old city of Van and the Van Fortress Mound. We most focus on protection and restoration work in the old city," he added. "An Ottoman texture of at least 800 years lies there, while the Van Fortress Mound includes the city's older layers. We can observe a process of nearly 5,000 years here. This is an Urartian neighborhood. In this area, there are Urartu houses with ovens, constructed next to each other and sprawling across a large area. We are working on a field where people lived in a traditional civilian architecture with floor furnaces, stone penthouses and barns, while some inhabitants worked in the service sector. So there are plenty of findings. Last year we found a tablet along with a number of ornaments," said Konyar. The excavation head said the primary goal of works in Van aimed at revealing how the Urartu civilization was destroyed and who arrived in the region after the people of Urartu. "The architectural factors in these era as well as the remains of people and the tools they used are being unearthed. We can find answers to all questions such as people's eating habits or the cause of their death," he added.
http://www.hurriyetdailynews.com/millennia-old-urartian-site-in-van-still-has-secrets.aspx?pageID=238&nid=87192
ROYAUME UNI – Lichfield – The construction of 18 new apartments at St John's Hospital in Lichfield has unearthed a fascinating insight into the city's past – rows of buried skeletons. Initial earthworks have uncovered up to 40 skeletons, thought to be part of a burial plot which archaeologists believe dates back to medieval times. St John's Hospital was established in 1135 adjacent to the City Culstubbe gate, which crossed what is now St John Street. Many pilgrims came from all over the country to be near the shrine of bones of St Chad – where Lichfield Cathedral now stands. St John's provided overnight accommodation for pilgrims for several hundred years attended to by Augustian Friars. Many of the pilgrims came to be healed and some may well have perished, so perhaps the burial ground was for these unfortunate pilgrims.
http://www.lichfieldmercury.co.uk/8203-Unearthed-40-skeletons-Lichfield-building/story-27652067-detail/story.html
INDE –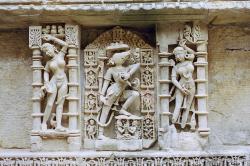 Patan - Rani ki Vav at Patan, which became the second Unesco archaeological World Heritage Site in the Gujarat last June — after Champaner — has had to bear the brunt of the recent heavy downpours in north Gujarat. The central shaft has reported waterlogging which spread to lower parts of the millennium-old step-well. Archaeological Survey of India (ASI) officials said that they plan to take up a cleaning and restoration project after the monsoon is over.
http://timesofindia.indiatimes.com/city/ahmedabad/Rani-ki-Vav-suffers-damage-from-deluge/articleshow/48592679.cms
TURQUIE –
Malkara - The Tekirdağ Waterworks Authority (TESKİ) has discovered that Armenian tombstones have been used to cap sewers in Malkara, according to a report published on Friday by the Turkish-Armenian weekly newspaper Agos. TESKİ employees made the discovery while carrying out excavations as part of repair work along Zülfikarağa Street in the city's Hacievhat neighborhood. The workers found seven tombstones at the site and informed the municipality. According to the report, Malkara Mayor Ulaş Yurdakul has acknowledged the findings, and the tombstones have been given to the Tekirdağ Archeology Museum for inspection and preservation.
http://www.todayszaman.com/national_report-armenian-tombstones-used-as-sewer-caps-in-tekirdag_397201.html?
SYRIE –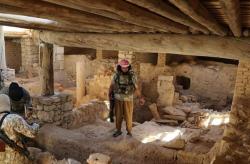 Qaryatain - Isis have demolished an ancient monastery founded more than 1,500 years ago in central Syria Friday near a town where the extremists abducted dozens of Christians earlier this month, activists and a Christian priest said. The extremist group posted photos on social media Friday showing bulldozers destroying the Saint Elian Monastery near the town of Qaryatain, which Isis captured in early August.A Christian clergyman told The Associated Press in Damascus that Isis militants also wrecked a church inside the monastery that dates back to 5th century. The priest, who spoke on condition of anonymity for fear of reprisals, said the monastery included an Assyrian Catholic church.
http://www.independent.co.uk/news/world/middle-east/isis-in-syria-militants-destroy-ancient-monastery-founded-more-than-1500-years-ago-10465578.html