INSTITUT SUPERIEUR D'ANTHROPOLOGIE
 INSTITUTE OF ANTHROPOLOGY
ONLINE COURSES / COURS A DISTANCE
 INSCRIPTION  2012 /  Session III : Juillet 2012
   REGISTRATION 2012 /  Term III : July 2012
ISRAEL –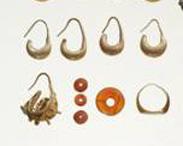 Meggido - Archaeologists digging at Tel Megiddo in northern Israel have unearthed what turns out to be one of the largest troves of Canaanite treasures ever found, buried in rubble from destruction 3,100 years ago. The treasure was hidden inside a clay vessel that had been unearthed in the summer of 2010. The pot had been filled with dirt and sent for testing. It was only recently that the dirt was examined in a restoration laboratory and the treasure revealed to their great surprise. The hoard includes a collection of gold and silver jewelry, beads, a ring and a pair of unique gold earrings with molded ibexes and wild goats that was likely made in Egypt. "We find about 10 [whole] vessels every year. The only thing that was unusual was that the jug was found inside a bowl. It was put inside a bowl 3,000 years ago and was covered by another bowl and it was put in the corner of a court yard," archaeologist Eran Arie told The Media Line. The hoard is one of the largest and most intriguing ever found in Israel. The treasure likely belonged to a wealthy, perhaps royal, family and was found in the layer of settlement dating to 1,100 B.C., about 150 years prior to the Israelite conquest of Canaan, Arie says. 
http://themedialine.org/news/news_detail.asp?NewsID=35193
VIET NAM –  Nam Giao - An animal skeleton found at the Nam Giao worshipping platform in Thanh Hoa central province is believed to be the first such discovery in the history of archaeology in Viet Nam. The undamaged buffalo skeleton was uncovered by Vietnamese archaeologists at the Ho Citadel in Vinh Loc Commune. Vu The Long, of the Viet Nam Institute of Archaeology, said the find was a big surprise for scientists as nothing similar had been found at the worshipping platforms of different dynasties across the country. The fact the buffalo skeleton was buried directly underneath the biggest surrounding wall of the Nam Giao platform led scientists to believe it was sacrificed when Royal Mandarin Ho Quy Ly ordered the platform built in 1402, Long said. The buffalo was sacrificed and then buried underneath the platform wall, he said. After scientific research, the skeleton will be restored for display at the Ho Citadel, which was recognised as a World's Cultural Heritage last year by UNESCO
http://vietnamnews.vnagency.com.vn/Life-Style/224987/sacrificed-buffalo-skeleton-found-at-cultural-heritage-site.html
PAKISTAN -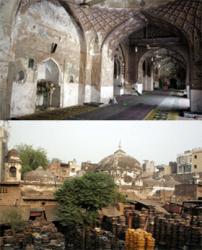 Lahore - The 400-year-old Begum Shahi Mosque, one of the finest and most beautiful mosques built during the Mughal regime, is headed towards ruin owing to negligence on part of the authorities concerned.  The mosque has been surrounded by encroachments from all sides – a rim market on one side, Moti Bazar on the other and houses all around.  The mosque, originally built 10 feet above the ground, has now sunken four feet below the standard point. Talking to Daily Times, Hafiz Maqsood Ahmad, who has been the imam of this mosque for the last 15 years, said that the mosque was last repaired during the tenure of Ayub Khan who had allocated Rs 35,000 for its renovation. After that, none of the governments ever spent even a single penny for the preservation of this 400-year-old historical emblem, he said, adding that some locals, in 2006, on basis of self-help constructed the marble floor of a compound.
http://www.dailytimes.com.pk/default.asp?page=2012%5C05%5C21%5Cstory_21-5-2012_pg13_7
ROYAUME UNI – Haverhill -   An archeological dig will take place at the Haverhill Research Park site this summer. Initial works in March identified prehistoric and Roman remains which could provide an insight into the lives of people living in the Haverhill area over 2,000 years ago. Joe Abrams, regional manager, of Headland Archaeology, which is carrying out the investigation, said: "This is a welcome opportunity to reveal and investigate the remains of both prehistoric and Roman farming communities. "Our research focus will be sensitive to the exact remains revealed at the site, and is expected to include the changes which took place as a result of the Roman Conquest and also those which came with the disintegration of that empire and the economy which survived within it. "We believe the remains at Haverhill span both of these crucial periods, allowing us to tell the story of a Suffolk farming community on a local level and to reflect on how these major events affected their way of life."
http://www.haverhillecho.co.uk/news/business-news/archeological-summer-dig-at-haverhill-research-park-1-3844350
USA –
 Big Belts - Travis and students agreed it takes only about half a day of wrangling the buckets of earth, meticulously hauled out of the pits and documented, before one develops a keen eye for the items they seek. Bone fragments have porosity to distinguish them from other pebble-like objects, for example.  For Travis, the pieces — and the study that comes later in the lab, including Carbon-14 dating and analysis of ancient pollen — provide more details of the past with each dig.  The work in the area has found, for example, that a dry period hit the region for a few centuries starting around 2,000 years ago. That meant an end to coniferous forests, and the larger animals that live in them, in favor of a drier environment with sagebrush. The numerous fires of that period meant greater erosion when rains came, resulting in faster deposition of dirt on the sites.  Travis doesn't believe people lived for long periods of time in the rugged gullies and cave-like shelters where human leftovers have been found. The Big Belts seem to have been a place people passed through, repeatedly over the centuries.  A site excavated the last two years — now filled with earth and restored to its pre-dig condition — touched on campfires some 1,300, 1,700 and 2,000 years old. The current site has had charcoal already dated to some 3,000 years ago, and the team is digging deeper and finding more items, of an age yet to be determined. Yet at another pit, dug about two meters deep just a few feet away from a rock overhang, has turned up just about nothing. The location of new site itself is a bit of a mystery, as it's located well above a creek bed. For the many feet of deposition to have buried the human activity, the water must have at some times been much higher, perhaps because of runoff after fires or differences over time in local topography. The large bone, maybe a knuckle, unearthed last week will require further analysis but brings some early clues. The fact that it was found without other skeletal remains right nearby could indicate that whatever it was, it was killed, moved and eaten, as opposed to dying on its own. The recent dig has turned up some tool bits or partially completed tools, including a three-inch rock with visible scrape marks, an arrowhead or scraper under construction. Those are carefully wrapped to prevent contamination; by later analyzing the pre-historic proteins on the cutting surface, indicating what may have been hunted or eaten. Another clue has been evidence of fish never known to have lived upstream of Great Falls. Their presence in the Big Belts could be an indicator of trade, or at least of travel and the ability to transport fish almost 80 miles. 
http://helenair.com/lifestyles/carroll-college-students-unearth-pre-history-in-the-big-belt/article_8eed1c92-a245-11e1-bf1d-001a4bcf887a.html
PAKISTAN –
 Katas Raj Mandir - Nestled away in the eastern part of the great Salt Range, east of Islamabad, lie these temples, also known as Satghara temples for centuries. With the construction of the Islamabad-Lahore Motorway which skirts its edge, it is emerging as a popular tourist destination in the region. It is located on the main road leading from Lake Kallar Kahar to Choa Saidan Shah and is not far from the Kallar Kahar Lake. Built in the 9th-11th century when the Salt Range was part of the powerful Hindu Kingdom of Kashmir, this large complex houses several temples most of which, unfortunately, are in a rather derelict condition.  There is also a fortress surrounding a pool that happens to be the freshest of water body with a lovely light bluish green tinge. The pond makes it perhaps the most wondrous of all Pakistani monuments. Undoubtedly, Katas happens to be one of the most impressive and oldest of Vedic temples. Dedicated to Shiva, the temple has existed since the days of Mahabharata ava brothers spent a substantial part of their exile at the site. The Pakistan government is considering nominating the temple complex for World Heritage Site status. It is also spending about Rs 20 million in three phases for the restoration of the complex. According to Hindu mythology, when Lord Shiva's favourite wife Parvati died, he shed so many tears in her grief that his endless tears formed this pond. Simultaneously, another pond was formed at Pushkar in Ajmer. The pond is not merely a historic decoration; it is not only a source of fresh water to thousands of people but also irrigates orchards sprawling on tens of thousands acres of land.  According to Gen Cunningham, Katas was considered the second largest holy place in Punjab for Hindu pilgrims after Jwala Mukhi. It is said famous Pando brothers spent 12 years in Katas and built the temples of Satghara. It is said Al-Beruni also spent some time at Katas to learn Sanskrit in a linguistic university which, at that time, was established here. 
http://www.dailytimes.com.pk/default.asp?page=2012%5C05%5C20%5Cstory_20-5-2012_pg7_9
ROYAUME UNI –
 Wakefield – Ancient tombs are among intriguing archaeological finds unearthed during major redevelopment work at historic Wakefield Cathedral. The excavations have revealed worship has taken place on the site of the 800-year-old cathedral for more than 1,000 years. Archaeologists are removing buried remains from inside the nave to allow a new floor to be installed. The digging has already revealed 13 burials, most of which date back to the 18th or 19th century. But archaeologists have also found two medieval stone graves and two probable early walls.
http://www.yorkshireeveningpost.co.uk/news/latest-news/top-stories/tomb-team-dig-reveals-wakefield-cathedral-s-ancient-past-1-4559444
ISRAEL -  Modi'in - The Israel Antiquities Authority (IAA) announced, Tuesday, that a press for the production of olive oil was discovered last week in Modi'in, about halfway between Jerusalem and Tel Aviv, during an archaeological excavation in advance of expansion of the city's Keyser neighborhood by the Construction and Housing Ministry. A statement by the IAA called the press the grandest and most complete one found so far. Archaeologist Hagit Torgë, who is directing the dig, said the press, which was used toproduce industrial quantities of oil for food and light, about 1,400 years ago, "was preserved surprisingly intact with all its components."
http://www.israelnationalnews.com/News/Flash.aspx/239888#.T7pv00U5LlB