21 JUIN 2016 NEWS: Feizabad - Collingbourne - Gujarat - Roanoke - Breiðafjörður - Llangwm - Limerick -
21 JUIN 2016 NEWS: Feizabad - Collingbourne - Gujarat - Roanoke - Breiðafjörður - Llangwm - Limerick -
INSTITUT SUPERIEUR D'ANTHROPOLOGIE
INSTITUTE OF ANTHROPOLOGY
ONLINE COURSES / COURS A DISTANCE
SUMMER TERM : JULY 2016
REGISTER NOW
IRAN –
Feizabad - Archeological excavations have uncovered pottery objects dating back to Ilkhanid era in Isfahan's Feizabad archeological site. A Kashan University archeological expedition led by Reza Nouri Shadmahani carries out the 4th archeological investigation in the site to bring the students to close contact with the site, as Shadmahani tells Mehr News local correspondent Fatima Karimi. According to investigations, Feizabad had been settled and urbanized during Ilkahnid era; the city comprised of two important localities of Arg and Sharistan; "the first season of excavations in the site was carried out in Sharistan part of the site, which uncovered invaluable information about archeology and architecture of the Ilkhanid era," he told Mehr News. "The present expedition seeks responses to questions of settlement patterns and architectural shifts in Arg section, and other architectural features of the site; the 4th season of excavations revealed a structure dating back to times even before the era most architectural features belonged; the adobe building with gypsum plastering encompass a rectangular space with large arch plates and could have potentially have arched dome in time of construction. It is an east-west orientation," the research head detailed. "The approximate dimension reveals 10 meters width in 20 meters length including unexcavated parts; it is still requires more excavation in western part to find about the possible application of the chamber. In the most probability, the space belonged to the higher classes of the social strata of the time," Shadmahani said. The excavations also uncovered pottery objects of the Ilkhanid era.
http://en.mehrnews.com/news/117477/Excavation-uncovers-Ilkanid-era-pottery
ROYAUME UNI –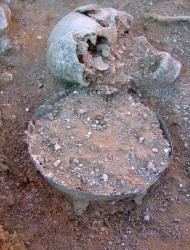 Collingbourne - Cremations, inhumations and graves accompanied by shield bosses, knives and spearheads were among the 77 burials at one of the largest Saxon cemeteries ever discovered in Wessex, say archaeologists who have released their findings at the site after re-examining a tricky terrain first excavated during the 1970s.
http://www.culture24.org.uk/history-and-heritage/archaeology/art557050-wessex-saxon-cemetery-roman-cremations-burials
INDE –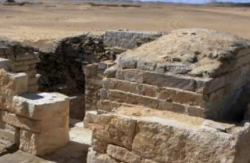 Gujarat - The Archaeological Survey of India (ASI) has unearthed structures resembling a Buddhist monastery in Vadnagar city of Gujarat, a finding which could further establish the importance of the region as a thriving Buddhist centre. "The latest excavation revealed structures resembling monastic cells. However, only further excavation at the site would help establish whether the structures were part of a monastery or were secular in nature," Superintending Archaeologist of ASI (Western region) Madhulika Samanta said. "We have unearthed six-seven monastic cells but the entire planning can only be ascertained after extended excavation, which is not possible now because of concrete houses having been built there by locals. We have not been able to establish its religious association, but we assume that it can be a monastery," she said. "To establish Vadnagar's claim as a thriving Buddhist centre, this could be an important discovery, but for that we need to get land so we can carry out further excavation. For that, we have written to our head office in Delhi stating our position," she added. Remains of monastery-like structures excavated this time might have been constructed in at least three different phases of history between 3rd century AD and 9th century AD, she said.
http://www.dnaindia.com/india/report-gujarat-likely-remains-of-buddhist-monastery-found-in-vadnagar-2225741
USA –
Roanoke - Archaeologists have found pottery pieces that could have been part of a jar belonging to a medicine maker of the Roanoke voyages, and even a member of the lost colony. The two quarter-sized fragments, colored blue, white and brown, were buried in the soil two feet below the surface not far from The Lost Colony theater ticket house. An earthen mound believed to be a fort from the period lies 75 yards from the discovery site. "It was an exciting find," said Eric Deetz, an archaeologist with the First Colony Foundation who was part of the dig earlier this month. "That pottery had something to do with the Elizabethan presence on that island." The ointment or medicine jar would have been 3 inches tall and 1.5 inches in diameter, Deetz said. He called it the most significant piece of pottery found in the area since the 1940s. English explorer Walter Raleigh sent three groups to the coast of North Carolina in 1584, 1585 and 1587. During the 1585 exploration, John White drew pictures of the natives and, with Thomas Harriot, made maps of the region. Harriot also learned the Algonquian language and recorded flora and fauna. The pieces found are part of a jar that might have been used by Harriot or members of the lost colony to mix salves and medicines, Deetz said. Sassafras, a plant plentiful on Roanoke Island, was thought at the time to be a cure for many ailments, including syphilis.
http://pilotonline.com/news/local/history/archaeologists-find-pieces-of-a-small-medicine-jar-that-are/article_4092ad6b-4b26-59ea-8453-466387f18dc6.html
ISLANDE –
Breiðafjörður - The oldest known shipwreck around the coast of Iceland is currently being researched by marine archaeologists as part of a Rannís funded research project examining the archaeology of the Danish trade monopoly period 1602-1787. The wreck was originally discovered in 1992 by two divers, Erlendur Guðmundsson and Sævar Árnason, in the old harbour of Flatey Island in Breiðafjörður along the west coast of Iceland. A survey project carried out on the wreckage in 1993 by Dr. Bjarni F. Einarsson for The National Museum of Iceland uncovered a significant amount of 17th Dutch century pottery associated with the wreckage and an area of approximately 35 square metres of the wreck was recorded. Flatey Island was previously a significant trading harbour and transit point for traders over the centuries in Iceland. The ship in question is believed to have been a Dutch armed merchant ship named Melkmeid(Milkmaid), which is believed to have sunk in Flatey harbour in the autumn of 1659.
http://icelandmonitor.mbl.is/news/culture_and_living/2016/06/19/divers_explore_17th_century_dutch_shipwreck_in_icel/
ROYAUME UNI – Llangwm - An archaeological dig in Pembrokeshire has unexpectedly uncovered part of a Stone Age site. The dig involving Heritage Llangwm volunteers and the Dyfed Archaeological Trust has been taking place on a farm near Llangwm. They initially set out to learn more about the village's 12th Century Flemish founders, but instead unearthed flints from Mesolithic times. They are thought to be between 6,000 and 8,000 years old. Experts analysing the flints have found mineral deposits on their surfaces which may have had a protective effect, making it easier to work out their use.
http://www.bbc.com/news/uk-wales-south-west-wales-36553584
IRLANDE –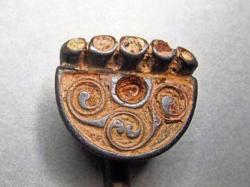 Limerick – A West Limerick builder has made the rare but significant archaeological find of a pin or handpin that is possibly 1500 years old. Mr Corbett understands that the pin probably dates back to the 5th to 7th centuries and is possibly made of copper or bronze. "Handpins are quite unusual and not found very often so each new discovery is of particular interest," Mary Cahill, Keeper of Irish Anitquities at the Museum has told Mr Corbett. "There are a few others from Limerick including one from the River Deel at Askeaton and another from Carrig Aille at Lough Gur." A handpin almost exactly similar to the one found in West Limerick was discovered in Craigywarren Bog in Co Antrim. That one dates from the 7th century and is made of copper-alloy and enamel and is 23cm long. The five-fingered head suggests it is a later rather than an earlier form of such pins. Two bronze pins were found near the mouth of the river Deel in 1873. .Staff from the National Museum are now anxious to examine in more detail the site where Mr Corbett found the pin. He also found a fragment of a quern stone, used in grinding cereal into flour.
http://www.limerickleader.ie/news/home/209562/Rare-and-precious-find-in-West.html