INSTITUT SUPERIEUR D'ANTHROPOLOGIE
INSTITUTE OF ANTHROPOLOGY
ONLINE COURSES / COURS A DISTANCE
SUMMER TERM : JULY 2013
REGISTER NOW
ROYAUME UNI –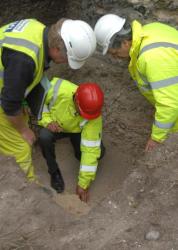 Saffron Walden castle - Archaeologists have carried out tests on the 12th century site after Uttlesford District Council requested a survey before repairs to the eroded walls.  A team from the University of London dug three trenches next to the walls of the keep ... and it unearthed a surprise.  The team found the usual fragments of glass, animal bone and clay pipe. What they hand not expected was for the castle's foundation walls to be missing.  The flint foundations had been 'robbed out' – the technical term for being plundered or recycled – in medieval and early-Tudor times.  Senior archaeologist Trevor Ennis, who headed the team, said: "All we found was a trench dating back to the Middle Ages where someone had moved along the keep removing the flint wall foundations.  "There wasn't much local stone available to the previous inhabitants of Saffron Walden and these piles of flint came in very handy during medieval times for building roads, walls and sheds. "When the original castle fell to ruin it became a giant standing stone quarry. People in later times appear to have recycled it for their own purposes."
http://www.dunmowbroadcast.co.uk/news/picture_gallery_archaeological_dig_at_saffron_walden_castle_unearths_surprise_1_2245833
INDE – 
Rajastan -  The six forts include Chittaurgarh, Kumbhalgarh, Ranthambore, Jaisalmer, Amber and Gagron in the districts of Chittaurgarh, Rajsamand, Sawai Madhopur, Jaisalmer, Jaipur and Jhalawar respectively. The Archaeological Survey of India (ASI) protects the first three while the rest are under Rajasthan government's Archaeology Department. These forts – located on the rocky outcrop of the Aravali mountain range – date back to 8th – 19th centuries and represent "military hill architecture" of the Rajputs.  Unesco gave approval to India's proposal at its 37th meeting currently being held at Phnom Penh. India currently has 29 World Heritage Sites, including six in natural category and rest in cultural. 
http://www.hindustantimes.com/India-news/Jaipur/Six-hill-forts-in-Rajastan-get-Unesco-s-World-Heritage-Site-status/Article1-1080244.aspx 
ROYAUME UNI –  Kidderminster – A radar survey of the churchyard in 2006, as part of the first stage of the Historic Kidderminster Project, found evidence of a structure several feet underground a few yards from the northside of the church. Mr Gilbert said: "We are confident about finding something but we are trying to keep our sense of excitement under control. We know something is there and it would be fantastic if there is evidence of a Saxon monastery. "There is understood to be a medieval chapel under the churchyard so it could be that. We know there is something there but what it is remains to be seen." A Saxon deed from the year 736 refers to a monastery builtin the area. A 19th century town historian, the Rev John Burton, believed it was destroyed by Danish Vikings on their way to Bridgnorth.
http://www.kidderminstershuttle.co.uk/news/10495314.Date_set_for_Kidderminster_Saxon_monastery_dig/
USA –
Beaufort - If at first you don't succeed — try, try again. On their fourth effort this month, state underwater archaeologists brought up two cannons Thursday from the Queen Anne's Revenge shipwreck in Beaufort Inlet. Archaeologists had originally planned to bring up three cannons that day, but because of time left the third on the ocean floor for a future expedition. It's been a challenge for archaeologists, who had originally set out to bring up eight cannons in June, but because of poor weather conditions had to cancel previous dives. The two cannons hoisted from the site were six-pounders, and make 15 cannons retrieved from the site since its discovery in November 1996, according to Sarah Watkins-Kenny, chief conservator for the project. She said 27 cannons have been discovered at the site so far.
http://www.carolinacoastonline.com/news_times/article_32fef9b4-d9da-11e2-ab47-0019bb2963f4.html