21 JANVIER 2016 NEWS: Netrumpakkam - Douvres - St. Elijah - Vrindavan - Namibe - Rehman Dheri -
21 JANVIER 2016 NEWS: Netrumpakkam - Douvres - St. Elijah - Vrindavan - Namibe - Rehman Dheri -
INSTITUT SUPERIEUR D'ANTHROPOLOGIE
INSTITUTE OF ANTHROPOLOGY
ONLINE COURSES / COURS A DISTANCE
SPRING TERM : APRIL 2016
REGISTER NOW
INDE –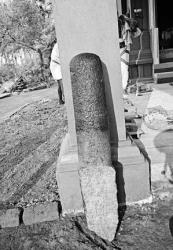 Netrumpakkam - A Siva Linga with an early Brahmi inscription dating back to the first century AD has been found in Nandeshwar temple at Netrumpakkam village in Maduranthakam taluk in Kancheepuram district. It could be the oldest Siva Linga in Tamil Nadu. The oldest Siva Linga in the country is in Gudimallum near Tirupati. An old Sivalinga with inscription is in Mathura. Archaeologist R Nagaswamy said Netrumpakkam itself was very old and the presence of a granite stone belonging to the megalithic period confirmed its antiquity. An idol of Durga worshipped as Ponniamman belonging to the Pallava period was unearthed, he said. The lingam was found during renovation for the kumbabishekem (consecration) of a temple to be held in January 20. Panchayat president K. Prema Krishnamurthy immediately alerted the archaeologists. Mr. Nagaswamy, who visited the temple on Monday, said the lingam with a square shaped Avudai had an inscription at the bottom reading CE N DA MAAN "Five lotuses were drawn with the middle flower blooming," he said. T.G. Loganathan, epigraphist of the State Archaeology Department, said the word might be a name of a sculptor. The inscription at Nandeshwar temple pushes the Tamil-Brahmi script in Tamil Nadu to a very early period. "The finding of the inscription is significant because it takes the origin of Tamil–Brahmi script in Tamil Nadu several centuries earlier than it was believed so far," said K. Sridharan, former deputy director, Tamil Nadu Archaeology Department. Archaeologists had found Tamil–Brahmi inscriptions on bedrocks near caves where Jain monks had settled. Some of the noted Jain settlements are Kongarpuliyankulam in Madurai, Arunkulam near Tirutani in Tiruvallur district, Onambakkam and Perumbakkam in Kancheepuram district.
http://www.thehindu.com/news/cities/chennai/siva-linga-with-early-brahmi-inscription-found/article8127025.ece
ROYAUME UNI –
Douvres - Archaeologists have been uncovering secrets from the wartime past of Kent's frontline town. A dig is taking place on the edge of Dover town centre ahead of a major redevelopment. Much of the area was destroyed by bombs and shells in World War Two that killed many residents and flattened rows of Victorian and Georgian houses. Now cellars from homes in what was part of St James's Street have been discovered by a team from Canterbury Archaeological Trust. They've also found artefacts from the Mediaeval period.
VIDEO = http://www.itv.com/news/meridian/update/2016-01-20/archaeologists-dig-up-central-dover-to-uncover-wartime-secrets/?
IRAQ –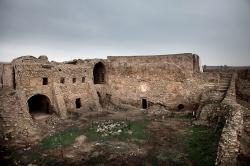 St. Elijah's Monastery - The Islamic State destroyed one of the oldest Christian sites in Iraq as part of its campaign against ancient sites in the country, according to satellite photographs published by The Associated Press on Wednesday and confirmed by Iraqi officials and historians. The monastery of St. Elijah, or Dair Mar Elia, stood for more than 1,400 years above a riverbed south of the city of Mosul, which the Islamic State seized from Iraqi forces in June 2014. The satellite photographs — taken by DigitalGlobe, a private company with headquarters in Westminster, Colo. — showed that the monastery was razed in late August or September 2014, including the site's square complex of partly ruined rooms and a largely intact sanctuary that dated from the 11th century.
http://www.nytimes.com/2016/01/21/world/middleeast/isis-iraq-st-elijahs-monastery.html?&_r=0
INDE –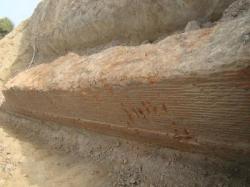 Vrindavan - The Archaeological Survey of India (ASI) has extended its support to conserve a 2000-year-old Kushan-era pond in Vrindavan, which was discovered by an NGO a few years back. The water body known as Ram Taal is located in Sunrakh village of Vrindavan, which can be accessed from National Highway-2 at the Chatikara turning. The pond could not have existed in solitary, there must be a temple or monastery in its surrounding. But, this could be proved only in the probe. Vikrama said the width of the wall is 1.27 meter, whereas the length of the site is 51.60 meter and 34.35 meter wide.
http://timesofindia.indiatimes.com/city/agra/ASI-to-restore-a-2000-year-old-pond-in-Vrindavan/articleshow/50657282.cms
ANGOLA – Namibe - Three archeological lithic stations comprising pre-history age stone instruments were recently discovered in southwestern Namibe province, Angop learned. One of the threee stations was discovered in the locality of Kuroca, municipality of Tombwa, and another on one of the banks of the Giraul river, near the province's headquarters.
http://allafrica.com/stories/201601201439.html
PAKISTAN - Rehman Dheri - Archaeologists have discovered the remains of a 5,000-year old city in Rehman Dheri near this city, official sources said on Tuesday. The team of archaeologists has been on the site, located some 25 kilometers from Dera Ismail Khan city, since long and doing excavation work.The archaeologists said the city could be among the first walled cities of the subcontinent and might have been destroyed three or four times. The sources said the team has discovered houses, stairs and artifacts which showed that Rehman Dheri was once a living city. Rehman Dheri has been the focus of attention of archeologists for a number of years.
http://www.thenews.com.pk/print/92402-Remains-of-ancient-city-discovered-in-DI-Khan?#sthash.I7XUL01K.dpuf