21 AOUT 2013 NEWS: Amphipolis - Berkhamsted - Newbury - Arabie Saoudite - Hatay - Berlin -
21 AOUT 2013 NEWS: Amphipolis - Berkhamsted - Newbury - Arabie Saoudite - Hatay - Berlin -
INSTITUT SUPERIEUR D'ANTHROPOLOGIE
INSTITUTE OF ANTHROPOLOGY
ONLINE COURSES / COURS A DISTANCE
FALL TERM : OCTOBER 2013
REGISTER NOW
GRECE –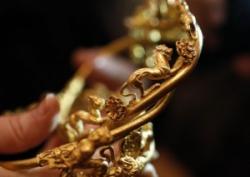 Amphipolis - A group of archaeologists in Amphipolis, a municipality in Serres, claim to have made one of the greatest archaeological discoveries ever, as they believe they have uncovered the tomb of Alexander the Great. They said the tomb has a circumference of 498 meters, an artwork of perfection would only be built for a king. The masterpiece is externally covered with high quality exquisitely-carved marble, a remarkable feat given the tools available at the time. The tomb once was covered with soil and topped with a lion, the one that has been reassembled further uphill and known as the Lion of Amphipolis which  was found by Greek soldiers in 1912.
http://greece.greekreporter.com/2013/08/21/tomb-of-alexander-the-great-unearthed/ 
ROYAUME UNI –
 Berkhamsted - Archaeologists have discovered more than 210 human skeletons whilst excavating a site in Berkhamsted which will become a Marks & Spencer Simply Food Store.  The remains are believed to be from when the site housed a medieval hospital and burial ground in the 12th to 14 centuries. The archaeologists now plan to examine the bones to determine the likely jobs those in the area performed during the medieval period and how those buried had died - whether from natural causes, disease or battle. Excavation is now drawing to a close at the site, and all bones will be reburied after examination by the archaeological team.
http://descrier.co.uk/oddities/2013/08/210-skeletons-found-in-archaeology-dig-at-site-of-future-marks-spencer/
ROYAUME UNI –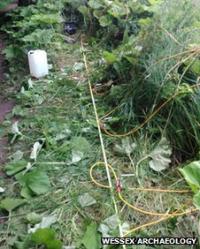 Newbury - A study is being carried out in a Berkshire park to look for evidence of Stone Age activity.  Wessex Archaeology is mounting surveys in Victoria Park, in Newbury town centre.  It is part of a project to map buried gravel deposits in the Kennet Valley, where Stone Age hunter-gatherers are believed to have lived. The one-day survey is using a Ground Penetrating Radar system and Electrical Resistivity Tomography, which produce images of below ground without disturbing the surface.  Experts will investigate across the length of the park alongside the A339.  Ms Joyner said they were looking for signs of a layer of peat as well as gravel deposits and water channels. She said such sites would have been used as sources of water by primitive nomadic hunter-gathers who inhabited the area between 8,000 and 12,000 years ago. "A peat layer would be a great environment for preserving organic archaeological remains we just wouldn't find in normal soil in other places," she added.
http://www.bbc.co.uk/news/uk-england-berkshire-23770289
ARABIE SAOUDITE –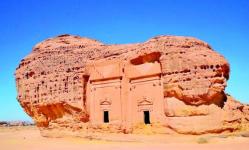 Fifteen missions from abroad, including teams from France, Italy, the United States, Britain, Germany, Japan and Belgium, are cooperating with the General Authority for Tourism and Antiquities to explore 15 projects at historic and archaeological sites in different regions of Saudi Arabia. The archaeological survey began in the Kingdom 40 years ago with the implementation of five-year plans carried out by Saudi missions in cooperation with foreign missions. Through the missions, many archaeological sites were demarcated and recorded and some sites were chosen for further exploration. Considering the diversity of various time periods, comprehensive excavations were taken up to cover various ages — from the prehistoric era to the advent of Islamic civilization. The launch of archaeological studies in the Kingdom, in addition to field surveys and archaeological excavations taken up in all the regions, helped in collecting a tremendous amount of information and evidence covering periods stretching from prehistoric times to the late Islamic era.  Archaeological discoveries include artifacts from ancient cities, such as housing units, architectural buildings, castles, forts and towers. Other discoveries include ponds and dams, canals and wells, pottery, tools made of steatite, glass items of different colors and shapes, metal coins and ornaments, weapons made of minerals, and many rock drawings and inscriptions in Nabataean and Southern Mosnad, as well as other scripts.
http://www.arabnews.com/news/461976
TURQUIE –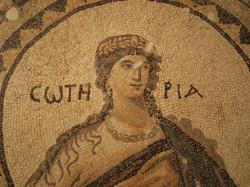 Hatay - A new museum, which is being built in the southern province of Hatay, known as a historical city of tolerance, and was home to many civilizations in the past, will host previously unseen mosaics. Apart from transferring mosaics from the old museum to the new one, the current work on the museum includes bringing previously unexhibited mosaics to light after their restoration. The ancient settlements of Üçağızlı Cave and the mounds of Tell Tayinat and Aççana are also reconstructed inside the museum. Initial plan is for a mosaics exhibition across 2,500 square meters. Archaeologist Ömer Çelik recently reported that a four-panel mosaic depicting a play by Menander, the most renowned Hellenistic playwright, has been transferred to the new museum and is being restored there. This mosaic was discovered in 1997 and was excavated a decade later. "We discovered that these plays were written 2,300 years ago and depicted on mosaics 600 years after their production, in the third century AD, by the Romans. We continued excavating in the region in 2009. Through our recent works, we transferred these mosaics, which have the titles of plays and figure drawings on them, from underground where we used to keep them to the new museum. Our teams are currently restoring them," said Çelik.
http://www.hurriyetdailynews.com/new-hatay-museum-unveils-original-mosaics-.aspx?pageID=238&nid=52897&NewsCatID=375 
ALLEMAGNE –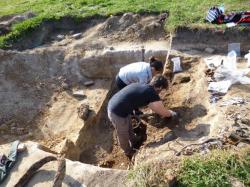 Berlin - Berlin's Tempelhof airport is remembered today as the site of the Air Lift, the effort by Britain and the United States to fly in food and supplies to West Berlin during a year-long Soviet blockade starting in 1948. But a decade earlier, it was the site of unspeakable atrocities at one of the Nazis' earliest concentration camps -- and a husband-and-wife archeologist team has begun an excavation at the site to shed light on its troubled past. Susan Pollock and Reinhard Bernbeck began their dig at the Columbia Concentration Camp earlier this year. The Nazis created Columbia in 1933 from what had been a military jail. The site came to house political prisoners and forced laborers for the airline Lufthansa and plane builder Weserflug. Columbia served as a training center to teach and perfect new torture methods that would later be employed to run Germany's huge network of concentration camps around Europe. "This was not just a place where people were terrorized and tortured, but a school of torture," Bernbeck added. "The people who had been commanders of Columbia later turned into commanders of other concentration camps - at Buchenwald, at Sachenhausen, at Majdanek, in Auschwitz, so once you had gone through concentration camp Columbia, apparently this was this perverse career step in order to stay in the SS and become a commander elsewhere." The Nazis used the camp until 1936, when it was deemed too small. They sent here anyone whom Hitler considered an enemy: opposition politicians, Communists, union members, Jewish people, intellectuals, and homosexuals.
http://www.theatlantic.com/international/archive/2013/08/excavating-one-of-the-nazis-first-concentration-camps/278877/