INSTITUT SUPERIEUR D'ANTHROPOLOGIE
INSTITUTE OF ANTHROPOLOGY
ONLINE COURSES / COURS A DISTANCE
SPRING TERM : APRIL 2014
REGISTER NOW 
IRLANDE –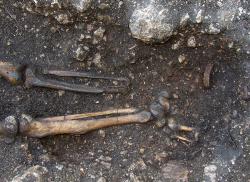 Ardmore - Two stone axes, one of which could be 5,000 years old, have been found on the Connemara coast after the recent storms and sea surges along the Atlantic seaboard. A late Mesolithic mudstone axe – used for hunting and described as "extremely rare" – was found by Connemara resident Elizabeth Moylan last week near her home in Ardmore, while a polished stone axe was found in the same area over this past weekend by her niece, Lorna.She contacted Connemara archaeologist Michael Gibbons, who confirmed that the mudstone artefact dated to the late Mesolithic, pre-farming period, about 4,000-5,000 BC. Mr Gibbons said mudstone was not local to the area where it was found, which suggests it was acquired in a "hunter-gatherer trade network" extending from north Clare to the wider western Connacht region.Ironically, a Fanore axe-making site was washed away in the recent storms, he said. "Several late Mesolithic finds have come to light in Connemara and the surrounding regions over the last few years, but this one pushes settlement in the Connemara Gaeltacht back further than we previously had evidence for," he said. The recent hurricane-force winds and sea swells destroyed some coastal archaeology, including Cromwell's fort on Inishbofin, while exposing previously unidentified archaeology.
http://www.irishtimes.com/news/ireland/irish-news/hunting-axe-up-to-5-000-years-old-thrown-up-by-storms-1.1660966
SERBIE –
 Pločnik - The earliest tin bronze artefacts in Eurasia are generally believed to have appeared in the Near East in the early third millennium BC. Here we present tin bronze artefacts that occur far from the Near East, and in a significantly earlier period. Excavations at Pločnik, a Vinča culture site in Serbia, recovered a piece of tin bronze foil from an occupation layer dated to the mid fifth millennium BC. The discovery prompted a reassessment of 14 insufficiently contextualised early tin bronze artefacts from the Balkans. They too were found to derive from the smelting of copper-tin ores. These tin bronzes extend the record of bronze making by c. 1500 years, and challenge the conventional narrative of Eurasian metallurgical development.