19 JUILLET 2017 NEWS: Geraldton - Turin - Kasaragod - Żejtun - Borough -
19 JUILLET 2017 NEWS: Geraldton - Turin - Kasaragod - Żejtun - Borough -
INSTITUT SUPERIEUR D'ANTHROPOLOGIE
INSTITUTE OF ANTHROPOLOGY
ONLINE COURSES / COURS A DISTANCE
FALL TERM : OCTOBER 2017
REGISTER NOW
AUSTRALIE –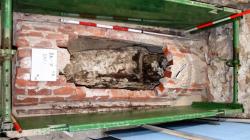 Geraldton - The riddle of the final resting place of Western Australia's first bishop has finally been solved. While it has long been known he was buried beneath St Francis Xavier Cathedral in Geraldton, an archaeological dig during renovations has revealed the exact position. Bishop William Bernard Kelly was born on a boat from Ireland to Australia in 1854 . When he died in 1921, his body was brought to Geraldton, where he had been its first bishop. He was buried beneath the foundations of the cathedral which was under construction but the exact location had not been marked. His final resting place was vaguely described as "behind the throne", but no one recorded where the throne was when it was later removed some years ago. A cutting deep into the floor revealed a brick vault which held the bishop's coffin of timber and lead with a glass panel.
http://thenewdaily.com.au/news/state/wa/2017/07/18/riddle-bishops-final-resting-place-solved/
ITALIE –
Turin - The Shroud of Turin is stained with the blood of a torture victim, according to a new study which backs up claims it was used to bury Jesus Christ. The linen cloth, believed to have been used to wrap the body of Jesus after his crucifixion, contains "nanoparticles" which are not typical of the blood of a healthy person. Elvio Carlino, a researcher at the Institute of Crystallography in Bari, Italy, says the tiny particles "have recorded a scenario of great suffering, whose victim was wrapped up in the funeral cloth". These particles had a "peculiar structure, size and distribution", according to University of Padua professor Giulio Fanti. He says they are not typical of the blood of a healthy person as they show high levels of substances called creatinine and ferritin, found in patients who suffer forceful multiple traumas like torture. Professor Fanti said: "Hence, the presence of these biological nanoparticles found during our experiments point to a violent death for the man wrapped in the Turin Shroud." The Shroud of Turin, which measures around three metres by one metre and contains a faintly stained image of a man, has been venerated for centuries by Christians as the burial shroud of Jesus. It has been subject to intense scientific study to ascertain its authenticity. The new findings were published in the US scientific journal, PlosOne, in an article titled 'New Biological Evidence from Atomic Resolution Studies on the Turin Shroud.'
http://www.news.com.au/technology/science/archaeology/the-shroud-of-turin-is-stained-with-the-blood-of-a-torture-victim-a-new-study-claims/news-story/d09cb1e179300678e4908bf7d75541b9
INDE –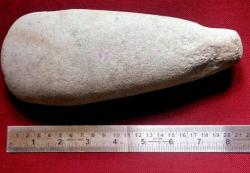 Kasaragod - A 3,000-year-old axe, purportedly the largest from the Neolithic period so far discovered in the State, has got a new lease of life. The 22-cm-long granite axe, weighing 1.48 kg, which has been lying unattended at a village office in Kasaragod district for the past two years, has been finally shifted to the Pazhassi Raja Archaeological Museum at East Hill in Kozhikode. K. Krishnaraj of the Department of Archaeology told The Hindu on Monday that the axe was unearthed when workers were digging a well in the compound of a resident of Kayyur in Cheemeni grama panchayat. "It was found 5.6 metres deep suggesting the rich culture of the New Stone Age in the region. A week ago, it was shifted to the Kozhikode museum," he said. Axes shaped out of granite or basalt belonging to the Neolithic period have been discovered from other parts of the State, and their length is by and large between 12 cm and 16 cm. A large cache of axes was unearthed at Kottammamthode near Kalady, indicating the prevalence of Neolithic culture in Perumbavoor and adjoining regions in Ernakulam district. Similarly, axes were discovered at Thiruvambady in Kozhikode and more recently from Edakkal caves in Wayanad district. "However, this largest axe had rough markings, possibly implying that it was mounted on a wooden handle. Certainly, the tool was used for forest clearance. Further studies should be conducted as more evidence is emerging on the rich Neolithic culture in Kerala," Mr. Krishnaraj said. Discoveries made from rock-cut chambers and caves in and around Kayyur — Cheemeni and Cheruvathur villages — earlier had revealed a continuous habitation from Neolithic to the Megalithic culture. Some historians had earlier argued that Neolithic culture was not widespread in Kerala. But new findings suggested that axes used in prehistoric era were meant for agriculture. In fact, the final stages of evolution were associated with agrarian activities before passing into Iron Age, the archaeologist said.
http://www.thehindu.com/news/cities/kozhikode/largest-neolithic-axe-gets-a-new-lease-of-life/article19298664.ece
MALTE –
Żejtun - Archaeology students and their tutors are hard at work in Żejtun digging up remains of what was once a Roman villa, as a yearly excavation campaign enters its 11th year. The four-week project sees students and professionals working side-by-side in an effort to unravel the history of the villa, located on the grounds of the town's Middle and Secondary School, which forms part of St Thomas More college. Workers first discovered the site while building the school in the 1960s. An excavation campaign was carried out more than a decade later, between 1972 and 1976, but left to languish for decades until University experts were invited to take a look at the area in 2006. Four-week excavation campaigns have taken place every year since. Roman villas were essentially large farming estates that combined areas intended for living and working. The Żejtun villa was an olive oil hib, with stone blocks used to extract the oil and vats used to decant it discovered in the 1970s. We now know that the villa complex was built over an abandoned vineyard sometime after the first century BC, with archaeologists finding traces of the long rock-cut trenches where vines were planted. Experts are also sure that the site was occupied during Punic times, when a large cistern was built to store rainwater.
https://www.timesofmalta.com/articles/view/20170718/life-features/a-roman-villa-inside-a-zejtun-school.653583
ROYAUME UNI –
Borough - An extremely rare Roman sarcophagus has been found at an ancient burial site in Borough. The excavation at Harper Road began in January this year, and revealed a large trench around the coffin and found the lid had been moved – suggesting the grave had been discovered and robbed in the past. It is possible that only valuable items were taken and the body left, a council spokesperson has said. The Harper Road excavation is one of many archaeological projects running across Southwark. Recent archaeological research has shown that Roman Southwark was the focus of ritual activity. Experts now know that the area formed a 'complex ritual landscape' containing various religious monuments and a vast Roman cemetery on sites such as Dickens Square, Lant Street and Trinity Street, where a range of burial practices were used, with graves often revealing exotic goods from across the Roman Empire.The coffin is being moved to the Museum of London, where its contents will be exhumed. Other Roman finds in Southwark include the burial of a fourteen-year-old girl in nearby Lant Street – one of the greatest finds in Britain, the council has said. Her 4th century burial site included a bone inlay box, and ivory clasp knife depicting a leopard and glassware. Only two other sarcophagi have been found in their original burial place in recent years, one from St Martin-in-the Fields near Trafalgar Square in 2006 and one from Spitalfields in 1999.
https://www.southwarknews.co.uk/news/extremely-rare-roman-sarcophagus-found-borough-dig/