INSTITUT SUPERIEUR D'ANTHROPOLOGIE
INSTITUTE OF ANTHROPOLOGY
ONLINE COURSES / COURS A DISTANCE
WINTER TERM : JANUARY 2017
REGISTER NOW
DANEMARK –
Næsby - Bjarne Henning Nielsen, an archaeologist based in northern Jutland, believes that he may have found the tomb of the famous Viking chief Ulv Galiciefarer, the great-grandfather of Valdemar the Great, who was king of Denmark from 1157-1182. Galiciefarer, who became famous raiding, looting and pillaging in Galicia in northern Spain in the early 11th century, has been referred to in written literature as an "earl of Denmark". That citation leads Nielsen to believe the tomb he has been exploring since 2009 could be that of the 'Wolf'. An earl was an important official who, in the king's absence, controlled a region or even an entire country. Such a person would probably have earned a princely funeral. Nielsen, who is curator at Vesthimmerlands Museum, has examined the graves of a number of other Danes of noble birth over the years and found similarities in the burial methods that lead him to believe that the tomb he is working on now is one of an important person. The large tomb is surrounded by a dark 'square' in the ground – possibly the remains of a building that covered the burial site, which is consistent with other noble tombs from in and around the time period and the area it was found. A sword found with the knight buried in the tomb revealed that he lived and died during the first half of the 1000s. The area in and around Næsby in Jutland where the tomb is located is thought to have been part of Valdemar the Great's ancestral heritage that was handed down to him from antiquity. "It is private property he inherited from his father's side, and Galiciefarer is part of the lineage," said Nielsen. "There is of course not a note in the grave saying 'Here lies Ulv', but the time and place fit and the burial is consistent with that of someone the king would want to honour."
http://cphpost.dk/news/danish-archaeologist-may-have-found-the-tomb-of-a-really-really-really-old-viking-chief.html
ESPAGNE –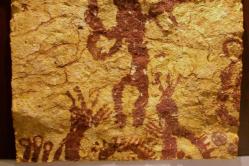 Coves de Santa Maira - Archaeologists from Valencia University (UV) have found proof that the Marina Alta's prehistoric inhabitants occasionally ate human flesh. The experts confirmed in the US publication, Journal of Anthropological Archaeology, that they had found "evidence of cannibal behaviour amongst groups of hunter-gatherer groups in the western Mediterranean during the Mesolithic era." Thirty human bones at least 11,000 years old discovered in Coves de Santa Maira in Castell de Castells showed signs of "human manipulation," the investigators said. The UV investigators did not rule out that the Castell de Castells practices were the result of "periodic food stress" and exceptional, the director of the excavations, J Emili Aura, acknowledged. But he also suggested that they could have been social in origin and the result of episodes of individual or group violence or even rituals. This was the second time that prehistoric cannibalism has been discovered in the Marina Alta following similar finds in Cova del Comte de Pedreguer, which was first inhabited by humans 25,000 years ago.
http://www.euroweeklynews.com/3.0.15/news/on-euro-weekly-news/costa-blanca-north-alicante/143002-cannibalistic-roots
POLOGNE –
Sobibor - Researchers say a recent Nazi death camp excavation has turned up personal mementos from victims, including a teenager's triangular pendant that closely resembles one that belonged to Anne Frank. The Yad Vashem Holocaust memorial said in a statement Sunday that Jewish victims' personal belongings, including the pendant, were unearthed at the former Sobibor death camp in Poland along the notorious "Pathway to Heaven" — an area where the victims were forced to shed their clothes and keepsakes on the way to the gas chambers. Yad Vashem said archaeologists found a watch, a Star of David necklace and a charm etched with an image of Moses holding the Ten Commandments. They also found the pendant, a charm engraved with the Hebrew words "Mazal Tov" along with a date, "July 3, 1929," and location, "Frankfurt A.M." Using an online deportation database, Yad Vashem said it was able to determine that the charm may have belonged to Karoline Cohn, a Jewish girl with that birth date and home town. Researchers are now trying to determine whether Cohn, who would have been 14 at the time, may have ties to Frank, who was also born in Frankfurt in 1929. Yad Vashem said the pendants — one belonging to Frank and one believed to have belonged to Cohn — are the only two of that kind known to historians.
https://www.washingtonpost.com/news/worldviews/wp/2017/01/17/archaeologists-uncovered-a-pendant-at-a-nazi-death-camp-with-possible-ties-to-anne-frank/?utm_term=.9fa94d270266
CHINE –
Yueyang - Photo shows a basement excavated at the site of the ancient town of Yueyang in the Yanliang District of Xi'an, capital of northwest China's Shaanxi Province. Yueyang is the capital of the state of Qin in 383-350 B.C., during the Warring States Period (475-221B.C.). Archaeologists have discovered basements and cookstoves in the royal palace, and many relics in their excavation, which is of importance to the research of the social, historical and cultural developments in ancient China.
http://www.ecns.cn/visual/hd/2017/01-17/117501.shtml
TURQUIE –
Stratonikeia - Some 65 Byzantine-era tombs have been unearthed in the most recent archaeological excavations in the ancient city of Stratonikeia, known as the city of gladiators in the western province of Muğla's Yatağan district. "We are continuing works in the graveyard field. Sixty-five Byzantine era tombs were unearthed in the ancient city. The tombs belong to both adults and children," said the head of the excavations, Pamukkale University Professor Bilal Söğüt. Teams have uncovered finds related to a settlement from 3,500 years ago, as well as many artifacts from various periods of time, Söğüt said.
http://web.hurriyetdailynews.com/byzantine-tombs-unearthed-in-marble-city.aspx?pageID=238&nID=108580&NewsCatID=375