19 AVRIL 2013 NEWS: Russkaya - Aphrodisia - Baum's Bridge - Siraha - Anthropocene -
19 AVRIL 2013 NEWS: Russkaya - Aphrodisia - Baum's Bridge - Siraha - Anthropocene -
INSTITUT SUPERIEUR D'ANTHROPOLOGIE
 INSTITUTE OF ANTHROPOLOGY
ONLINE COURSES / COURS A DISTANCE
SPRING SESSION : APRIL 2013 
REGISTER NOW
RUSSIE –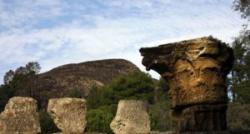 – Russkaya - During archeological excavations next to the Russkaya gas compressor station, near Anapa in Southern Russia, the foundations of three Ancient Greek villas that scientists said date from the 2nd and 3d centuries B.C., have been uncovered.  Archeologists found clay pots, fragments of a weaving loom, a pair of scissors and several coins. The villas were part of Gorgippia, a prospering antique city of the Bosporan Kingdom. The coins minted in another ancient city, Panticapaeum, modern Kerch, enabled to determine the age of the artifacts. "We have looked in some detail, recorded and photographed the ruins of one of the villas and all the objects found during excavations," said the General Director of the Archaeology Mission to Rostov, Vladislav Vereshchagin. "We took anything of value with us, for further processing. In the future, these items will be donated to the museum." Russkaya is the starting point of the future South Stream pipeline from Russia to Bulgaria. South Stream is scheduled to become operational in 2013. The 900-kilometre-long undersea section of the pipeline will run from the gas compressor facility at Beregovaya, on Russia's Black Sea coast, near Arkhipo-Osipovka, towards the city of Burgas, in Bulgaria. The sea's maximum depth on this route is 2,000 meters.
http://eu.greekreporter.com/2013/04/18/ancient-greek-villas-found-near-russkaya/
TURQUIE –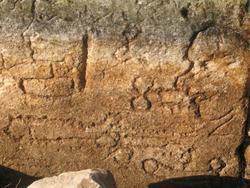 Aphrodisia - Angelos Chaniotis, the Greek professor of Ancient History and Classics in the Institute for Advanced Study at Princeton university says that ancient graffiti works are "illustrations of ancient voices and emotions on the rock" and adds that "most of them are spontaneous creations, engraved during the night by individuals in stimulation, or drunk and jolly – a fact that makes their interpretation difficult but their value, as historical sources, great. As far as their content is concerned, they are characterized of sex discriminations, sexual overtures, competitiveness, insults, sexual preference declaration, dominance and demonstration…"  The Greek professor located, collected and studied more than 4,000 ancient graffiti's during his participation in New York University's excavation in the ancient city of Aphrodisia, which lies in inland Caria in the Meander river basin, 230 kilometers southeast of the port of Izmir (ancient Smyrna). It is one of the most important archaeological sites of the late Hellenistic and Roman period in Turkey. Chaniotis found thousands of graffiti examples engraved or carved on the marble which varied in content: board games, prayers, religious symbols, names, obscenities and nasty images to humiliate the opponent in case of sporting or other competitions.
http://greece.greekreporter.com/2013/04/18/chaniotis-explains-ancient-greek-graffiti/ 
USA –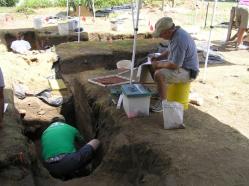 Baum's Bridge - The Kankakee River along southern Porter County has long been known for its prehistoric and historic human activity. The spot surrounding the Collier Lodge at Baum's Bridge was especially active and has had numerous archaeological investigations. When the first white men began settling this area they noted the density of Native American artifacts found. When farming expanded so did the amount of artifacts found. I've been told by old timers that arrowheads were found by the "bucket loads." So common were artifacts that they were mostly ignored.  The Collier Lodge site was active because it was at a strategically important crossing place through the marsh. It's earliest name was Pottawatomi Ford, then Eaton's Ferry and then Baum's Bridge.
http://www.nwitimes.com/news/local/porter/kouts/story-of-baum-s-bridge-begins-in-prehistoric-times/article_f980ef8c-1019-57e9-b146-d1c6f8d09b71.html 
NEPAL – Siraha - Goods used in the 13th to 17th century of Bikram Era have been found during the excavation of Thakurgadh at Banauli of Pradha.VDC -6 in Bhawanipur of Siraha. A five-member team led by archaeology Officer of the Department of Archaeology, Ram Bahadur Kunwar during two-week long excavation found a box for keeping crimson powder, upper rounded part of an earthen vessel and a piece of mate, an earthen ware used to make curd. The goods were found in a ditch someone to 1.8 m deep. Kuwar said the goods are estimated to be of the medieval times and can only be said definitively after adequate tests.  Goods have not been found in chronological order in Thakurgadh, which is in the list of Department of Archeology, and excavation will continue, he said. The 'Likhanawali' written by Bidyapati states that Shiva Singh, the king of Mithila in 13th century had sent his queen Lakhima to Banauli, at his friend king Puraditya's palace for safety with poet Bidyapati after being defeated from neighboring state, said Secretary of the King Puraditya and Poet Vidyapati Memorial Pratisthan, Ram Bharos Mahato.  Puraditya had kept Vidyapati at a fort some 100 metres south of the palace for 12 years, which is now called Thakurgadh. The team also found some old goods 2,500 years old, while excavating at Khaptedanda at Devipur VDC- 8 in Siraha, said Kunwar. The team said Khaptedanda is also an important archeological site.
http://www.thehimalayantimes.com/fullNews.php?headline=Medieval+times+goods+found+in+Siraha&NewsID=373358 
Anthropocene - A vocal group of geologists and other scientists are pushing to define a new geological epoch, marked by climatic and environmental change caused by humans. At the Society for American Archaeology meetings in Honolulu, archaeologists argued that it's high time for their field, which studies humans and their activities over geological time, to have a greater voice in the debate. The archaeologists agreed that human impacts on the Earth are dramatic enough to merit a new epoch name—but they also argued that such an epoch should start thousands of years ago, rather than focusing on a relatively sudden planetwide change.