INSTITUT SUPERIEUR D'ANTHROPOLOGIE
 INSTITUTE OF ANTHROPOLOGY
ONLINE COURSES / COURS A DISTANCE
 INSCRIPTION : Année Universitaire 2012/2013
   REGISTRATION : Academic Year  2012 / 2013
ROYAUME UNI –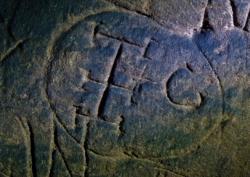 Wemyss Caves - Experts have been able to shine some light on the most recent wall markings found in the historic Wemyss Caves. The 12-strong cave grouping at East Wemyss – the biggest in northern Europe – contains more carvings than all other in Britain put together, with many of Pictish origin. Enthusiasts were inspired last month by the discovery of yet more symbols which, it was suspected, may date from the 12th century. Save Wemyss Ancient Caves Society (SWACS) thought the most recent discoveries may be Templar in origin and called in some archaeological experts to assess them. The designs were found in the Well Cave, below McDuff Castle – which was previously not thought to contain Pictish emblems. SWACS vice-chair Moira Cook said: "The latest finds appear to be Medieval although they cannot be totally discounted as a Templar symbol, as it is possible there were crusaders from this area."It is also possible they are some type of cross of Lorraine, or maybe just a way for someone carving their name to distinguish between an 'I' and 'J'." Ms Cook added there had been yet another new find – a small carved tablet which had been verified as a definite carving but, as yet, had no date. It was difficult to be clear with dates, she added – the only real way was to take carvings which had already been discovered and time-frame the new ones from there. "However, it is most likely Pictish and could date from around as early as 240 AD," said Ms Cook."Where it was found has evidence of late Bronze Age and early Pictish occupation of the caves."Wemyss' unique collection of cave carvings range from 3500 years ago to Pictish times, Viking symbols and modern man.
http://www.fifetoday.co.uk/news/local-headlines/carvings-in-village-caves-believed-to-be-medieval-1-2520857
ROYAUME UNI –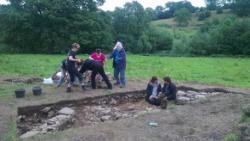 Studmarsh - More evidence has been uncovered as the search for the lost village of Studmarsh continues. A team of archaeologists and volunteers from mental health charity Herefordshire Mind has spent two weeks digging at the National Trust's Brockhampton Estate , near Bromyard , in a bid to uncover the remains of the village. Studmarsh was mentioned as a settlement in medieval documents but little has been known about the place for more than 500 years. So far the foundations of the end corner of a large stonebuilt structure with walls up to one metre wide have been unearthed, along with a stone-lined foundation to support a timber framed cross wall and external doorway, suggesting a manor house may have once stood on the site. And along the hillside, what appeared to be rubble foundations for a much smaller building with wattle and daub walls were found. Pottery dating back to the 13th and 14th century was also found in and around the remains. Pottery found on site suggests the village was abandoned in the 14th century.
http://www.herefordtimes.com/news/9933440._Lost_village__of_Studmarsh_unearthed_by_archaeologists/
INDE - Taksing - A prehistoric tool of the Neolithic period, believed to be an axe, has been found in Taksing in Upper Subansiri district of Arunachal Pradesh, bordering China. The tool, made of diorite black stone, is rectangular in shape with both surfaces fully grounded and finely polished, with a few scars seen in the lateral margin, Dr Tage Tada Research Director of the Itafort Archaeological Museum here said today. The cutting edge of the tool which was the first finding from the remote Indo-China (Tibet) border, is very sharp, convex and bi-facially beveled of the tool he said. The shape, size and workmanship of the tool indicated that it was used as an axe by the people in the Neolithic age, most probably for agriculture and farming, Dr Tada said. The tool was found by two residents of the area, Tade Ebo and Talin Rigia, who handed it over to Dr Tada on September 12. It is now on display at the archaeological museum here. The director also said that in Arunachal Pradesh, local people believed that such prehistoric tools possessed spirits and some believed that such objects came from the sky while others believed that it was used by malevolent spirits. "In Taksing the local Nah and Tagin people believe that this has fallen from sky and is used by malevolent spirits and they are very scared of touching it," Tada added.
http://www.ndtv.com/article/cities/neolithic-axe-found-in-arunachal-pradesh-268810
USA - 
Charleston Harbor - What remains of a five-year siege for control of Charleston Harbor during the Civil War now lay in watery graves amid the harbor's channels and under the beaches of bordering sea islands. Thanks to a team of archaeologists at the University of South Carolina, the Charleston Harbor naval battlefield has been mapped for the first time, providing historical and archaeological detail on the drawn-out struggle that spanned 1861-1865. The survey shows where military actions took place, where underwater obstructions were created to thwart enemy forces and the spots where Union ironclads and Confederate blockade runners sunk.
http://www.maritime-executive.com/article/usc-archaeologists-complete-survey-of-charleston-harbor-civil-war-naval-battlefield
POLOGNE – Vistula River -  A huge cargo of elaborate marble stonework that sank to the bottom of Poland's Vistula River four centuries ago has re-appeared after a drought and record-low water levels revealed the masonry lying in the mud on the river bed. Archaeologists believe the stonework was part of a trove which 17th-century Swedish invaders looted from Poland's rulers and loaded onto barges to transport home, only for the booty to go to the bottom when the vessels sank. Researchers knew about the artefacts, on the river bed where the Vistula passes through the Polish capital but, before the drought, retrieving them was a painstaking task because they were under several feet of water. Now though, the masonry – large blocks of carved marble which were used in the columns, fountains, and staircases of Polish palaces – is lying exposed apart from a coating of foul-smelling yellow mud.
http://www.dailytimes.com.pk/default.asp?page=2012\09\18\story_18-9-2012_pg9_5
TURQUIE –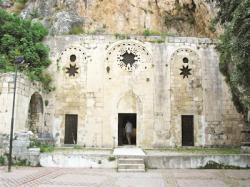 Hatay – The Church of St. Peter in the eastern province of Hatay, which is considered the world's first cave church and a holy site for the Orthodox Christian world, is now undergoing a comprehensive restoration process that began on Sept. 16 with a ceremony.