18 JUILLET 2018: Shubayqa 1 - Rome - Drumnadrochit - Nig -
18 JUILLET 2018: Shubayqa 1 - Rome - Drumnadrochit - Nig -
INSTITUT SUPERIEUR D'ANTHROPOLOGIE
INSTITUTE OF ANTHROPOLOGY
ONLINE COURSES / COURS A DISTANCE
SUMMER TERM : JULY 2018
REGISTER NOW
JORDANIE -
Shubayqa 1 - A piece of Arabic flatbread baked 14,400 years ago in northeastern Jordan has been uncovered by Danish archaeologists. The bread was discovered during excavations by researchers from the University of Copenhagen, Cambridge University and University College London. The find was announced by the Danish university in a press release. Archaeologists from Copenhagen were studying carbonised food remains at a hunter-gatherer settlement known as Shubayqa 1, the University wrote. The other universities assisted in analysing the excavated food scraps. A particularly interesting element of the discovery is that it predates agriculture by 4,000 years. The bread is the oldest loaf ever to be discovered, according to the press release. "We now know that bread-like products were produced long before the development of farming," University of Copenhagen archaeobotanist Amaia Arranz Otaegui, the lead author of the study, said. "The next step is to evaluate if the production and consumption of bread influenced the emergence of plant cultivation and domestication at all," Otaegui added. Archaelogists said that the time-consuming nature of baking bread using wild corn may have encouraged people of the time to grow corn themselves. "Natufian hunter-gatherers are of particular interest to us because they lived through a transitional period when people became more sedentary and their diet began to change," archaeologist Tobias Richter, who led the excavations at Shubayqa 1, said. The Stone Age Natufian culture existed from around 12,500 to 9,500 BCE in the Levant, a region in the eastern Mediterranean that encompasses modern-day Jordan, Syria, Lebanon, Israel and Palestine. "Flint sickle blades as well as ground stone tools found at Natufian sites in the Levant have long led archaeologists to suspect that people had begun to exploit plants in a different and perhaps more effective way," Richter said. "But the flat bread found at Shubayqa 1 is the earliest evidence of bread making recovered so far, and it shows that baking was invented before we had plant cultivation," the researcher continued. Excavations in the Shubayqa area in northeastern Jordan were carried out between 2010 and 2015. The Stone Age settlement included two well-preserved stone buildings.
https://www.thelocal.dk/20180717/danish-archaeologists-find-14000-year-old-bread-in-jordan
ITALIE –
Rome - Archaeologists have been left at a loss by the discovery of some mysterious ruins in Rome, which could be the remains of one of the city's earliest churches. The find was made at Ponte Milvio, a bridge along the River Tiber in the northern part of the city. And it came about completely by chance while electrical technicians, who were laying cables along the site, uncovered remains of buildings dating back to between the first and fourth century AD. Rome's Archaeological Superintendency called the discovery "an archaeological enigma shrouded in mystery". Part of these remains look likely to have been used as a warehouse, but it's an older building on the higher level that has presented archaeologists with a mystery. Coloured marbles sourced from north Africa were used in the building's floors and walls, suggesting that it served an important purpose either for a Roman noble family or for the local community. And its location close to an early cemetery has led to a theory that it could also be an early religious site, possibly one of Rome's very first churches, although there were no signs of an altar or religious decoration. The superintendency confirmed that it was looking into the hypotheses that the remains belonged to "a Roman villa or a Christian place of worship".
https://www.thelocal.it/20180717/archaeological-enigma-rome-tiber-remains-church-villa
ROYAUME UNI –
Drumnadrochit - A Bronze Age burial cist has been discovered at Drumnadrochit near to where two of the stone slab-built graves were previously found. Human remains have not survived, but parts of a pot placed in the grave did. Archaeologists said the find was further evidence of a Bronze Age cemetery near the shores of Loch Ness. AOC Archaeology, which has been monitoring the site, said the fragments of the beaker pot dated to about 4,500-4,000 years ago.
https://www.pressandjournal.co.uk/fp/news/highlands/1522150/bronze-burial-cist-discovered-at-drumnadrochit-housing-site/
IRAN –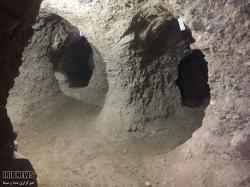 Nig - Excavation work has commenced at an ancient troglodytic dwelling, which is located in Nig village, South Khorasan province, eastern Iran. "The underground structure dates from the Ilkhanid era (1256–1353) and embraces multiple residential spaces," CHTN reported on Monday. "Some 40 chambers, each including several rooms, passageways and hallways have so far been recovered," archaeologist Mohammadreza Soroush said. Most of the structures have been evacuated from jam-packed soil and sediments caused by floods and roofs collapses, he added. "The site has yielded pieces of potteries and earthenware most of which date back to Ilkhanid Iran." Experts believe that such structures were not considered as the creative artistic masterpieces of their builders.
http://www.tehrantimes.com/news/425450/Excavation-starts-at-ancient-Iranian-troglodytic-dwelling