18 JANVIER 2016 NEWS: Tilaurakot - Borivali - Florida Panhandle - Kushimoto - Srinagar - Valcamonica - Tianluoshan -
18 JANVIER 2016 NEWS: Tilaurakot - Borivali - Florida Panhandle - Kushimoto - Srinagar - Valcamonica - Tianluoshan -
INSTITUT SUPERIEUR D'ANTHROPOLOGIE
INSTITUTE OF ANTHROPOLOGY
ONLINE COURSES / COURS A DISTANCE
SPRING TERM : APRIL 2016
REGISTER NOW
NEPAL –
Tilaurakot - A team of archaeologists, including some foreign experts, has begun fresh excavation at Tilaurakot, an ancient Shakya capital city where Siddhartha Gautam spent 29 years of his princely life before he became the Buddha. Digging has started in three places on the Tilaurakot premises within the past three days as per a geophysical survey conducted last year that substantiated possible remains of the ancient city underneath. The archaeologists and experts have initiated the excavation works where the survey showed a 150mx150m structure and an entry gate. The archaeologists suspect that the structure could be an administrative building of that time. A one-and-a-half-metre wide wall was noticed 25-30cm below the ground during the recent excavation. Christopher Davis, a foreign archaeologist involved in the excavation, said it was good news that what the geophysical survey showed was found within three days of exploration.
http://kathmandupost.ekantipur.com/news/2016-01-17/fresh-digging-at-tilaurakot.html
INDE –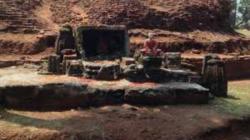 Borivali - Seven more ancient Buddhist caves have been discovered in the Sanjay Gandhi National Park in Borivali, reports a leading daily. The caves are older than the Kanheri ones and were possibly built for sheltering monks in the monsoon. They are called 'viharas' meaning residence for monks. One of them even shows the remains of harmika' (the top railing of a stupa).The caves discovered by the first team are said to be between 1st century BCE (or BC) and 5th-6th century CE (or AD). "The newly discovered caves may have been older than the Kanheri Caves as they were simpler in form and they lacked water cisterns, which are found in the more evolved architecture of Kanheri. Moreover, we found monolithic tools which were prevalent in the 1st century BC. The absence of water cisterns also indicate that monks lived there in the monsoon," said Pandit.
http://www.dnaindia.com/india/report-seven-more-caves-discovered-in-mumbai-s-sanjay-gandhi-national-park-2166881
USA –
Florida Panhandle - A team of archaeologists has found the remains of a Spanish settlement established in 1559 by 16th century Spanish explorers Tristan de Luna y Arellano. Archaeologist Tom Garner, a professor at the University of West Florida in Pensacola, told EFE that the discovery in the Florida Panhandle followed the demolition of a home in the center of the city. "It is an amazing discovery. This settlement was established almost half a century before the arrival of the English in Jamestown (Virginia) in 1607, and in Plymouth (Massachusetts) in 1620," he said. De Luna, leading a party that included 1,500 soldiers, colonists, Indians and slaves, arrived on the northwestern Florida coast six years before Spanish Adm. Pedro Menendez de Aviles discovered St. Augustine, Florida, the oldest city in the United States. But the village planted on Pensacola Bay was doomed by natural disasters and bad luck and was eventually abandoned. Two years after its foundation, a major hurricane slammed the area, devastating the settlement and sinking most the 11 vessels that had carried the De Luna expedition from Veracruz, Mexico.
http://latino.foxnews.com/latino/lifestyle/2016/01/15/relics-1st-spanish-settlement-in-us-found-in-florida/?
JAPON –
Kushimoto - The 2016 program of the underwater excavation of the Ertuğrul frigate, which sank near Japan's city of Kushimoto and caused the death of 550 Turkish sailors, kicked off on Jan. 15 and will continue until Feb. 15. President and head of Ertuğrul frigate excavation, Tufan Turanlı, said excavation work had been ongoing in the frigate since 2007.
http://www.hurriyetdailynews.com/underwater-work-in-ertugrul-frigate-starts-.aspx?pageID=238&nID=93910&NewsCatID=375
INDE –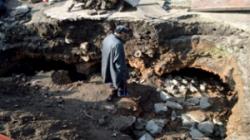 Srinagar - A tomb dating back to the era of Ghiyas-ud-Din Zainul Aabideen, who is popularly known as Budshah, has been discovered by locals in Maharaj Gunj area of historic Old City here. The tomb structure was discovered during road widening work by Roads and Buildings Department in the area. Zainul Aabideen was the 8th Sultan (King) of Kashmir, whose reign saw peace and coexistence. His policy of religious tolerance and public welfare activities earned him immense respect among his subjects, including non-Muslims, and even today he is referred as 'Budshah saheb'. As per preliminary information the tomb structure is 600 years old (15th Century AD). "It requires archaeological investigation of the architectural features," Director told Excelsior. Another senior official, who was part of the team, explained: "It dates back to Sultanate period of Sultan Zainul Aabideen Budshah. It has the similarity with Budshah Tomb (where Zainal Aabideen is buried) and the construction material is also similar. There are only seven tomb structures of that period and this could be one of them. As you know, so far there are only two known tomb structures of that era: one is the Budshah Tomb situated along River Jhelum near Old Zaina Kadal Bridge and another is at Soura on the outskirts of the city. About others we don't have any information but this could be the third one".
http://www.dailyexcelsior.com/600-yr-old-budshah-era-tomb-structure-discovered-in-old-city/
ITALIE –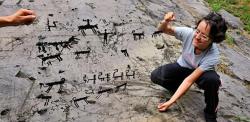 Valcamonica - Archaeologists from seven different institutions have used 3-D technology to record the rock art of the Valcamonica Valley, located over an area of three square miles in the Italian Alps. Most of the 150,000 images, known as Pitoti, or little puppets, date to the Iron Age, but they span a period of 4,000 years reaching back to the Neolithic period. The images, which included depictions of people, sheep, deer, horses, and dogs, were carved on sandstone rocks that were smoothed when glaciers crossed the landscape.
http://www.cam.ac.uk/research/news/meet-the-archaeologists-making-ancient-rock-art-into-3d-reality
CHINE – Tianluoshan - A team of scientists have identified a nearly 7,000-year-old reed mat discovered in east China, offering a rare glimpse into a very early stage of the civilization's textile making. Objects such as baskets woven from plants are among the oldest human technologies. Their origin is believed to be related to the rise of agriculture, which fueled the need for grain and seed containers. Yet a lack of surviving items has long hampered studies. According to an article published in the journal Scientific Reports, Zhang Jianping and his colleagues dated the remains of a woven mat unearthed at a Neolithic settlement site in Tianluoshan, Zhejiang Province, and put its age between 6,645 and 6,775 years, the oldest woven object to be discovered and dated in China. It is more than 2,000 years older than silk textiles from Qianshanyang in Zhejiang Province and 1,000 years older than the Kudzu fabric from Caoxieshan in Jiangsu Province, the article said. The yellow textile piece is 50 cm long, 20-40 cm wide with a thickness of 0.2 cm. Judging from its flat shape and a lack of grain residue detected on it, it was more likely used as a mat, rather than a food container, Zhang, with the Chinese Academy of Sciences, told Xinhua. By examining its phytoliths (a microscopic structure found in rotten plants), Zhang's team concluded the mat was made of reeds, rather than bamboo or bulrush, all commonly used in mats in ancient and modern-day China. Items made of plants are prone to decay after being buried, which explains why many ancient weaves were only identified by their imprints on other items, but Zhang said the mat was luckily placed in an oxygen-free environment filled with underground water that helped it survive. The study could shed light on how reeds and other plants were woven into the daily life of Chinese predecessors 7,000 years ago, while offering a new approach for identifying ancient weaving, Zhang said.
http://news.xinhuanet.com/english/2016-01/14/c_135010450.htm