18 FEVRIER 2014 NEWS:Jingchuan - Sleaford - Afghanistan - Ur/Tell Khaiber -
18 FEVRIER 2014 NEWS:Jingchuan - Sleaford - Afghanistan - Ur/Tell Khaiber -
INSTITUT SUPERIEUR D'ANTHROPOLOGIE
INSTITUTE OF ANTHROPOLOGY
ONLINE COURSES / COURS A DISTANCE
SPRING TERM : APRIL 2014
REGISTER NOW 
CHINE - Jingchuan-  A Buddhist archaeological site, complete with ashes of prominent devotees, has been identified in northwest China, Gansu archaeology institute confirmed on Tuesday. The Buddhist relics were found in Jingchuan County, an important way station on the east section of the Silk Road. The discoveries come from a round of excavations which began in Dec. 2012 at the site of Longxing Temple, which dates back to the Song Dynasty (960-1279). Archaeologists found a pottery coffin containing bone fragments, glass bottles and 1,700 samples of ashes no bigger than grains of rice, said excavation team leader Wu Hong. "This is the third time these kinds of Buddhist remains have been unearthed in the Jingchuan region, following previous digs in 1964 and 1969," said Wu. Wu's team also found an inscribed brick as well as bones and teeth concealed in the Manjusri Hall at Longxing. The team also found various pieces of broken statuary. Over 260 pieces of stone, pottery and dried mud from various dynasties have been collected. Buddhism prospered in Jingchuan throughout different dynasties and a number of major temples are still well preserved.
http://news.xinhuanet.com/english/china/2014-02/18/c_133124669.htm
ROYAUME UNI –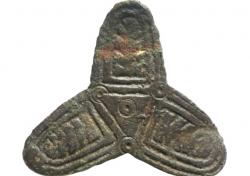 Sleaford - Lincolnshire is in the top three counties for number of archaeological finds and treasure unearthed by amateur archaeologists. Among the artefacts, a rare complete Viking brooch, dating back to 850-950 AD, was found near Sleaford. Most objects found copy Viking styles, but this one is likely to have originated from Scandinavia. It is feasible that the brooch arrived via the ancient port of Saltfleetby, near Louth. It is decorated with ring and dot markings and on each wing is a leaf motif, which may symbolise the tree of 
life.
http://www.sleafordstandard.co.uk/news/local/rare-viking-brooch-found-near-sleaford-1-5883059
AFGHANISTAN –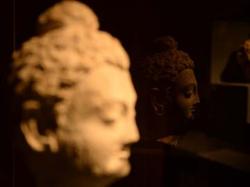 The Centre is considering deputing two Archaeological Survey of India (ASI) officials to ascertain the authenticity of a bowl for begging (Bhiksha Patra) said to have belonged to Lord Buddha, which is at present on display in Afghanistan. According to Chandresh Kumari Katoch, Minister for Culture, the inscriptions on the bowl have been examined by ASI which ascribed them to 16th century AD in Nastalique (Persian). "It is not possible to hold a view purely based on the information provided in several reports and travel accounts unless it is substantiated with factual archaeological evidence," she added. Katoch further stated that historical and archaeological information has been sent to Ministry of External Affairs. The huge greenish-grey granite bowl weighs 400 kg and has a diameter of about 1.75 metres, height of almost four metres and thickness of 18 cm at its rim. It is currently being displayed at the National Museum of Afghanistan.
http://www.ndtv.com/article/india/india-to-send-team-to-afghanistan-to-determine-if-buddha-s-begging-bowl-is-genuine-485113?curl=1392741569
IRAK –
 Ur/Tell Khaiber -Ur's palaces and temples lie in ruins, but its hulking Ziggurat still dominates the desert flatlands of what is now southern Iraq, as it has for millennia. Climbing the Ziggurat's baked-brick stairway to its wind-scoured summit, you gaze over the royal cemetery excavated 90 years ago by Leonard Woolley, a Briton who recovered treasures rivalling those found in Tutankhamen's tomb in Egypt in 1924. Very little work has been done here since, but British archaeologists are now back in the area despite the insecurity in Iraq that had kept them - and all but the most adventurous tourists - away from one of the world's oldest cities. Brushing the caked dust from their clothes, Jane Moon and Stuart Campbell arrive back in Ur from another day of digging in a smaller settlement at Tell Khaiber, 20 km (13 miles) away. "We have some idea of what we've got. It's very large, it's got to be a public building, perhaps a temple," says Moon, who first worked in Iraq fresh from university in the mid-1970s. "The next thing is to understand how it works." Moon, co-director of the dig with Campbell and her husband Robert Killick, says the structure dates to the early second millennium BC. Pottery shards indicate that people occupied the site 1,000 or even 2,000 years before that. In his day, Woolley marshaled hundreds of laborers to lay bare Ur, a city built and rebuilt over millennia, relying on his knowledge of architecture and pottery for guidance. His successors at Tell Khaiber employ only 16 Iraqi workers, but use satellite images, environmental analysis and geophysical surveying - tools Woolley would have relished.
http://www.reuters.com/article/2014/02/18/us-iraq-archaeology-idUSBREA1H09N20140218?feedType=RSS&feedName=lifestyleMolt