INSTITUT SUPERIEUR D'ANTHROPOLOGIE
INSTITUTE OF ANTHROPOLOGY
ONLINE COURSES / COURS A DISTANCE
SUMMER TERM : JULY 2014
REGISTER NOW
EGYPTE -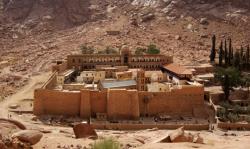 Ste Catherine - A retired army general says he has filed a court case pushing for Egypt's historic Saint Catherine's Monastery to be demolished and its Greek monks deported on the grounds that they pose a threat to national security.Saint Catherine's Monastery was built between 548 and 565 on the site thought to be the location of the burning bush, where Moses is believed to have spoken with God and been told that he was to lead the Israelites out of Egypt.The monastery gets its name from a Christian martyr named Catherine, who according to legend was delivered by angels to monastery and then later buried there by monks after she was beheaded around the year 800.
http://english.ahram.org.eg/NewsContent/1/64/98907/Egypt/Politics-/Retired-army-general-wants-Egypts-St-Catherines-Mo.aspx
ROYAUME UNI – Crieff - Archaeologists are ecstatic after uncovering a "really significant" Bronze Age burial site in Perthshire. Arrowheads believed to date back to between 2,500BC and 800BC have already been found at the site of the new Crieff Primary School, and experts hope to unearth more historic items in forthcoming weeks. One "definite" prehistoric burial site, known as a cursus — a Bronze Age ceremonial monument walkway — has been identified and archaeologists are hopeful there will be more finds to come. Sarah Malone, a heritage officer with Perth and Kinross Heritage Trust, told The Courier last night that archaeologists had been at the Crieff site since last year. "We have been working at the site for a while and this is a really significant find," she said. "We have identified one definite prehistoric Bronze Age burial site here and will probably find more items. "Last year we discovered Bronze Age arrowheads and some kists." Ms Malone said that archaeologists were still excavating at the Crieff site and confirmed it is part of a "Bronze Age landscape".
http://www.thecourier.co.uk/news/local/perth-kinross/excitement-after-prehistoric-burial-site-found-in-new-crieff-primary-school-site-1.325269?
ROYAUME UNI –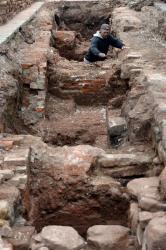 Coventry - Fnd was made while a Coventry University car park was being dug up before builders start work on new Life Sciences building . Archaeologists have discovered a cellar and other underground rooms dating back to the 14th Century on the site of the old ribbon factory. The find was made while a Coventry University car park was being dug up before builders start work on the site. Trenches have been dug in a parking area off Much Park Street in the city centre.
http://www.coventrytelegraph.net/news/coventry-news/look-underground-14th-century-rooms-7004852?