18 AOUT 2014 NEWS: Kültepe - Barcelone - Guyuan - York - Honaz -
18 AOUT 2014 NEWS: Kültepe - Barcelone - Guyuan - York - Honaz -
INSTITUT SUPERIEUR D'ANTHROPOLOGIE
INSTITUTE OF ANTHROPOLOGY
ONLINE COURSES / COURS A DISTANCE
FALL TERM : OCTOBER 2014
REGISTER NOW
TURQUIE –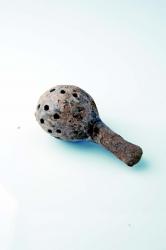 Kültepe -A baby rattle has been found in the Kültepe Kaniş-Karum trade colony, where excavations have been continuing since 1948 in the central Anatolian province of Kayseri.  A team from Ankara University Archaeology Department, headed by Professor Fikri Kulakoğlu, has been working in the area and unearthed the rattle, which dates back to 4,000 B.C. Kulakoğlu said works had been continuing there for 69 years. He said, "Archaeological excavations have been carried out in Kültepe since 1948. Here it is possible to find what we [commonly] find in houses today. [We have found] Pots and pans, glasses, oven, seats and etc. We have seen all of these things in the excavations for nearly 70 years. There are also very interesting objects. We have found a toy, which we estimate to date back to 4,000 years ago, being the oldest in the world."  The professor said more than 50,000 people were living in Kültepe 4,000 years ago, adding, "There are very fine objects from a big metropolitan. We sometimes think the population was above 70,000. Some of them were Assyrians, but most of were Anatolians. Of course, not all of them were adults. Among them are young people, children and babies. We naturally found objects that we associate with babies. For example, one of them is a rattle. It is made of kiln and has pebbles inside. It makes a sound when it is shaken just like baby rattles we all know today."
http://www.hurriyetdailynews.com/centuries-old-baby-rattle-among-kultepe-findings.aspx?pageID=238&nID=70582&NewsCatID=375
ESPAGNE –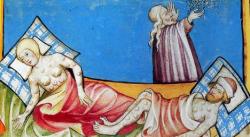 Barcelone -Sant Just i Pastor Basilica, already the site of Roman ruins and Visigoth architecture, is now also the only place in Spain known to house a Black Death burial ground. A team of archaeologists, who first stumbled upon the mass grave in 2012, will begin the next phase of excavation in September in the hope of finding out more about how the Bubonic plague affected 14th century Spain. Initial investigations showed that up to 400 bodies were tightly packed into the grave measuring no more than 3.5 metres (11 feet) in width by 1.5 metres in depth. Many of these bodies were removed during a 15th century extension of the church, archaeologists believe. The 120 corpses that remain to this day were laid to rest in ceremonial style, unclothed and wrapped only in quicklime-soaked linen to prevent disease and the smell of rotting flesh. Other mass graves have been found in London, Prague, Poitiers and Marseille, but Barcelona's Basilica shows how efforts were made in Spain to bury plague victims in church grounds rather than in new Black Death-only cemeteries. That in turn explains why archaeologists found the grave to be so densely-packed: 11 rows of bodies. The Black Death is believed to have killed up to 30 million people in Europe between 1348 and 1354. During this period, Spain's population plummeted from 6 million to 2.5 million.  
http://www.thelocal.es/20140818/spain-first-black-death-grave-unearthed-barcelona?
CHINE - Guyuan - The remains of a human skull found in a 1,400-year-old tomb in China possibly belonged to a man of European origin, an initial investigation by scientists revealed yesterday. The skull was found in the M1401 tomb in Guyuan City in northwest China's Ningxia Hui Autonomous Region. "The man had a protruding nasal bone and a sunk nasion, typical features of Europeans," said Zhang Quanchao, professor with the Research Center for Chinese Frontier Archaeology of Jilin University. He believes the skull belonged to a 40-year-old man of European origin, though further excavations are needed. The tomb was discovered in the 1980s and archaeologists began work in June to protect it from illegal excavations. More than 40 clay figures, copper coins and murals were found, said Zhu Cunshi, head of the archaeological team.;Zhu said it dated from the early Tang Dynasty (618-907). Ningxia is on the Silk Road between China and Europe.
http://www.shanghaidaily.com/national/Skull-in-1400yearold-tomb-may-be-European/shdaily.shtml?
ROYAUME UNI – York - Archaeologists have started excavating a large site in York which could hide significant remains relating to the city's Roman and medieval past. The Hidden Guildhall investigation will focus on river-side land next to the Guildhall, once home to a friary where Richard III famously stayed. From 1257 to 1538, the site housed medieval friary which was home to around 35 friars in the 14th Century. The Duke of Gloucester - who later became King Richard III - stayed in the friary in the 1480s and many local dignitaries were buried at the friary's church. It was dissolved in 1538 by Henry VIII and the land then remained unused partly due to its unsanitary nature - stinking waste was being fed into the river close by. It is hoped that the excavation will shed new light on the lives of the friars, the location of the friary buildings and possibly the identities of those who were buried here. But as it is also located just upstream of the probable location of York's Roman bridge, it is possible that the remains of Roman river front structures could survive, preserved in the waterlogged ground and sealed beneath the layers of later medieval occupation, archaeologists have said.
http://www.yorkpress.co.uk/news/11415867.Archaeological_dig_next_to_Guildhall_searches_for_royal_clues/
TURQUIE –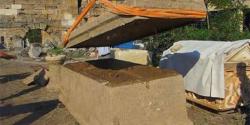 Honaz - An approximately 2,000-year-old tomb was found in Honaz, a district of Turkey's western province of Denizli. The Denizli Culture and Tourism Directorate recently launched an excavation in the district when some locals informed the office about historical items they had found there. The archaeologists working as part of the excavation uncovered the ancient tomb on Wednesday. The unearthed tomb has been taken to a museum located in Pamukkale for exhibition. Denizli Provincial Culture and Tourism Director Mehmet Korkmaz said: "The uncovered ancient tomb proves that there was a settlement dating back to approximately 2,000 years in the vicinity. The excavation work in the area will continue."
http://www.todayszaman.com/