18 - 20 MAI 2013 NEWS: Kodumanal - Amesbury - Chattenden - Boston -
18 - 20 MAI 2013 NEWS: Kodumanal - Amesbury - Chattenden - Boston -
INSTITUT SUPERIEUR D'ANTHROPOLOGIE
INSTITUTE OF ANTHROPOLOGY
ONLINE COURSES / COURS A DISTANCE
SUMMER TERM : JULY 2013 
REGISTER NOW 
INDE –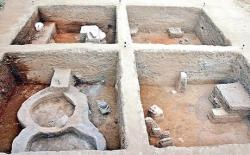 Kodumanal - In a major find that throws evidence to Erode's connection to Tamil Brahmi era, a research team of Pondicherry University found several pot shells containing Tamil Brahmi letters dating to 500 BC at Kodumanal near Chennimalai.  A team of students from Pondicherry University, led by Dr K Rajan and TN archaeological department assistant director Subramaniam, has been carrying out research for the past one month in the region. Recently, the team during its work in Kodumanal found several antiques, besides the pot shells. Team members, while explaining about the Kodumanal find, said that Tamil Brahmi words like Adinthai, Madanthai, Kuviran, Sumanan, Samban, Vindaveli, Pannan, Bagan, Yadan, etc were found on the pot shells. Detailing the Chennimalai's connect to ancient days, the team pointed out that the area had 165 tombs and of these 17 were taken up for research. While in one of the tombs, many precious stones were found, the team during its study in the region also stumbled upon shell bangles, roulette pottery and sword bit contained spheroidal graphite phase and forge welding of high carbon cutting edge, etc. The present excavations were made in 8 points near Pandiyan Nagar and a burial ground. Many beads, high quality iron materials like arrow heads, spears, swords, megalithic tombs, iron and steel furnaces, several precious stones like garnet, carnelian, lapis lazuli, sapphire, quartz, etc., were found. The area also contains some objects made of tusks and other materials which could have been used for weaving cotton in those days.
http://newindianexpress.com/states/tamil_nadu/Tamil-Brahmi-script-dating-to-500-BC-found-near-Erode/2013/05/17/article1593552.ece1
ROYAUME UNI –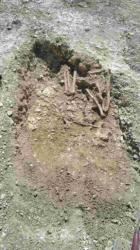 Amesbury - Six Saxon skeletons dating back over a thousand years and Bronze Age round barrows have been discovered in Amesbury. The remains, unearthed at a brownfield development site in London Road, are thought to be those of adolescent to mature males and females. Five skeletons were arrayed around a small circular ditch, with the grave of a sixth skeleton in the centre. Two lots of beads, a shale bracelet and other grave goods were also found. The site is now being excavated for other artefacts by Wessex Archaeology led by Phil Harding from Channel 4's Time Team. Mr Harding said: "Given that the Stonehenge area is a well-known prehistoric burial site, it was always very likely some interesting discoveries would be made here. The fact that these round barrows were previously unknown makes this particularly exciting. "Finding the skeletons also helps us to get a clearer picture of the history of this area. To my knowledge these are the first Pagan Saxon burials to be excavated scientifically in Amesbury."
http://www.salisburyjournal.co.uk/news/10428999.Ancient_skeletons_uncovered_in_Amesbury/ 
ROYAUME UNI –
 Chattenden - An incredible network of First World War trenches built to train soldiers heading for the Western Front has been discovered on the Hoo Peninsula. Invisible from the ground, they were found using aerial images taken close to Chattenden Barracks, near Rochester. The discovery might lead historians to ret.ink the way soldiers were trained before being sent to the frontline for combat in the 1914-18 conflict. Expert Martin Brown described the discovery as "very important" and that some of the trenches - used for experimentation - were just like those seen in Belgium.
http://www.kentonline.co.uk/medway_messenger/news/2013/april/19/first_world_war_trenches.aspx
USA –
 Boston - An archaeological dig is now underway right here in Boston. City archaeologist Joseph Bagley just started a new dig near the Old North Church. The Clough House dates back to 1715 and is the fifth oldest structure in Boston.  Bagley says they're hoping to find artifacts dating all the way back to that time period. Over the next two weeks, Bagley will excavate ten holes that are each about one square meter wide.
http://boston.cbslocal.com/2013/05/16/archaeological-dig-underway-in-bostons-north-end/